May 9, 2019 Kelly Gampel
A semester worth of creativity culminated May 2 at the annual Digital Media Arts Student Gala.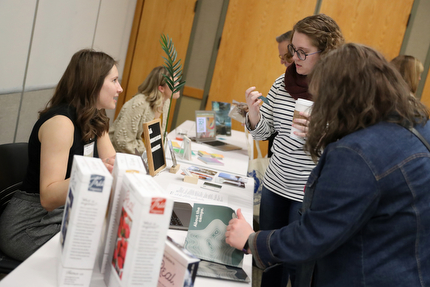 A couple hundred guests walked through the doors of the Morris Lawrence Building to view the 60-plus final projects in photography, graphic design, animation, web design and digital video created by graduating Washtenaw Community College students.
Graphic design student Mary Huotari was eager to showcase her portfolio, which allowed her to "dive deep" into branding.
"I am honestly beyond excited to share my work and show what I've been working so hard on," the Howell resident said. An avid camper, Huotari seized the opportunity to rebrand a camp's image from start to finish as her final project.
She designed booklets, business cards, postcards, T-shirts, stickers and a website. The project was her favorite of her two years at WCC, which allowed her to use "everything" she learned during her studies, she said. Huotari plans to walk at commencement on May 18.
The annual event serves as a celebration of the students' work, but also to invite industry professionals to review and critique the portfolios.
Student videos were projected on the big screen in Towsley Auditorium and animations in a side room nearby.
To view photos from the event, visit our Flickr page.
Tags: ousearch_News_2019