Music was thumping and hors d'oeuvres being enjoyed by the nearly 150 people who turned out to watch Pitch@WCC, the highlight event of the year for the Entrepreneurship Center at WCC on Thursday, May 9.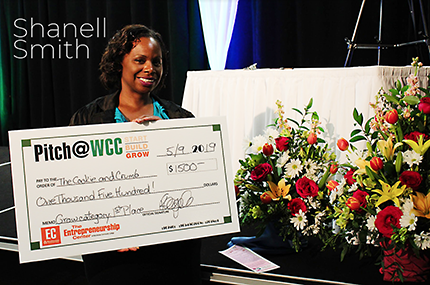 But the stars of the show were the aspiring and fledgling entrepreneurs competing for the evening's seven cash prizes, worth a total of $6,125.
"The interesting and wide-ranging ideas on display show how alive the entrepreneurial spirit is on our campus and in our community," said Entrepreneurship Center director Kristin Gapske.
Pitch@WCC is a learning opportunity by definition. Earning the right to compete for cash prizes requires time and effort on the part of the participants to complete the associated business plan lessons, market research, pitch training sessions and other entrepreneurial workshops.
So, by default, all 26 of the original competitors who completed all the requirements of Pitch@WCC were winners. But winning that prize money is fun, too!
Prizes are split into three categories of business development: Start, Build and Grow. This year's winners include:
START
First place: LikeMe?
Entrepreneur: Steven Chettleburgh
Prize: $1,000
About: A safe dating app for teens that allows a user to see if their crush likes them back.
Runner-up: Urban Healthcare Solutions, JoAhne Penney ($500)
BUILD
First place: Champ Life Pros
Entrepreneur: Red Jennings
Prize: $1,250
About: Business creates videos for athletes and teams and offers mentorship classes and skills camps for young athletes who want to be upstanding community leaders.
Runner-up: Bee Present Honey, Rebecca Wittekindt ($625)
GROW
First place: The Cookie and Crumb
Entrepreneur: Shanell Smith
Prize: $1,500
About: Gourmet cookie company specializing in French macaroons, seasonally flavored bundt cakes, and vegan and gluten-free specialties.
Runner-up: Beyond Primary Care, Jeff O'Boyle ($750)
The event's $500 Audience Choice Award went to Charles Cameron, who pitched his Jane Coaxum's Golden Care business plan in the Start category.
Of the 26 original competitors, 13 were selected to pitch their business or product to Pitch@WCC judges.
"The commitment this cohort showed was wonderful to see, and we only wish that everyone could have pitched at the event," Gapske said. "But the Entrepreneurship Center supports anyone who enters the process, whether they make it through the workshops or not, or end up pitching or not — the overall goal is for their businesses to open and thrive.
Judges for this year's Pitch@WCC included local entrepreneurs Colette Douglas (Elite Customer Service) and Ryan Wallace (Cultivate Coffee & Tap House) and WCC representatives Brandon Tucker (Dean of Advanced Technology and Public Service Careers), Cheryl Byrne (Business & Computer Technologies faculty) and Tom Penird (Advanced Manufacturing faculty, business owner).
The Entrepreneurship Center at WCC offers free co-working space, business resources and workshops to WCC students and the entire community. To learn more, visit ec.wccnet.edu, email [email protected] or call 734-249-5880.
Tags: ousearch_News_2019