The Washtenaw Community College Foundation's Women's Council honored three women for their contributions to the community at its annual Salute to Women's Leadership luncheon today.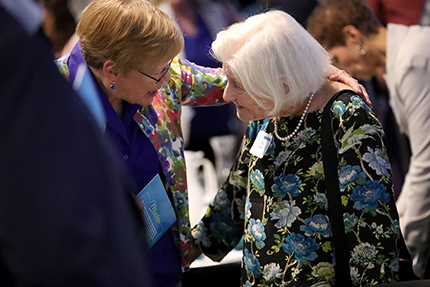 Women's Council chairperson Eileen Thacker referred to honorees Joan Doughty, Mariko Foulk and Rev. Melissa Anne Rogers as the day's "sheroes," each exemplifying professional excellence. "We celebrate their commitment to making a difference in the lives of so many in our community," Thacker said.
RELATED: See a photo gallery from the event
Since its inception in 1997, the annual luncheon has raised more than $650,000. Money raised at this year's event goes to the WCC Foundation Women's Council's "Women Helping Women Achieve" fund, which helps WCC female students complete their degrees by assisting with the cost of courses, textbooks and child care. It also helps with emergency financial situations, such as food insecurities, utility shut-off notices and car repairs.
The honorees include:
JOAN DOUGHTY
Former Executive Director of the Community Action Network
When Doughty assumed the Executive Director at the Community Action Network (CAN) in 2002, it had one community center. When she retired in 2017, CAN operated four community centers and worked in partnership with two elementary schools.
Under her leadership, the organization became Washtenaw County's model for community center-based programs and services. Evictions and utility shut-offs, once common, became rare. The communities became cleaner, residents formed resident councils, and neighborhood watch groups and children performed much better academically and socially.
MARIKO FOULK
Clinical Social Worker, Turner Geriatric Clinic, Michigan Medicine
Founding Member, Ann Arbor Center for Mindfulness
Adjunct Faculty, University of Michigan School of Social Work
Foulk is a clinical social worker with a long and successful career in psychiatric hospitals in Detroit; Osaka, Japan and at Michigan Medicine. She has played a central role in establishing and leading training programs related to interdisciplinary care, understanding the differences in health care and long-term care in other cultures, different approaches to treating dementia, and effectively using volunteers to enhance and support care for older adults in the community.
Her clinical work and research has evolved to specialize in mindfulness-based psychological interventions and she founded a non-profit organization, Ann Arbor Center for Mindfulness, along with her colleagues several years ago. It offers drop-in meditation sessions, a variety of mindfulness-related classes and organizes workshops and retreats.
REV. MELISSA ANNE ROGERS
Associate Pastor for Pastoral Care and Congregational Life at First Presbyterian Church of Ann Arbor
Rev. Rogers rejoined the staff at First Presbyterian in the summer of 2005, bringing both pastoral and clinical training to her work in pastoral care. In addition to her experience in ministry to congregations in Oregon, Alabama and Pennsylvania, she offers clinical training as a marital and family therapist, having worked as a family grief and crisis counselor for Hospice of Lansing, and as a therapist at Michigan State's Family and Child Clinic.
She previously served First Presbyterian as Interim Campus Minister, and was Associate Pastor at Westminster Presbyterian in Ann Arbor from 1995 to 1998. She received her Master of Divinity degree from Princeton Theological Seminary.
The record attendance of nearly 400 people at the 22nd annual luncheon, held at the Morris Lawrence Building on the WCC campus, also heard a keynote address from Irene Hasseberg Butter, a Holocaust survivor, peace activist and Professor Emerita of Public Health at the University of Michigan.
After recounting her early life as a Jewish child raised in Nazi-occupied Europe – which included surviving time at two concentration camps – Butter underscored the theme of the luncheon by discussing the importance of education to her life. After coming to the United States in 1945, she started her academic career at Queens College before becoming one of the first women to earn a Ph.D. in Economics from Duke University.
###
For information about Washtenaw Community College, visit wccnet.edu.
For more information about the WCC Foundation, visit wccnet.edu/foundation.
Media contact: Susan Ferraro, WCC Director of Media Relations, 734-677-5295, [email protected]