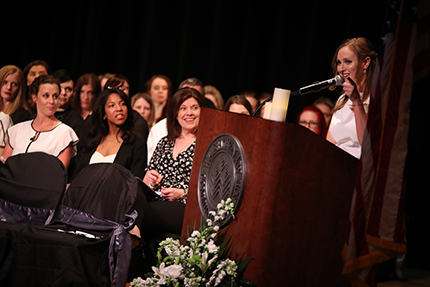 Family and friends of 62 Washtenaw Community College nursing program graduates filled Towsley Auditorium on Wednesday evening for the Spring Graduate Nurse Pinning Ceremony.
The pinning of nursing graduates is a time-honored tradition that represents the initial initiation into the profession. The evening also included student reflections from Meghan Hendershot and Aleen Martinez, two graduates selected by the class to speak on their behalf.
RELATED: Photo album from the Nursing Pinning Ceremony
WCC Director of Nursing Dr. Joanne Yastik placed a WCC nursing pin on each graduate, followed by a symbolic passing of the torch from current and former nurses to the newcomers, and the recitation of the Nightingale Pledge, a statement of the ethics and principles of the nursing profession named in honor of Florence Nightingale.
The Spring 2019 nursing graduates include:
Donna Addison
Allison Alexander
Selamawit Azmera
Sierra Bell
Ronni Benedict
Casey Boik
Amanda Budry
Jacob Deardorff
James Downing
Misty Duffing
Paige Dunn
James Goff
Alfredo Gonzalez-Silva
Nicole Edger
Lindsay Elkins
Adam Freeney
Holleigh Frey
Jason Harper
Meghan Hendershot
Victoria Heumann
Kelsey Jackson
Habib Jouaidi
Holly Justman
Megan Kelly
Dwayne King
Grace Komasara
Samantha Kruger
Zachary Kujawski
Daniel Kutaish
Alyssa Kurzyniec
Heather Lancaster
Shania Lawson
Jennifer LeBlanc
Liang Lin
Catherine Mackey
Fatima Malik
Robert Marshall
Aleen Martinez
Joseph McMurray
Sandra Melvin
Sha'Quice Mullany
Cassandra Nesti
Megan Osborne
Lauren Peace
Daniel Pratt
Briana Pullen
Michael Purta
Shannon Rednour
Emily Regan
Madeleine Rivard
Caitlyn Ryan
Samantha Salvadori
Nicole Scally
Carolyn Seabury
Abby Smith
Danielle Smith
Julia Smith
Mandy Sullivan
Sara Truhn
Angela Vaginetti
Kailyn Vitale
Mackenzie Waterhouse
Tags: Center of Excellence in Nursing Education, Nursing, ousearch_News_2019