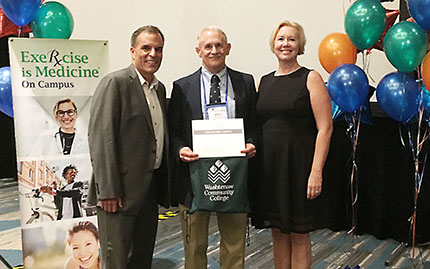 Washtenaw Community College has received silver-level recognition for its newly launched Exercise is Medicine on Campus (EIM-OC) program. EIM-OC is a national campaign led by the American College of Sports Medicine (ACSM) that calls upon colleges and universities to promote physical activity to faculty, staff and students.
Achieving gold-level recognition is now the goal of the team assembled to lead the college's EIM-OC efforts.
"What's really cool is that to get to the silver level, we just presented the stuff we already do. Without any clear, over-arching goal in mind, WCC is doing the right things to promote exercise on campus," said WCC biology faculty member Dr. Marvin Boluyt. "To go for the gold, we just have to do a few things we're not already doing."
Boluyt, who developed the Exercise Science program at WCC, is a 30-year member of ACSM. He accepted WCC's silver award during the organization's annual meeting in Orlando, Florida in late May.
It was one of Boluyt's former students, 2012 WCC graduate Lorie Beardsley-Heyn, who led the effort to register the college for the EIM-OC recognition. She outlined a plan and presented it to Boluyt, who pulled together an inter-departmental team of college faculty and staff, along with Exercise Science students Luke Ayers and Courage Ekwonye.
The EIM-OC was initially presented to the campus community at the 2019 Winter Welcome Day event.
"We had a lot of enthusiastic support," Beardsley-Heyn said. "If we can maintain the level of enthusiasm and follow-through that we had at those early meetings, I can definitely see this program continuing to grow and thrive."
Beardsley-Heyn said current WCC programs such as Weight Watchers at Work and other activities sponsored by the college's Human Resources Department, the walking clubs promoted by the Health Sciences Division and the intramural and recreational activities supported by the WCC Sports Department were among the many exercise promotion activities that earned WCC its silver recognition.
"It is the goal of the team to achieve gold level recognition," said Beardsley-Heyn, an ACSM member and certified personal trainer who received a bachelor's degree in Exercise Science from Eastern Michigan University after graduating from WCC.
"In order to achieve that goal, the culture at WCC must move toward making physical activity a priority for all members of the campus community. Faculty, staff and students can look for more communication from the team regarding ways to actively engage in the process."
While next steps are still in the planning stages, both Boluyt and Beardsley-Heyn said they'd like to see more programs created that encourage students to be more physically active on and off campus.
"Health and fitness should be accessible," said Beardsley-Heyn. "Creating more opportunities for students to develop positive habits now is an opportunity unique to the campus environment."
The Exercise is Medicine health initiative was started by the ACSM to encourage primary care physicians and other health care providers to include physical activity when designing treatment plans. The group started its On Campus recognition program in 2014, honoring campuses for their participation and engagement in EIM.
Tags: American College of Sports Medicine (ACSM), Exercise, Marvin Boluyt, ousearch_News_2019