June 21, 2019 Kelly Gampel
June 20 was an evening some students doubted was in reach.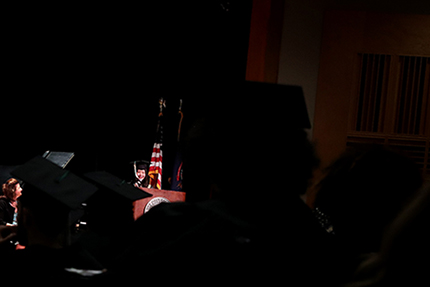 "I thought I was never going to graduate," said Lawanda Leverett. "It was depressing to not live the life I imagined."
Leverett was one of the student speakers at the Adult Transitions Pathways' Student Recognition Ceremony to honor the 90-plus non-traditional students who have received their General Educational Development diplomas since July 2018.
Leverett, 26, shared part of her story from the stage. At age 17, she enrolled in the GED program in an attempt to graduate before her high school class. However, that didn't happen. For nine years.
But her motivation was clear.
"I kept in the back of my mind that I had to lead by example for my children. That's why I'm standing before you today."
Standing behind the lectern on the Towsley Auditorium stage, student Ya-Yun Hu revealed a portion of her story, too: When she moved to the United States of America from another country, she dropped out of school, which was an act that has since became "a big regret in my heart."
"All of us have different reasons for accomplishing high school," Hu said. "And the Adult Transitions program has given us a second chance to finish our dream."
Karol Oviedo-Perez has a similar overarching story to Hu: When she moved to the U.S., she did not continue her education. So, celebrating her achievement Thursday was momentous.
"I got my GED. I did it," Oviedo-Perez exclaimed. She intends to enroll in the childcare and education programs at WCC in the fall.
And the days leading up to and the day of the recognition ceremony exploded in significance for her: For the first time in 14 years, she saw her father face-to-face. He was unaware that his trip to the United States from Costa Rica would include watching her receive the diploma, a surprise the family was excited to keep.
The beaming father said, as translated by Oviedo-Perez, that watching his daughter receive her degree was "a big, big gift from God." Her sister, brother-in-law and nephew also joined her father on the excursions.
The annual Student Recognition Ceremony marked its 20th year Thursday. The evening's theme of "past," "present" and "future" included remarks from school officials.
WCC Trustee Ruth Hatcher commended the group of graduates, saying, "You have worked hard to overcome any obstacle … You deserve all the congratulations and applause today."
Vice President of Student and Academic Services Linda Blakey offered her praises, too, noting, "Coming back to school took a tremendous amount of sacrifice and in order to do so, I know you had to rearrange your lives, which is no easy task … This ceremony tonight is not an ending but rather a very exciting beginning. Please continue to further your education – and we hope you do so right here at WCC."
Of the near 100 students who graduated from the program, approximately 33% will seek an associate's degree from WCC. Another 22% have expressed intent and/or are currently in the enrollment process, according to Bonnie Truhn, director of the Adult Transitions Pathways program.
Keynote speaker and Adult Transitions College and Career Education coordinator Carol Osborne urged the graduates to remember they are more than "just."
"From here on out, I want to make sure you hold your head up high and declare, 'I earned my GED.' I want you to remove the word 'just.' You are more than 'just' anything so don't say 'I just got my GED. I earned my high school credential.' Be humble but be proud. You can be an inspiration to others."
Photos from the event can be viewed on Flickr.
For more information on the GED program or to attend a program orientation, call 734-677-5006. The Adult Transitions Pathways may also be reached at [email protected]
Tags: Adult Transitions Pathways, GED, Lawanda Leverett, ousearch_News_2019