June 26, 2019 Kelly Gampel
The first of three international skilled trade unions that use Washtenaw Community College as home base for summer training programs concluded its courses Friday.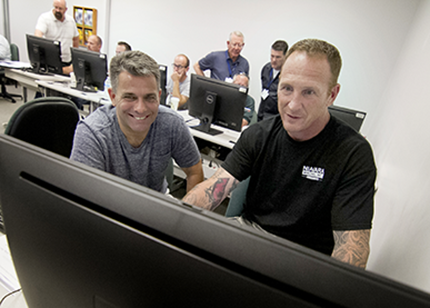 Approximately 100 affiliated instructors with the Operative Plasterers' and Cement Masons' International Association (OPCMIA) utilized equipment and classrooms at WCC for their second-annual Instructor Training Program on June 24-28. This year's program featured an advanced level of courses to accommodate returning union members.
When signing the contract in 2018 to make WCC headquarters for the summer training program, OPCMIA General President Daniel Stepano said he was glad to "have found a home" at WCC and it was a move to get the training needed to move the union forward. WCC and OPCMIA maintain a year-round partnership to educate union members.
OPCMIA established a licensing agreement to adapt and use the same series of train-the-trainer professional instruction courses that representatives from WCC and the University of Michigan helped the United Association Union of Plumbers, Fitters, Welders and Service Techs (UA) to create for its training program, which has run on WCC's campus for 29 years. WCC instructors teach some classes.
The OPCMIA ITP curriculum covers learning styles, teaching techniques, lesson plan development, student assessment, success strategies and classroom management along with electives to help instructors become more effective presenters.
OPCMIA joins the United Association Union of Plumbers, Fitters, Welders and Service Techs (UA) and the International Association of Bridge, Structural, Ornamental and Reinforcing Iron Workers (Ironworkers) as international labor unions that call WCC home for their summer instructor training programs.
The Ironworkers' annual summer training program at WCC will take place July 15-19 and the UA will come to campus on August 10-16. Those two organizations combine to draw more than 3,000 people to the area annually.
Founded in 1864, OPCMIA is the nation's oldest building trades union. It is affiliated with the AFL-CIO and the Canadian Labour Congress and represents approximately 39,000 members.
For more information about the OPCMIA, visit opcmia.org
For more information about Washtenaw Community College, visit wccnet.edu
Tags: Operative Plasterers' and Cement Masons' International Association, Plasterers, ousearch_News_2019