July 9, 2019 Richard Rezler
How does a community college student studying business end up at the largest conference of astronomers in the world? Well, it starts with a coin flip.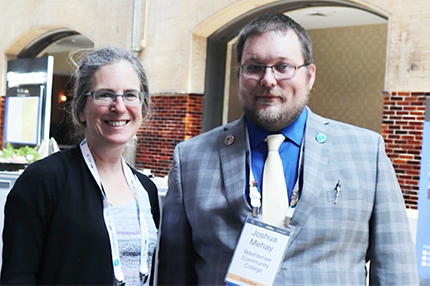 Joshua Mehay needed one more science elective to complete his Management degree at Washtenaw Community College, but couldn't decide which. So, he flipped a coin. Astronomy won.
The odds of Astronomy winning that coin flip were, of course, astronomically higher than, say, Mehay ending up at last month's 234th meeting of the American Astronomical Society Conference in St. Louis. But you begin to understand how the latter could happen after 10 minutes of conversation with Mehay.
The 31-year-old Saline resident has an unquenchable thirst for knowledge and a penchant for ending up in atypical situations. He recalls walking into a union meeting almost a decade ago, a wide-eyed 20-something in the fledgling stages of a federal law enforcement career, and walking out as the group's interim president. He asked so many good questions at the meeting, he ended up in charge.
But back to being an undergrad – and a business student, at that – at the bi-annual American Astronomical Society meeting, where he mingled with NASA scientists, astrophysicists, academics and PhD candidates.
Mehay has always been fascinated by space travel and the engineering that goes on behind it. He says he's done plenty of "self-study" on the topic. "I seek knowledge in any form," he says. "If information can be had, I'll do anything I can to get it. And I don't have any qualms with asking questions."
His own base knowledge and the quest for continuous learning made Mehay a standout student in that Astronomy class. WCC Math, Science & Engineering Technology faculty member Daniel Majaess, a full-time Astronomy instructor, said Mehay achieved the highest grade across all sections of the course.
"Beyond being the top WCC astronomy student, he was exceptionally kind and helpful to his classmates, which perhaps conveyed in practice the ultimate lesson learned from studying the cosmos," Majaess said.
As Mehay is apt to do, he asked many questions of Majaess. "Dan was a great teacher, probably the best I've ever had, because he either knew the answer or helped direct us to the answer," Mehay says. So when Mehay asked a question about electromagnetism replacing gravity, Majaess directed him to an expert on the subject – Dr. David Bartlett, a Professor Emeritus in the Physics department at the University of Colorado-Boulder who specializes in experimental gravity.
"I sent out a Hail Mary email to Dr. Bartlett and we spoke a few times," Mehay says. "I think he liked my determination and quest for knowledge."
After those interactions, it was Bartlett who encouraged Mehay to attend the American Astronomical Society Conference. To help offset the cost of the conference, Mehay was signed up as a conference volunteer and found that a seat at the registration table was a perfect place to network. Seeing everyone's name, title and affiliation is an easy conversation starter – and question generator.
Mehay was particularly fascinated by the keynote address provided by Professor James W. Head III from Brown University, a planetary geology expert who advises on and studies results from international space missions. So, of course, Mehay approached him after his talk, started a conversation and is "still communicating with him via email today."
A stranger points out to Mehay that his life sounds like a movie plot or sitcom premise – a man with a continually inquisitive mind finds answers from the highest possible source. Question about Catholicism? Call the Pope. How do I learn to dunk a basketball? Let's text Michael Jordan.
"I've had a pretty good life, a lot of interaction with prominent people, so I wasn't much intimidated," Mehay said. "As a business student at WCC, I think I was a little more outgoing than the average person – particularly in a room with a bunch of astronomers and PhD candidates."
Majaess said Mehay's participation in the conference helped create a bridge linking the society and WCC, building on a successful partnership that was partly inspired by WCC alumna Aisha Bowe's talk, "From Washtenaw to NASA," which was given on campus during the Winter 2019 semester.
But, primarily, Majaess was thrilled that the college could continue to build upon its "diverse array of enriching courses and other opportunities that drive student growth."
One month before the conference, Mehay graduated from WCC with high honors (3.8 GPA or higher). He had returned to school because he was thinking about transitioning out of federal field work and into "something more administrative."
Despite his obvious aptitude for the sciences, Mehay says he's only "flirted with the idea" of tying it into a future career choice. "The luxury I have is I'm not in a hurry to do anything," says Mehay, who has two boys – 6-year-old Brett and 5-year-old Chase – with his wife, Meghan.
Not in a hurry to do anything except keep learning, that is. And asking questions.
Tags: Business, ousearch_News_2019