Two Washtenaw Community College photography students are among seven artists participating in the New Art, New Artists College Student Mentoring Program at this year's Ann Arbor Street Art Fair.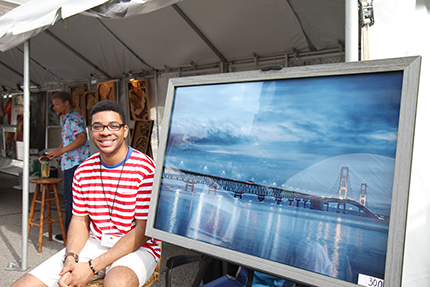 James Glisson and Spenser Williams each made the cut in the juried selection process for New Art, New Artists (NANA), earning the opportunity to display their work at one of the largest art fairs in the nation, which started today and runs through Sunday in downtown Ann Arbor. They received mentoring from the Ann Arbor Street Art Fair staff on creating a successful art fair experience and are paired with an artist mentor for additional guidance.
The seven NANA artists worked together to design their shared booth, WA801, located near the corner of East Washington and South Thayer in downtown Ann Arbor.
This is the first time either has exhibited their photography, so every step in the process has been a learning experience.
Williams, who is pursuing a Photographic Technology associate degree at WCC, said he asked friends and family for input on which images to display, but knew he'd have his favorite – a night-time shot of the Mackinac Bridge – exhibited prominently.
"It's definitely my favorite," the 25-year-old Ann Arbor native said while sitting on a stool beside the framed image and welcoming early visitors to the NANA booth.
On the other end of the large booth, Glisson was putting the finishing touches on his display. The 29-year-old runs a photography business, earning a part-time income taking shots at weddings and for real estate listings. Attempting to sell his more artistic pieces is a bit nerve-wracking, he says. "It's really like putting yourself out there."
Glisson works full-time as a research analyst along with his side business and taking photography classes at WCC. The Chelsea resident says he mainly takes classes to keep his skills sharp, but does hope to complete the Photographic Imaging certificate program.
The five other 2019 NANA student artists include:
Eva Antebi-Lerman, painting, University of Michigan
Kendall Freeman, wood, Central Michigan University
Quinn McGuinness, painting, Kendall College of Art and Design
Sophia Pomponio, drawing, Kendall College of Art and Design
Sarah Saks-Fithian, ceramics, University of Michigan
"I've really loved working with all the other artists," Glisson said. "It's been great to get all these different perspectives to visual mediums."
---
While at the art fair, you can also pay a visit to the WCC Recruitment & Outreach booth in the Washtenaw Non-Profits area, located on Liberty Street. WCC is in booth #20, near Fifth Street.
Tags: Photography, ousearch_News_2019