A three-member team from the Online Learning department at Washtenaw Community College will be honored for its innovation and excellence with a 2019 Blackboard Catalyst Award from Blackboard Inc., a leading education technology company for teaching, learning and student engagement.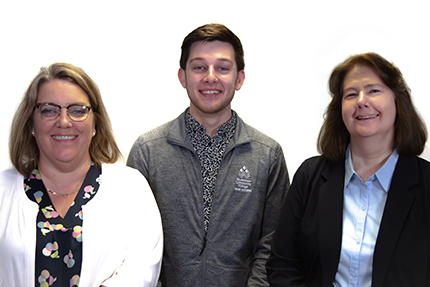 WCC Innovation Technologies Manager Nancy Collison, Instructional Media Support Expert Patricia Campbell and Online Learning Support Expert Sean Thomas are award winners in the Training & Professional Development category, Blackboard announced last week.
Winners were selected by a cross-functional team of Blackboard experts. Honorees from across the globe will be recognized during Blackboard's annual user conference, BbWorld, to be held July 23-25 in Austin, Texas.
The WCC team was honored for the development and implementation of a Blackboard Blackbelt Master Workshop Series that rewards college faculty with colored "belts" for progressing through training sessions in a fashion similar to how martial arts students progress through their training. Upon completion of each of four training modules, a corresponding colored belt is earned. Those who complete the entire series are presented with an official certificate and a black belt.
"Nancy and her team were tasked with delivering an innovative solution to drive faculty professional development for the goal of increased student success," said WCC Executive Director of Online Learning and Media Services Peter Baccile. "Enter the Blackboard Blackbelt. Why not have fun in the process of professional development?"
While Blackboard was already heavily used by WCC faculty that teach online courses, the professional development series focused on providing intrinsic and extrinsic motivation for faculty that lead face-to-face classes to utilize the tools and data collection services offered by the learning management system.
"One of the recurring asks from our students has been increased use of Blackboard in all course modalities," Baccile said. "The college has also set a goal of making Blackboard a primary portal for student information."
Gloria Eccleston, Director of Online Learning & Services, agreed, stating that increased faculty usage of Blackboard aligns with increased student demand and preference for electronic access to their grades and class materials, such as their syllabus, schedule and class handouts.
The team ran 30 workshops from August 15, 2018 to January 16, 2019, with 222 unique participants completing a total of 505 training units. Sixteen people have achieved Blackbelt status and an additional 30 faculty members have earned three of the four belts to date.
Collison and Baccile will share details of WCC's Blackboard Blackbelt professional development series with attendees of the BbWorld conference.
Tags: Blackboard, ousearch_News_2019