The Child Development associate degree program at Washtenaw Community College recently received accreditation from the National Association for the Education of Young Children's (NAEYC) Commission on the Accreditation of Early Childhood Higher Education Programs.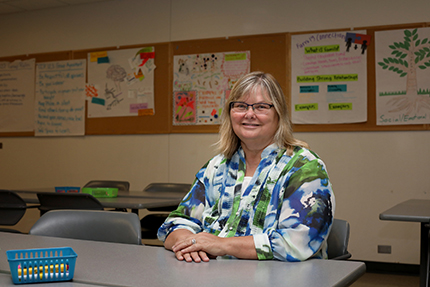 "Having an NAEYC-accredited program validates the strong rigor and content of the program, and it shows the alignment we have to the current national standards in early childhood education," said Brandon Tucker, WCC Dean of Advanced Technologies and Public Service Careers. "When choosing a program, students now know that we have highly qualified and experienced faculty, along with rich content."
The NAEYC announced it granted first-time accreditation to early childhood degree programs at six institutions of higher education, including WCC, during its August meeting. The commission also voted to renew accreditation for programs at eight institutions. This brings the total number of institutions with accredited programs to 206 in 40 states across the country.
Achieving NAEYC accreditation was a three-year process led by Early Childhood Program Coordinator and Faculty Beth Marshall and Ruth Anne Walsh, department chair of the college's Public Service Careers division. The process included an in-depth self-study of the program and an on-site review visit.
"At WCC, we strive to offer our students the highest quality program so they can best serve the children and families in our community," Marshall said. "We are proud to receive NAEYC's validation of our program."
The college received a grant from the Michigan Association for the Education of Young Children (MIAYEC) to prepare and apply for accreditation. The state organization provided consultation and guidance throughout the process.
To earn and retain accreditation, professional preparation programs must demonstrate that they:
Align to NAEYC's Professional Preparation Standards;
Respond to the unique needs of their degree candidates and communities;
Provide intentional learning experiences for their degree candidates to obtain the knowledge and skills needed to be effective early childhood educators; and,
Continuously assess and reflect on their degree candidates' performance.
"NAEYC accreditation of Early Childhood Higher Education Programs is a hallmark of quality assurance for the early childhood preparation profession," said Mary Harrill, Senior Director of Higher Education at NAEYC. "We congratulate all of the programs that have recently achieved accreditation. Their dedication, through the accreditation process, to program improvement, to the students they serve, and to the early learning settings in which their graduates will work is to be commended."