Two Washtenaw Community College students are among the four recipients statewide of a "New Beginnings" scholarship from the Lake Trust Foundation, which is the philanthropic branch of Brighton-based Lake Trust Credit Union.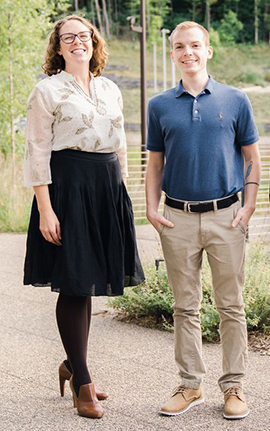 Amanda Lawrence, a cybersecurity student from Ypsilanti, and Keith Austin, a computer systems student from Ann Arbor, were among the winners.
The New Beginnings scholarships are meant to assist students wishing to pursue skilled trades or technical education programs.
"Our business members and employers across Michigan report a shortage in the skilled trades," Lake Trust Credit Union President and CEO David Snodgrass said in a release. "We're proud these scholarships are innovative and can help such talented people achieve their dreams."
Blake Ellis of Mount Pleasant and Ian Krumm of Howell were the other two New Beginnings scholarship winners.
Lake Trust also presented LaToya Wright of Muskegon with a Community Impact Scholarship that rewards an aspiring community-oriented entrepreneur who wishes to run a business with a social purpose with full graduate school tuition at Cleary University.
Tags: Amanda Lawrence, Computer Systems, Keith Austin, Lake Trust Foundation, New Beginnings Scholarship, cybersecurity, ousearch_News_2019