September 17, 2019 Kelly Gampel
Even in the days and weeks since a back-to-school barbeque took place on the front landing of the Occupational Education Building, Washtenaw Community College students are still talking about it.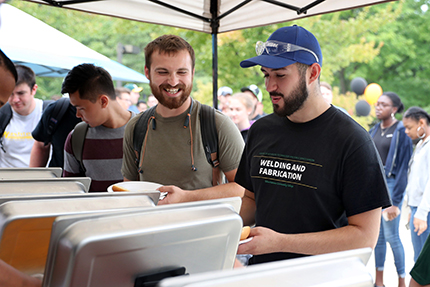 "Students continue to rave about how awesome the event was," said Loren Townes, a college relations coordinator at WCC. Townes recalled a student's perspective – "A new student within our Automotive Services program took to social media to share his excitement, 'I'm excited to say, my first day of college was phenomenal.'"
More than 300 students attended the Kick Start 'N' Back To School BBQ. In addition to offering free food, games and a $300 bookstore voucher giveaway, organizers said underlying objectives were to provide students a space and opportunity to cultivate a sense of belonging; facilitate new connections with their peers, faculty and staff; and inform them of available student services.
On hand at the event was the WCC Foundation, Entrepreneurship Center, Career Transitions, Public Safety, Student Resource Center and college success coaches. Dan Curtis of Curtis DJ Entertainment provided the tunes, A Taste in Every Bite Catering LLC fed attendees and Carnival Bounce Rentals supplied a giant Jenga game and ice cream.
A centerpiece of the event was a black Ford F-350 that was customized by Extang and WCC students, faculty and staff. The pickup truck was shown at the Specialty Equipment Market Association (SEMA) Show at the Las Vegas Convention Center in 2018 and received accolades. The truck features a slide-out game table, built-in cooler, built-in BBQ grill as well as an OLED television and sound system in its truck bed cover.
Extang, an Ann Arbor business that manufactures truck bed accessories, came alongside WCC as a sponsor in the event.
"Extang is excited to continue our support for our local community college. Any good, useful ways we can give back to the great work they've done for us, by modifying and painting our Ultimate Tailgate pick-up truck is just a small token of our appreciation," said Extang Vice President of Sales Steve Kelley.
Students gathered around the truck throughout the event, admiring its uncommon attributes. Extang had set up a water pong game on the slide-out table, which drew groups of students. Kelley said he was glad students were using the truck by having friendly competitions against one another.
Their help at the event didn't go unnoticed by students, WCC employees or the college administration.
"Each year has built off the previous year, and with the support of Extang this year, we were able to enhance the overall experience – we're grateful to them," Advanced Technology & Public Service Careers Dean Brandon Tucker. "Their support this year further strengthens our partnership and is only the beginning of an even larger one for years to come."
View photos from the event on our Flickr page.
Tags: BBQ, Welcome Back, ousearch_News_2019