Affixing a pink and white bandana to a pastel pink pumpkin, Chris Little shared the signs his mother experienced when she was diagnosed with breast cancer.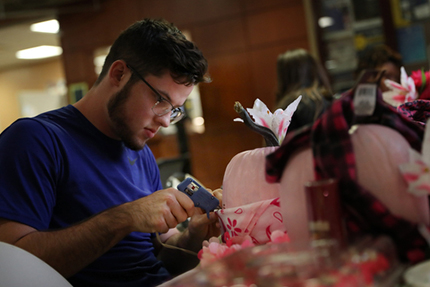 Among them, there were lumps. And she experienced lethargy.
The Student Resource Center, in observation of Breast Cancer Awareness Month, invited students Oct. 3 to decorate the autumn staple with the signature color of breast cancer awareness – pink.
Little, of Plymouth, didn't know the awareness event was happening, but when he entered the second floor of the Student Center, he stopped to honor his mom.
"It makes me think about being with my mom and to share her story. Everyone has their time and you just got to make the most of it, " Little said, explaining his mother has advanced cancer.
In addition to being a full-time student seeking a construction management degree, the Plymouth 18-year-old is working full time and devotes hours to caring for his mother by driving her to chemotherapy, support groups or awareness events.
"It's emotional listening to (Little) talk about his mom and how he's helping take care of her with her having stage 4 cancer," said Student Resource Center case manager Cheryl Finley. "And then you hear another student talk about how she's a breast cancer survivor. It makes you know what you're doing is worthwhile if you help one person. That's why we do it."
This is the third year the Student Resource Center has held the event. The pumpkins were donated by WCC staff member Amy Carpenter and Chambers Family Farms.
The event provides an outlet for students to express themselves and to connect with others. Many of those who decorate pumpkins have a loved one or they, themselves, are fighting or have overcome breast cancer.
Tables filled with breast cancer information will be available on the second floor of the Student Center through the remainder of the month. When the pumpkins go back to the students at the end of October, Little said he plans to give the pumpkin to his mother.
Tags: Cheryl Finley, Chris Little, breast cancer, ousearch_News_2019