October 10, 2019 Richard Rezler
Two of Washtenaw Community College's culinary programs recently received accreditation from the American Culinary Federation.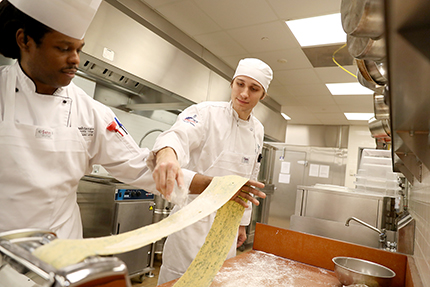 "It's a stamp of approval of a quality culinary arts education-based program on a national level," explained Culinary Arts & Hospitality department chair and faculty member Derek Anders Jr.
The college's Culinary Arts and Management associate degree program received a five-year extension of its accreditation, which has been in place since 2003. The Baking and Pastry Arts and Management associate degree program, which launched in 2013, received its first accreditation this year.
Typically, Anders said, the initial accreditation is for three years, but WCC's track record of reaccreditation likely played a role in the baking and pastry program receiving a five-year term instead.
You can sample the work of both programs yourself at Garrett's Restaurant and the Sweet Spot on the first floor of the Student Center.
Garrett's, a full-service teaching restaurant, offers lunch service on Tuesdays and lunch service from 11:30 a.m. to 12:45 p.m. every Tuesday through November 26. Visit Garrett's website for the menu and to make reservations.
The Sweet Spot, a retail space that sells the scratch-made products made in baking and pastry courses, operates from 11 a.m. to 2 p.m. on Tuesdays, Wednesdays and Thursdays.
Tags: ACF, Accreditation, American Culinary Federation, Baking and Pastry Arts, Culinary Arts, Derek Anders Jr, ousearch_News_2019