Washtenaw Community College is co-hosting a networking event and job fair on Tuesday, Nov. 5 with Hire MI Vet, a community initiative developed to help veterans find meaningful employment. The event, which will take place in the Morris Lawrence Building on WCC's main campus, is designed to connect local veterans and their families with more than 30 veteran-friendly employers.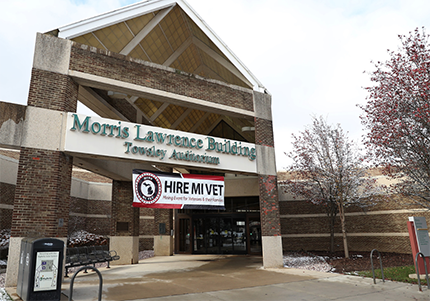 The fifth annual hiring event starts at 9:15 a.m. with a panel discussion about veteran support services available in the community. Participants will include:
Johnny Epps, Washtenaw Service Center Manager, Michigan Works!
Lisa Bartley, Business Relations Consultant-Michigan Department of Health and Human Services, Michigan Rehabilitation Services
Steve Gonce, Supported Employment Social Worker, Department of Veteran Affairs-Ann Arbor
From 10 a.m. to 12 p.m., veterans and their families have the opportunity to meet prospective employers from a wide array of industry groups, including manufacturing, hospitality, technology and retail. Registration is available online at hiremivet.org or at the event from 9 to 11:30 a.m.
Companies expected to be in attendance include Allied Universal, API Technologies, Blue Cross and Blue Shield of Michigan, Bridgestone, Busch's Market, Delta Dental, DENSO, Detroit Police Department, FedEX, Glacier Hills Senior Living Community, HDR Engineering, HORIBA, Liebherr Aerospace, Location Services, Manpower, NSK, Michigan Department of Health and Human Services, Michigan State Police, Rocket Mortgage by Quicken Loans, State of Michigan Civil Service Commission, TG Fluid Systems, United Methodist Retirement Communities, University of Michigan, UPS, Veteran Affairs-Ann Arbor, Washtenaw County Road Commission and Zingerman's.
In addition to meeting with employers, attendees will have the opportunity to connect with veteran-specific community resources, including Buddy to Buddy, Camp Liberty, Michigan Works! Southeast, Veterans Employment Services, State of Michigan, Washtenaw County Department of Veteran Affairs and Washtenaw Community College.
Job seekers are encouraged to dress professionally, conduct research of employers before attendance, and bring multiple copies of their résumé.
The entire list of employers is available at hiremivet.org/hmvhe
Tags: Hire A Vet, ousearch_News_2019