Abdul Kizito is a General Studies student at Washtenaw Community College with plans to transfer to a four-year university. Studying economics, political science or law are on the radar for the 17-year-old Ann Arbor Huron High School graduate, who was born in Uganda and came to the United States with his mother, Sauda Nabukenya, who is pursuing a Ph.D. at the University of Michigan.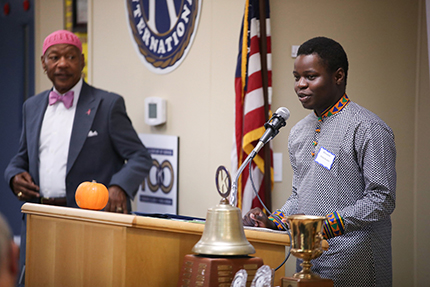 Eric Nordman graduated from high school 35 years ago. He's back in school, studying Auto Body Repair full-time at WCC while also working as a delivery driver and serving as the primary caretaker for his 90-year-old mother.
Kizito and Nordman may exemplify the widely disparate types of students that can be found at WCC, yet they have one big thing in common: They're both recipients of scholarships created through a new partnership between the Kiwanis Club of Ann Arbor and the WCC Foundation.
Both attended a luncheon at the Kiwanis Center on Monday that allowed Kiwanis Club donors to meet some of the 20 students their $72,000 in contributions are helping.
RELATED: View photos from the luncheon.
WCC President Dr. Rose B. Bellanca told Kiwanis members in attendance that the scholarships represent much more than financial support. They are, she said, "priceless."
"You have invested in the lives of our students and I can think of no better return on investment than giving someone the resources they need to transform their lives," Bellanca said. "I'm confident that each of these students, when able, will pay this generous investment forward. They will remember your kindness and concern for their welfare and academic progress. And when it's their turn to give back, they will honor the legacy of the Kiwanis Club of Ann Arbor and the cycle of generosity will continue."
Eight scholarships were awarded to qualified graduates from Ann Arbor Public Schools to attend WCC during the 2019-2020 school year. Two recipients were selected from Huron, Pioneer and Skyline high schools and one each from Community High School and the Pathways to Success Academic Campus.
In addition, 12 scholarships were awarded to AAPS graduates already attending WCC full-time, to help them move closer to completing their academic program.
The 20 scholarships cover tuition, books, materials, fees and assistance with unexpected emergencies such as transportation, food needs, or childcare and medical expenses.
"What we're really looking for is kids that need help to finish their education," said Dan Burroughs, co-chair of the Kiwanis Scholarship Committee. "We're calling them finish-line scholarships that help kids get degrees, or get them one step closer to attending a four-year school."
Burroughs said three-quarters of the money raised for this year's scholarships came from Kiwanis Club member donations, plus matching funds contributed in large part by the Ray and Eleanor Cross Foundation, administered by Kiwanis member Harry Cross. The other one-quarter of the funds come from revenue generated by the Kiwanis Thrift Sale shop, located at 100 N. Staebler Road and open to the public from 9 a.m. to 1 p.m. on Fridays and Saturdays throughout the year.
"Our plan is to build this program so it will continue at this level, or better, in the future," Burroughs said.
---
For more information about the Kiwanis Club scholarships, visit a2kiwanis.org or contact Mary Schwartz, Kiwanis Administrative Assistant, at 734-368-9738.
For more information about the WCC Foundation, email [email protected] or call 734-973-3665.
Tags: Abdul Kizito, Auto Body Repair, Eric Nordman, General Studies, Kiwanis Club of Ann Arbor, WCC Foundation, ousearch_News_2019