December 6, 2019 Rich Rezler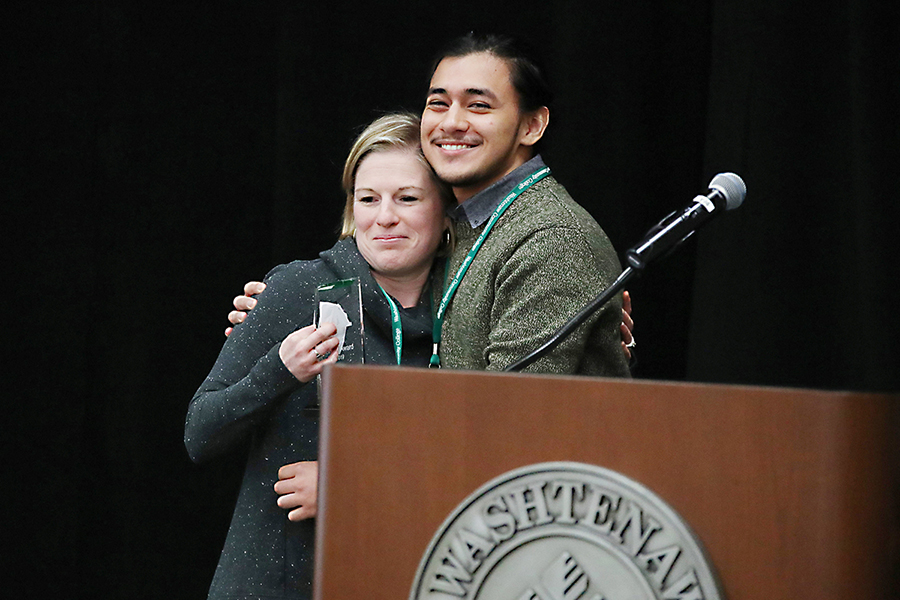 Ann Arbor Huron High School counselor Caitlin Van Cleve is the inaugural winner of the WCC Bridge Award, a student-nominated honor intended to reward a local high school counselor that made a difference in a student's life while bridging the path from secondary to post-secondary education.
As an aspiring first-generation college student and immigrant from Costa Rica attending Huron High School, Pablo Garcia says he didn't know much about the process of going to college in the United States. What he did know, he says, is going to college "was my deepest longing and my dream to accomplish."
To make that dream a reality, he depended on Van Cleve, who directed Garcia through the process of enrolling at Washtenaw Community College. "She always listened to me and answered every question I had," Garcia says.
On Friday, the 2019 Huron graduate was able to publicly thank Van Cleve. He nominated his former counselor for the WCC Bridge Award. That nomination was chosen for presentation at the college's annual High School Partners Breakfast, a gathering of local high school administrators, counselors and teachers.
"Ms. Van Cleve was always there helping me and setting me on the right track," Garcia said while introducing her to the audience. "She introduced me to the STEM Scholars program, the scholarships that WCC offered, and helped me become a dual-enrolled student during my senior year at Huron High School. If I could thank anyone for all their support and patience, it would definitely be Ms. Van Cleve."
Ironically, it was at last year's High School Partners Breakfast that Van Cleve learned about the new STEM Scholar program at WCC. When she returned to Huron, she brought it to the attention of Garcia and classmate Umang Bhojani – two gifted students who Van Cleve knew may find it difficult to pay for four years at a university. Bhojani was on-hand to help present the WCC Bridge Award to his former counselor.
Garcia is now flourishing at WCC, where he's a Pre-Engineering Science Transfer major, the student president of the college's STEM Scholars organization and an officer with the student club "Transfer to Success."
Van Cleve, who received a standing ovation from those gathered, said she was overwhelmed by the honor. But the honors didn't stop there.
Changing lives in 'dynamic and awesome' ways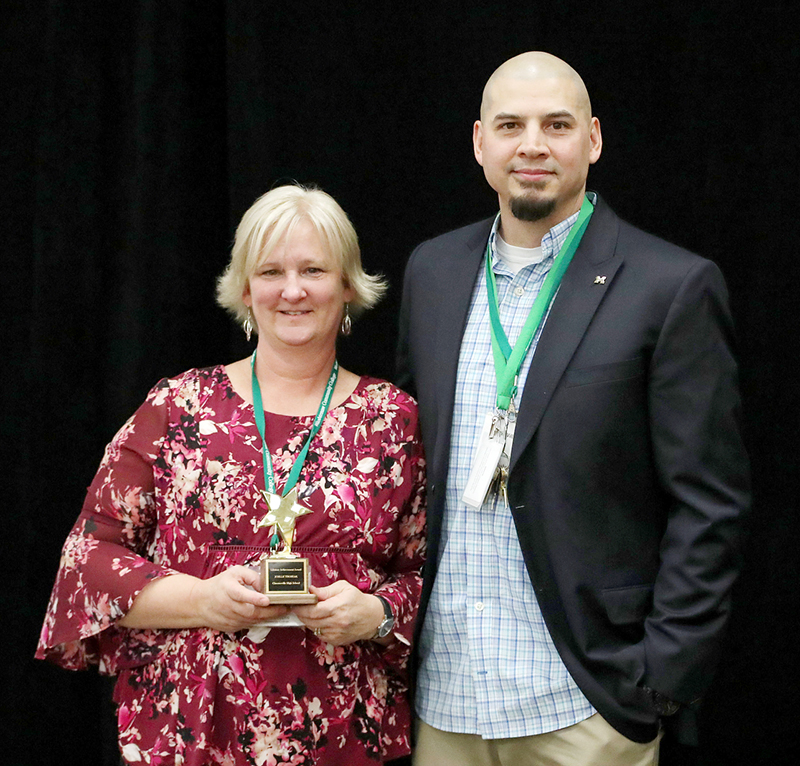 Justin Villenueva is a WCC alumnus currently serving an internship as a success coach at the college while he pursues a master's degree from the Center for the Study of Higher and Post-Secondary Education at the University of Michigan. He was asked to share his transfer story at the event, but – considering the audience – couldn't pass up the opportunity to thank his own high school counselor for the role she played in his life.
Villenueva struggled academically at Livonia Clarenceville High School and was motivated to stay in school only for athletics. One semester, he was on the verge of being deemed ineligible for basketball so he went to visit his counselor, Joelle Troszak.
He said the meeting was nothing out of the ordinary in the typical day of a counselor – a 15-minute session during which Troszak administered some wise advice and helped him develop a plan to remain eligible. But Villenueva insists that single meeting changed the trajectory of his life.
"I walked away feeling, for the first time, like someone cared about me," Villenueva said. "I wasn't anything special. I wasn't an honors student. I wasn't going to go out and do great things. But for those 10 to 15 minutes, she gave me something that, to this day, I still lean on. She gave me hope. And I walked away feeling like I was somebody that was worth somebody else's time."
Villenueva invited Troszak, who has been a teacher and counselor at Clarenceville for 25 years, to the stage to receive a lifetime achievement award.
"Because you took those 15 minutes that one day a long time ago, I get to leave a legacy, a good legacy, for those that come after me," Villenueva told Troszak. "Because a high school counselor took the time to help me stay eligible for basketball, I get to stand here as a proud husband and father of two who, although I graduated high school with a 1.9 GPA, is going to get his third post-secondary degree in higher education."
Troszak admitted to being uncomfortable with the adulation she received Friday, but added that it "warms my heart and rejuvenates me to know those small conversations can be so impactful."
After high school, Villeunueva found a good-paying job in the trades but eventually realized he wanted to continue his education. Going to school part time, he maintained a 4.0 GPA while attaining an associate degree at WCC, where he met another influential counselor. He credited WCC transfer coordinator Alexi McCracken with helping him get accepted to the University of Michigan in 2015. He graduated from U-M with high distinction in 2018.
"Every counselor that is here today, thank you for all your effort you put into your students," Villenueva told the audience. "If anything, let my story be a commentary on just how important your work is; how vital it is to the health of the individuals you are working with, the communities that they live and for society as a whole.
"No matter how small of a moment you give to your students, when it comes from your heart and your passion for education, it changes lives in dynamic and awesome ways."
Tags: Award, High School Partners Breakfast, WCC Bridge Award, high school, high school counselors, ousearch_News_2019