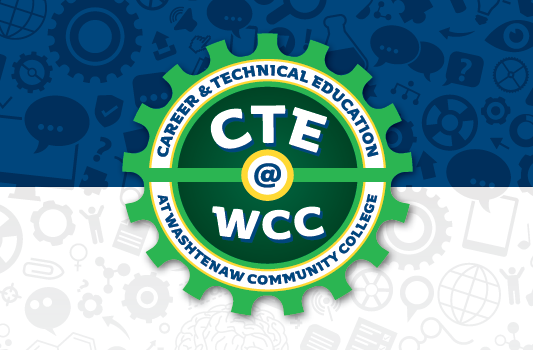 For the third consecutive year, Washtenaw Community College is participating in the national movement to celebrate Career and Technical Education (CTE).
WCC is hosting a number of events in February 2020 to highlight the value and accomplishments of CTE programs on our campus and across the country. The CTE Month awareness campaign, initiated by the Association for Career and Technical Education, engages K-12 and two- and four-year college educational systems to introduce students to CTE programs in career fields like health care, information technology, advanced manufacturing, and more.
CTE encompasses many types of education, from classroom learning to certification programs to work-based learning opportunities outside the classroom for all learners.
WCC is proud and excited to support CTE month. CTE Month volunteers will engage students, faculty, staff, as well as community members throughout the month to inform and educate them about what CTE represents and the variety of course offerings and resources available at the college designed to help them "go further".
Anthony Webster, the college's CTE Student Success Specialist and CTE Month coordinator says this year's focus and goal is to help students to connect education to industry.
"Another focus of CTE Month is to inform current WCC students of the value in learning cutting-edge skills that will position them for limitless career opportunities once they have earned a certificate or associate degree," Webster said.
Advance CTE, a national non-profit representing secondary and postsecondary CTE education leaders across the country, estimates 12.5 million high school and college students are enrolled in CTE throughout the United States. Its research shows the high school graduation rate for CTE concentrators is about 90 percent, or 15 percent higher than the national average.
WCC's Retention and Completion Specialist and the CTE Month co-coordinator Apryl Scheffler-Martin said CTE programs are becoming a popular choice for students because they lead to careers that are in high demand.
"The end goal of an education is typically employment and students are realizing that CTE programs can make this happen for them," Scheffler-Martin said.
Similarly, WCC's Occupational Dean and Associate Vice President of Workforce and Community Development Brandon Tucker said that "across the institution, programs continue to impact the lives of students and our community by ensuring our workforce is ready for rapidly changing technological advancements."
WCC offers degrees and/or certificates in more than 95 programs – ranging from 3D animation to welding – that are considered occupational by the State of Michigan. Information about those programs and additional CTE-related resources can be found at wccnet.edu/cte.
WCC's planned CTE events include:
Monday, Feb. 3: The CTE Month Kick-Off Celebration will be held in the Student Center from 12 to 2 p.m. Join us for give-a-ways, refreshments, a photobooth, information, and fun! There will also be information about how WCC students can sign up to get free business cards.
Thursday, Feb. 13: CTE Industry Leaders Panel Discussion will take place in GL Room 202 from 10 a.m. to 12:30 p.m. WCC students, faculty, staff, and community members are welcome to engage with local industry leaders around what it takes to succeed in the following industries: Law Enforcement, Education, Health Sciences, Marketing, and Hospitality. This event is hosted in conjunction with the Entrepreneurship Center.
Friday, Feb. 14 and Saturday, Feb. 15: WCC is hosting regional Skills USA competitions. High school students from around southeastern Michigan participating in Automotive Service, Auto Body competitions in the college's state-of-the-art labs will have an opportunity to learn more about WCC's CTE programs and student success resources.
Tuesday, Feb. 18: The college will hold a CTE-themed outreach visit to the Harriet Street Community Center and the Michigan Works office in Ypsilanti from 12 to 2 p.m. to engage community members in discussion around CTE and programs that could suit their interests and passions.
"CTE Awareness Hubs" will be operated throughout the month from 12 to 1 p.m. on various days in multiple campus locations. Webster and Scheffler-Martin, along with other campus representatives and current CTE students, will be at the Awareness Hubs to provide information on CTE resources and answer questions about programs at WCC.
The CTE Month Team will also be supporting various events during STEAM Week (Feb. 3-7) as well. Be sure to visit wccnet.edu/STEAM to learn more!
Tags: CTE, CTE Month, ousearch_News_2020