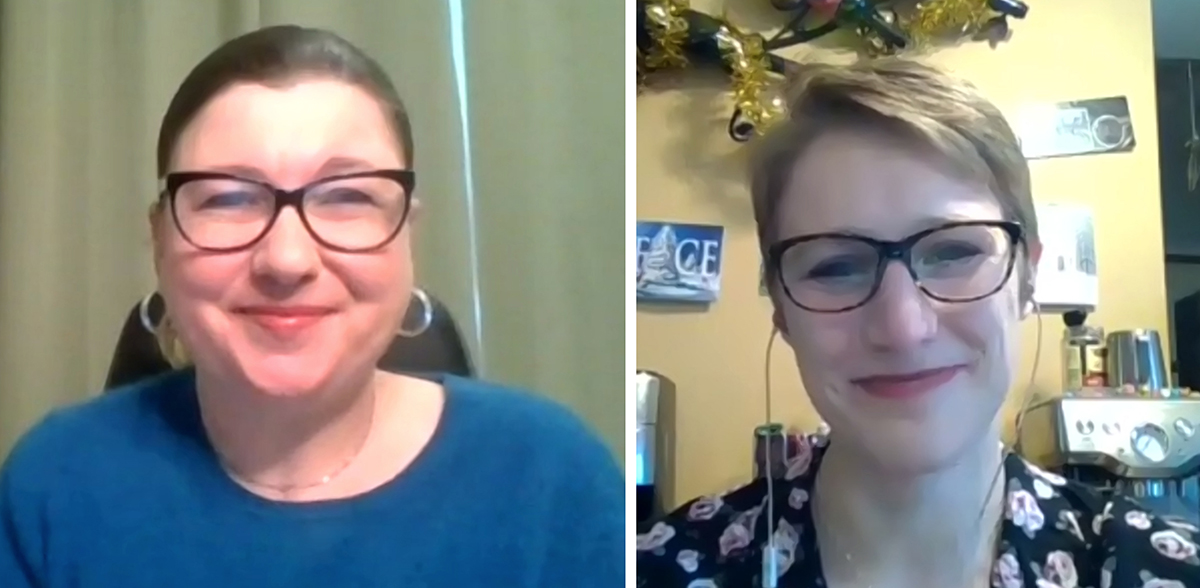 Washtenaw Community College rolled out the CircleIn app for the Fall 2020 semester to give students an opportunity to collaborate, exchange class notes and generally be more productive remotely.
Now, CircleIn is rewarding two WCC students who were among its heaviest users with some scholarship money. Nadine Gizak and Audrey Levesque recently learned they were the recipients of $2,000 and $500 scholarships, respectively.
"We created CircleIn because we wanted to make sure students had a place to work together when they leave campus. With all of the uncertainty that COVID-19 brought, we were relieved to know that our efforts would help ease the transition for so many students who would most likely never have chosen to participate in remote learning," said Gerald Meggett Jr., CircleIn CEO & Co-Founder.
"We are so grateful that Nadine and Audrey decided to give CircleIn a chance and for the amazing help they inevitably provided to their classmates. We are thrilled to be partnered with Washtenaw Community College and cannot wait to show even more students how CircleIn can help them and others succeed."
WCC students earned points by completing various activities and tasks on the app throughout the semester. Gizak won the college's MVP award nine times and Levesque four times.
"I was really excited to hear and learn about CircleIn," said Gizak, a 45-year-old Detroit resident who returned to college to transition careers from non-profit management to data analyst. "One thing that students do in a classroom is socialize and learn from it — whether they know it or not. So for that reason, I was excited to be part of CircleIn's inaugural year at WCC."
Gizak said the greatest benefits of the app were improved time management, learning to take notes digitally and overall motivation. Following her experience in Fall 2020, she immediately set up a group chat with students in the Calculus class she's taking during the Winter 2021 semester.
While Gizak was using the app as a veteran distance learner who first took online college courses in the 1990s, Levesque used CircleIn to help her adapt to a virtual classroom.
The 28-year-old Ann Arbor resident is studying Radiography, which is one of the limited number of programs that were allowed on-campus during Fall 2020 for its hands-on learning labs while lectures are held online.
She said using the CircleIn app was instrumental in helping her study the "tons of physics and biology definitions" required of Radiography students. "Seeing them all laid out in front of me was really helpful," she said.
Both Gizak and Levesque were invited to Zoom calls with CircleIn representatives under the pretense of discussing the app. They were surprised with the scholarship news and by the presence of WCC administrators — including Executive Vice President for Student & Academic Services Linda Blakey and Executive Vice President for Instruction and Academic Affairs Dr. Kimberly Hurns.
"Thank you from the bottom of my heart," Gizak said at the end of her call. "That is money in the bank! I can pay for my classes and still get my (computer) upgrades!"
---
WCC students can click the CircleIn button in Blackboard or visit students.circleinapp.com to load the app on their computer or laptop. Search for Washtenaw Community College and use your netID and password to authorize. The app is also available for mobile devices on the App Store and Google Play.
Tags: CircleIn, February 2021, On The Record, Scholarships, Student Success, ousearch_News_2020