January 23, 2020 Rich Rezler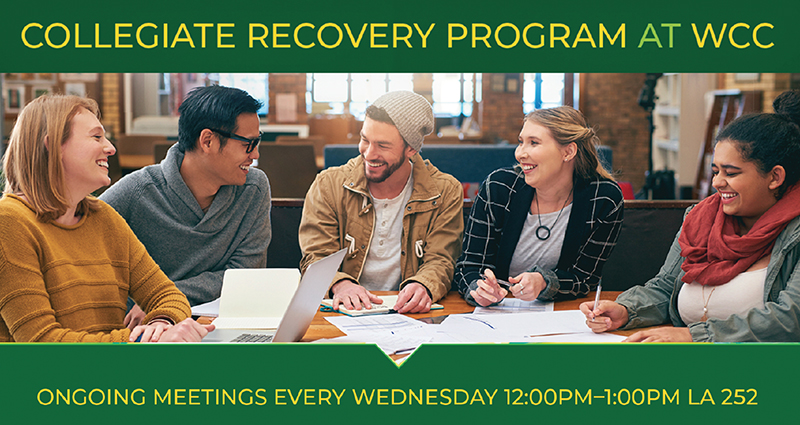 The Collegiate Recovery Program at Washtenaw Community College celebrates its one-year anniversary this month with a new facilitator and the exact same mission – to help recovering students succeed in college while maintaining sobriety.
Teresa Herzog, a professional public health educator with more than 30 years of experience at the University of Michigan and other organizations, recently joined WCC as its Collegiate Recovery Program (CRP) Coordinator.
"I've witnessed lot of recovery over 30 years," Herzog says. "It's incredible how enlivening, how life-saving it is for a lot of people."
The CRP was created through the WCC Counseling and Career Planning office and originally facilitated by Student Advisor Caleb Boswell and Personal Counselor Kari Mapes, who continue to serve as resources for student members.
Herzog describes her role as creating structure and support for the program, which offers weekly peer-run support meetings from noon to 1 p.m. every Wednesday in room 252 of the Crane Liberal Arts and Science Building along with other special events.
In her research since taking over the position, Herzog found there are roughly 200 recovery programs in higher education, but very few at the community college level.
The goal of the program is to help students transition into the campus community by providing fellowship, encouragement, resources, support groups and programs; as well as access to the college's student support services.
Herzog notes that she's not a certified clinician, so she is not providing recovery treatment. But she does help connect students with resources available to them both on campus and in the community.
"What's really going on in our group is establishing a place where people are free of judgment," Herzog said. "Everyone needs that support in recovery."
Those interested in joining the program can contact Herzog at [email protected] or 734-973-3328.
The Collegiate Recovery Program is holding an open house from 4:30-6:30 p.m. on Wednesday, Jan. 29 at Garrett's Restaurant on the first floor of the Student Center. All are invited to stop in, learn about the program and enjoy food and "unleaded" beverages.
Tags: Collegiate Recovery Program, Student Resources, ousearch_News_2020