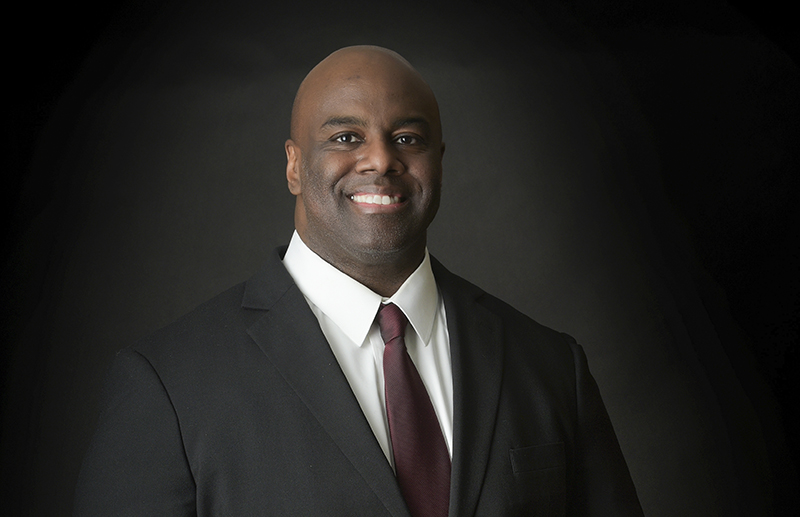 Once an officer with a goal of becoming a police chief, Washtenaw Community College's newest dean got a taste of the academic world and it changed his life.
Dr. Jimmie Baber now leads the college's Advanced Technologies and Public Service Careers division, starting in the role at the beginning of the calendar year.
"Like most, I got into policing to help people; but so often as a police officer you end up seeing people at their worst," said Baber. "With education, there's so much more promise at the end."
Baber came to WCC from Grand Rapids Community College, where he served as Associate Dean for School and Workforce Development since July 2017.
It was a decade before starting at GRCC that Baber was bitten by the education bug. While taking classes toward a master's degree in Criminal Justice/Law Enforcement Administration at Ferris State University, one of his instructors suggested he should consider a career in teaching.
Baber had conducted police training as a lieutenant with the Davison Township Police Department, but stepped things up a notch by becoming an adjunct criminal justice professor at Ferris State's Flint campus.
A few years later, he stepped out of his uniform completely to become the associate professor of criminal justice — and eventually the department head — at Mott Community College.
"I just fell in love with helping people reach their goals and dreams," Baber said. "Education truly is the gateway to a better life."
While teaching at Mott, Baber found himself drawn to the community college system so he pursued a Doctor of Education degree in Community College Leadership from Ferris State. He graduated Magna Cum Laude.
"I love the community college mission with its open access that draws such a big mix of people with different goals and dreams," Baber said.
As Dean of Advanced Technologies and Public Service Careers, Baber oversees the college's Advanced Manufacturing, HVACR, Childcare, Criminal Justice, Transportation Technologies and Welding & Fabrication departments.
Baber replaces Brandon Tucker, who was promoted to Associate Vice President of Workforce and Community Development.
A lifelong Michigan resident, Baber earned his bachelor's degree from Saginaw Valley State University, where he was a scholarship track and field athlete. He lives in Farmington Hills with his wife, Amy Proctor.
Tags: Advanced Technologies and Public Services Careers, Dean, ousearch_News_2020