Aisha Bowe has become a bit of a poster child for Washtenaw Community College as an alumna whose career accomplishments dwarf even her 14-foot tall face splashed across billboards along local interstates.
On Monday, Bowe announced she is endowing a scholarship designed to produce the next generation of exemplary alumni, saying she "wants to support students at WCC the same way WCC supported me."
The Aisha R. Bowe eMpower Engineering Scholarship will be awarded through the WCC Foundation to select students who've earned a minimum of a 3.3 GPA while completing at least 14 credits in a WCC academic program designed to transfer into the University of Michigan College of Engineering.
Bowe transferred from WCC to the U-M Aerospace Engineering program in 2005, earning a bachelor's degree and a master's degree before a seven-year stint at the NASA Ames Research Center. She then Founded STEMBoard, a seven-figure tech firm that partners with defense industry and private-sector organizations to provide smart systems and software solutions.
Stating she wanted to go beyond providing financial assistance, Bowe is working with corporate partners to provide her scholarship recipients with internships, equipment (tablets, computers, etc.), and career services (resume and interviewing workshops, career counseling, etc.).
Bowe announced the scholarship as she kicked off the college's STEAM Week, a week-long focus on interactive workshops, scientific and relevant career presentations, documentaries and demonstrations of science, technology, engineering, arts and mathematics (STEAM) academic programs and careers. She has personally funded the scholarship for the first year and is raising funds to endow it in perpetuity.
"The quality of education at WCC is top-notch. You can come here and transition to the best universities in the nation and the best programs in the world," Bowe said. "Sometimes that gets lost. I'd like to elevate that and the role it played in my life."
While introducing Bowe to the STEAM Week attendees Monday morning, WCC Vice President for Instruction Dr. Kimberly Hurns explained the impact she made during a visit in 2019, inspiring students and motivating faculty and staff while sharing her success story.
Beyond her long list of accomplishments and abundance of charisma, Hurns said Bowe "has become a permanent fixture in our hearts and minds at WCC because she's so open, honest and transparent about her journey."
Bowe grew up poor – her mother a house cleaner, her father a taxi cab driver – and wasn't a strong student through high school. When she enrolled at WCC, she had no intention of becoming an engineer. "I just wanted to figure out a way to get a job," she says.
Being young, black, poor and enrolled at a community college, Bowe said nobody – not her friends, not even herself – expected her to accomplish much. Then she encountered the WCC faculty.
"The instructors at WCC didn't have any preconceived notions about me. They were just there to help me learn," Bowe said. "They challenged me to think differently about myself."
All of her attitudes about education changed when she received an A in a Pre-Algebra class. "The funny thing about accomplishment is that it has a snowball effect," she said. Her self-confidence continued to flourish as she progressed through Calculus I, Calculus II, Calculus III and Differential Equations at WCC. The rest, as they say, is history.
"I'm a WCC alum, and more importantly I'm a proud WCC alum because my life started here," Bowe told the STEAM Week audience. "I was alive and 18 or 19 years old when I came to WCC, but I was just existing. I wasn't living."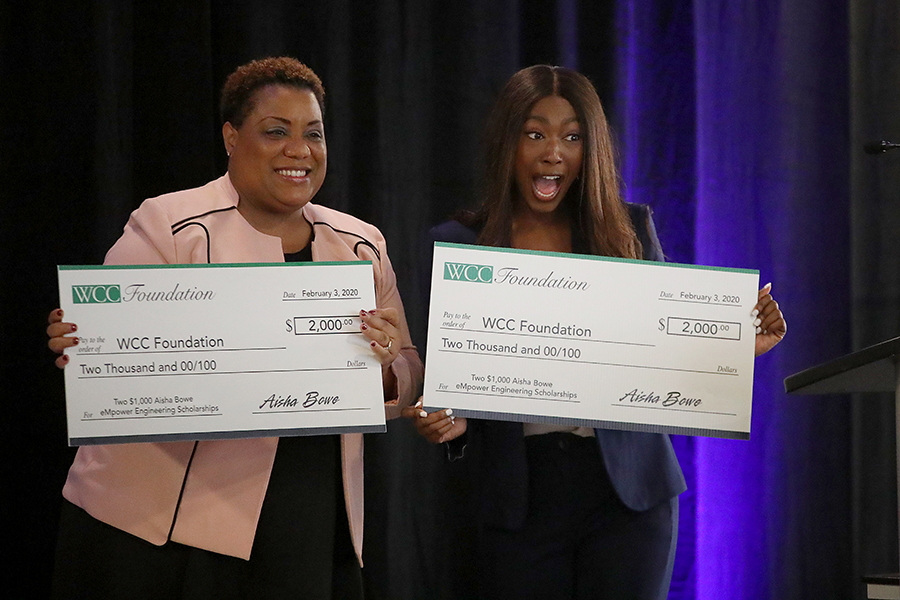 Tags: Aisha Bowe, Alumni, Alumni Profile, STEAM, Scholarships, Transfer, WCC Foundation, ousearch_News_2020