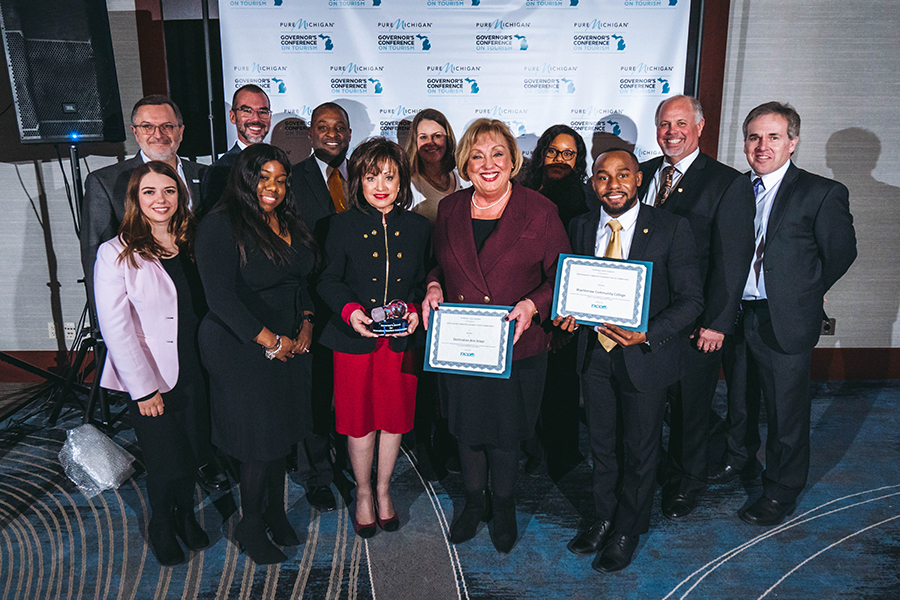 Destination Ann Arbor and Washtenaw Community College are joint recipients of aTourism Industry Coalition of Michigan 2020 Governor's Award for Innovative Tourism Collaboration for an effort to create a workforce development program for the local hospitality and tourism industry.
The unique partnership, funded through a $100,000 grant from Destination Ann Arbor to the WCC Foundation, was recognized at the 2020 Pure Michigan Governor's Conference on Tourism on February 19 in Grand Rapids.
"We received the award because this first-of-its-kind program in the state of Michigan is designed to offer employees from the hotels, restaurants, motels, and other related businesses in Washtenaw County the opportunity to obtain an educational credential that will allow them to advance in their careers," said WCC Associate Vice President for Advancement Phillip Snyder.
The Destination Ann Arbor/WCC Foundation scholarships are providing students with full tuition toward a certificate or degree, as well as funds for unexpected emergencies.
Destination Ann Arbor is providing funding for students during their first year at WCC and the WCC Foundation is providing scholarship support for a student's second year and beyond.
"This is the first known partnership between a community college, hospitality industry partners and a destination organization," Snyder added.
The Fall 2019 class had 12 students who are employed at an array of Washtenaw County hospitality related companies, such as the Ann Arbor Marriott Ypsilanti at Eagle Crest Hotel, Golden Limousine, Zingerman's, Raymond Management Company, the Residence Inn, and TownePlace Suites by Marriott.
The program allows students to earn a certificate that can lead to an associate degree. All credits are eligible for transfer to a four-year university.
"It is a pleasure to work with such a focused group of students who are determined to reach their goals," said WCC Career and Technical Education Student Success Specialist Anthony Webster. "I have found that they understand that this collaboration between education and industry will enhance their lives not only personally but professionally. They value the education and the experience which they can apply in real time on the job."
Destination Ann Arbor President & CEO Mary Kerr accepted the award alongside WCC President Dr. Rose B. Bellanca and other representatives from both organizations.
"Destination Ann Arbor is honored and thrilled to share this award with Washtenaw Community College, which has been a tremendous partner to us over the years," said Kerr. "The scholarship at the WCC Foundation will help many worthy students who will go on to ensure that our local hospitality industry remains vibrant and service-oriented."
Bellanca said WCC continues to listen to and learn from the business community about needed jobs and job training. "The college will continue to ensure that the community has access to a highly skilled workforce,'' she said.
The Governor's Awards for Innovative Tourism Collaboration were created by the Michigan Travel Commission, in conjunction with the Governor's Office, to elevate the status of Michigan's tourism industry and to promote innovative collaboration as an effective, efficient and creative operating principle for the industry.
"Collaboration is vital to the tour and travel industry, and these awards highlight how partnerships can be formed, bringing increased visibility for our destinations to travelers to Michigan," Tourism Industry Coalition of Michigan President Darren Ing said in a release.
Tags: Awards, WCC Foundation, Workforce Development, ousearch_News_2020