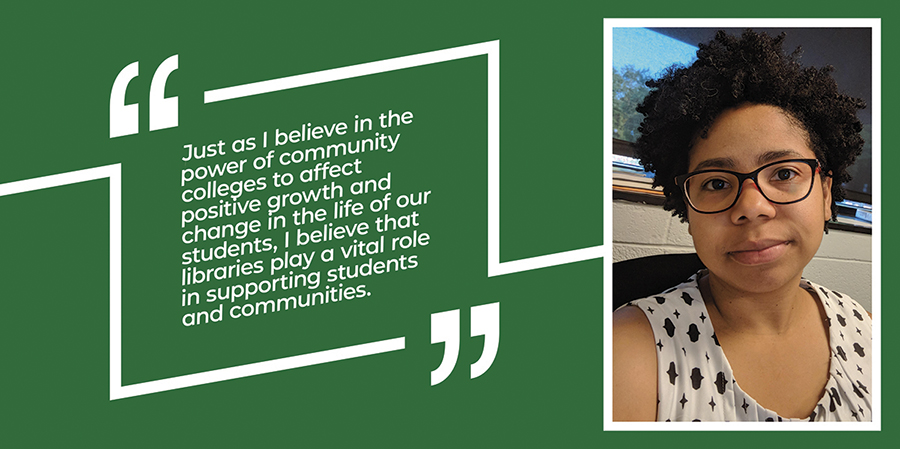 Tashia Munson, an Outreach and Reference Librarian at WCC's Bailey Library, recently attended the American Library Association's Midwinter Meeting & Exhibits after being selected as the organization's inaugural Lois Ann Gregory-Wood Fellow.
As the recipient of the fellowship, Munson received a $2,500 travel stipend to attend the ALA Midwinter in Philadelphia. The fellowship program is intended to provide a jump start to mid-career librarians interested in being involved in ALA governance.
"Finding out that I had been chosen was one of the best moments of my life, it was incredibly exciting," Munson said. "I was also more than a bit nervous because I was taking a step into something that was completely foreign to me, but all the knowledge that I have gained has been worth more than the momentary discomfort I felt being out of my element."
Munson said her biggest takeaway from attending the ALA Midwinter was that libraries are facing uncertain times. She noted repeated proposed cuts to federal funding, unfair pricing structures from publishers and a "general fatigue" with the sometimes invisible labor libraries provide communities as some of the challenges libraries and librarians are facing.
"Instead of lamenting, the Midwinter conference was a place of camaraderie and rejuvenation to know that libraries are not alone in these fights and that we have each other," Munson said.
Munson is a WCC graduate, earning a Liberal Arts transfer degree in 2004. She earned a bachelor's degree in Written Communication from Eastern Michgian in 2009 and a Master of Library & Information Science from Wayne State University in 2013. Along with her part-time role at WCC, she also works part-time as an Access Services and Outreach Librarian at the University of Michigan.
Munson said she returned to WCC "because I truly believe in the mission of this college and wanted to give back to this wonderful community."
She also feels strongly about the role libraries play in society.
"Just as I believe in the power of community colleges to affect positive growth and change in the life of our students, I believe that libraries play a vital role in supporting students and communities," Munson said. "WCC is fortunate to have a library that is valued by the members of this campus and I am honored to be a part of it."
Tags: Awards, Library, Staff Profile, ousearch_News_2020