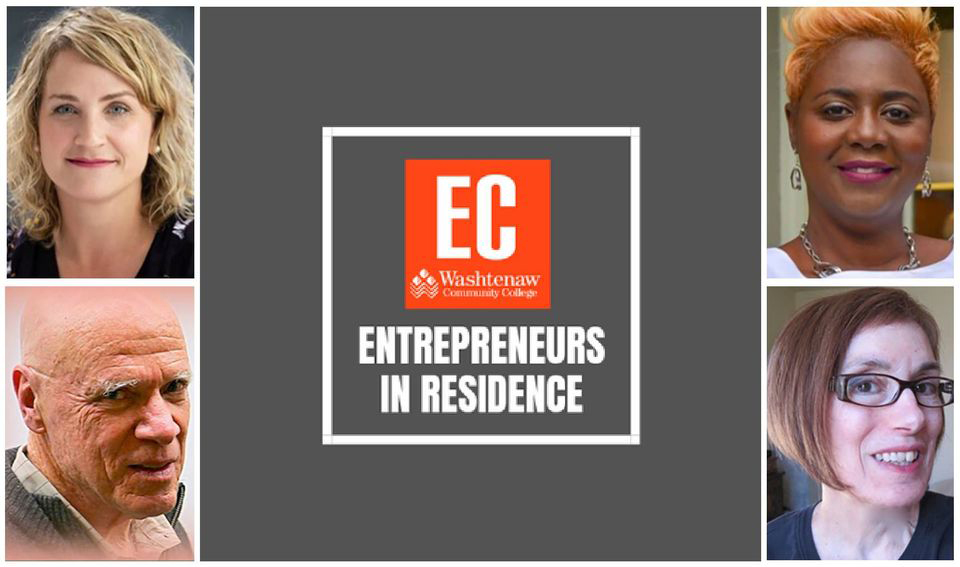 The Entrepreneurship Center at Washtenaw Community College recently announced it has secured funding to extend its successful Entrepreneurs-in-Residence (EIR) program for another year.
The program provides one-on-one mentoring services with local entrepreneurs. WCC students and anyone in the community interested in pursuing business ownership or growing an established small business can capitalize on the program.
Last year, Entrepreneurs-in-Residence held 149 free appointments with 108 total clients.
All four Entrepreneurs-in-Residence that worked with the center last year have returned for the 2020-21 academic year. They include Danielle Milner, co-founder and chief strategy officer at DO:BETTER; Allan Newman, founder of Recellular, CompuMart and Rent-A-Byte; Cheranissa Roach, president and CEO of C.D.R. Consulting LLC; and Sandra Xenakis, founder and director of Art Meets Business.
"I'm so pleased, and we at the Entrepreneurship Center are so honored, that the four Entrepreneurs-in-Residence will be returning for our second year of the program," said Entrepreneurship Center director Kristin Gapske. "This means a lot to us at this time of upheaval, that even in the midst of so much loss to business owners, and family and personal stresses in all our lives, that our EIRs would agree to come back and spend time mentoring other entrepreneurs."
Because of the ongoing COVID-19 pandemic, Entrepreneurs-in-Residence sessions are planned to be virtual phone or video appointments. Appointments can be scheduled through the Entrepreneurship Center website, by calling 734-249-5880 or emailing [email protected].
"To me, our EIRs truly embody the entrepreneurial spirit," Gapske said. "They keep moving forward, despite challenges and failures, and continue to not only thrive, but give back of themselves to others. They offer not only advice, mentorship and resources, but model that spirit for our current and future entrepreneur clients at the EC."
Each EIR provided their own thoughts on why they chose to return to the program for another year (click on link to read a full biography):
Danielle Milner: "Entrepreneurship is often a lonely endeavor. We know this to be even more true in 2020. And, while the tendency can be to self-isolate, what is really required today is an intentionality in connecting with others. This is particularly true for entrepreneurs, who often spend hours alone with their heads down, working each day to build something better for tomorrow. The Entrepreneur in Residence program is so valuable because it's a barrier-free opportunity to release the questions and doubts from one's head, and get expertise and perspective from someone who has been in a similar position and knows what they're going through right now."
Allan Newman: "I've learned a lot over 40 years of founding and running businesses. Being an EIR allows me to communicate what I know. I've been able to help beginning entrepreneurs clarify their goals and offer guidance and advice on how to reach them. It has also been helpful for students to learn that they are not alone in their challenges. Almost all entrepreneurs have faced similar problems. I've been able to help them understand that a business that doesn't make it isn't failure. It is part of the process. Failure is not a wall, it is part of the path to success."
Cheranissa Roach: "The program is important because regardless of what goes on, small businesses have always been the backbone of the American economy. More than ever, people are tasked with finding a new way to pivot and that new way can involve starting a business. Even though some industries are shrinking, there are still some that are growing, many of which are clients open to starting businesses and need the help of a mentor."
Sandra Xenakis: "Most of the clients I work with are in the arts. Now is a challenging time to run an art-related business, but also a terribly exciting one, with lots of opportunities for creative thinking. I love being part of that equation, helping artists to survive and even thrive."
Tags: Entrepreneurs-in-Residence, Entrepreneurship, Entrepreneurship Center, ousearch_News_2020