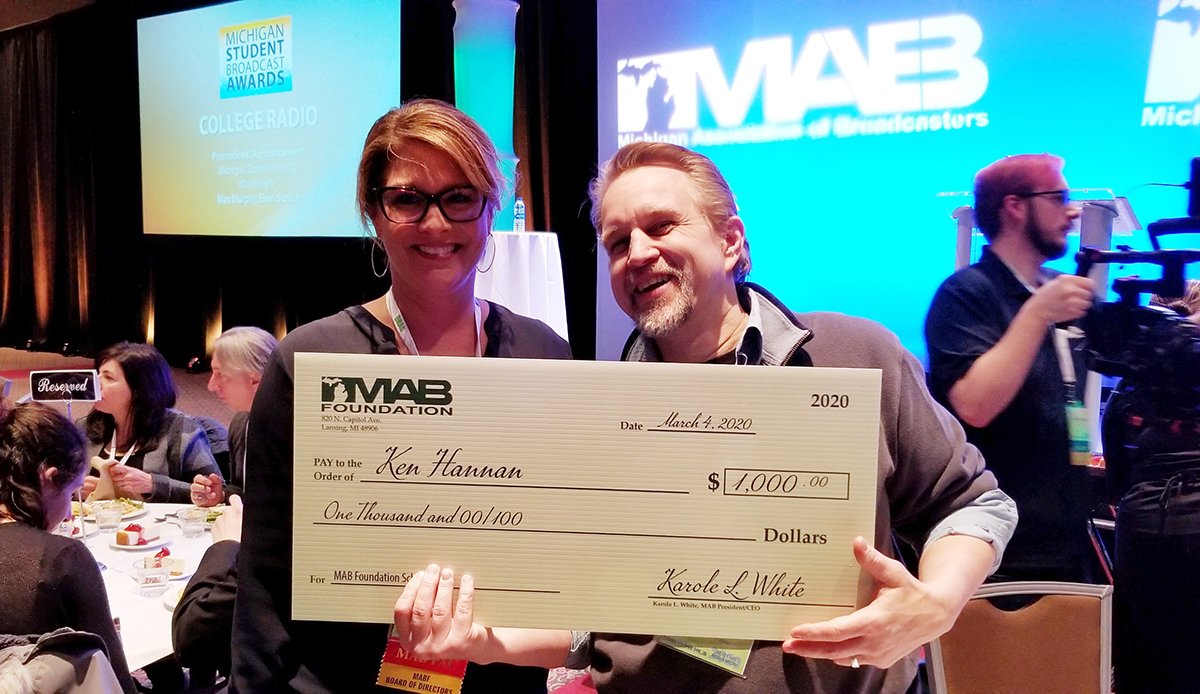 Like many Washtenaw Community College students, Ken Hannan was looking to make a career change. To that point, a career as a chef had been "uniquely rewarding," but he was "starting to find it exhausting."
So, in his mid-40s, Hannan and his wife, Kathryn, made a major life decision. They would become a one-income family so he could return to school full-time and transition to a career in computer programming, which he chose for "its enormous growth as a field and earning potential."
There was one big problem with that plan: Hannan soon realized computer programming wasn't the right fit for him.
"It was terrifying," Hannan said. "Lost-in-the-woods-at-night terrifying."
Fortunately, WCC offers the resources to lead him out of the dark.
A meeting with the college's Career Transitions Office helped the Superior Township resident to figure out that the Broadcast Arts program might be a better fit. He emerged from those proverbial woods and hasn't looked back since.
"I am just beyond elated to have found a place where I fit," Hannan said. "Big thanks to (Career Transitions Student Advisor) Amanda Deacon for her advice. It made a world of difference!"
Earlier this week, Hannan's pursuit of a Broadcast Arts associate degree got a little easier. He was the recipient of a $1,000 scholarship from the Michigan Association of Broadcasters Foundation. The scholarship was presented at the Great Lakes Media Show in Lansing.
"It was a real surprise to win, but it was a much bigger surprise when I realized there were only five of these given out statewide," he said. "This scholarship is a great help, because right now my wife is the only person working in my household. I have a full schedule this semester, so I can't put work on it as well. Knowing we are covered for tuition this semester is a huge load off our minds."
Dena Blair, the WCC Broadcast Arts lead faculty member who nominated Hannan for the scholarship, joined him at the award ceremony.
"Ken is a fantastic example of what hard work, dedication and drive look like," Blair said. "I have no doubt that these traits will serve him well in the industry and he will find success wherever he goes. I feel fortunate to have him as a student, and look forward to seeing what the future will bring."
----
Note: Along with its associate degree program, the WCC Broadcast Media Arts department also recently unveiled a 12-credit certificate program.
Tags: Broadcast Media Arts, Center for Career Success, Scholarships, Student Success, ousearch_News_2020