March 28, 2020 Rich Rezler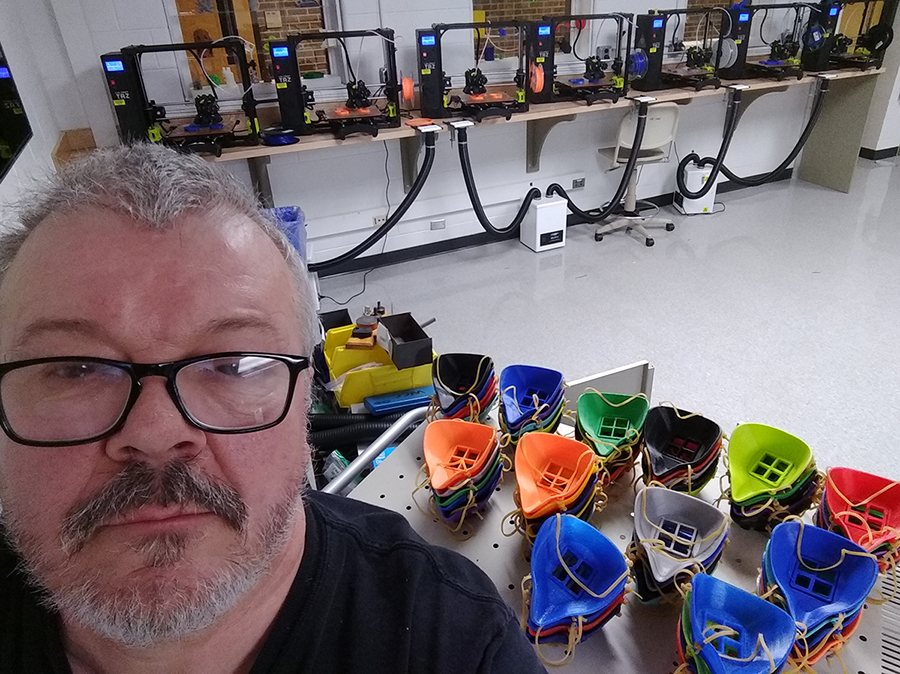 There've been no classes held on the Washtenaw Community College campus since March 12 and most employees have been working remotely since March 16 in response to the COVID-19 pandemic.
Yet, the 3D printing lab inside the college's Occupational Education Building has been humming along at peak capacity for days. Layer by layer, 11 fused deposition modeling machines are each precisely constructing two medical masks from polylactic acid (PLA).

After about 14 hours of printing time, 22 more masks were complete. At 7:30 p.m. Thursday night, WCC Advanced Manufacturing Technology department chair Tom Penird programmed the machines up to do it all over again overnight.
Like the college's Health Science Division donating medical equipment to local hospitals, Penird's efforts are in direct response to a national shortage of personal protective equipment for health care providers.
Penird's daughter first directed him to an online article about the Billings Clinic designing a reusable 3D-printed mask and sharing the STL files required to replicate the process.
Billings Clinic neurosurgeon Dusty Richardson explained to CNN that surgical masks are cut into smaller squares that are clipped into the center of the plastic mask as a filter. He estimates healthcare workers can get six to 10 uses out of a single surgical mask. Fabric found in certain grades of furnace filters can also be used.
Penird has a 3D printer in his shop at home, from which he operates Mechanized Numerics LLC, so he gave the mask a test run using the Billings Center files.
But operating just one 3D printer, Penird knew he wouldn't be able to contribute much to the cause. But the full-time instructor, who leads Mechatronics and Numerical Control classes at WCC, knew exactly where to find plenty more unused machines.
Penird received enthusiastic permission from administration to put the college's resources to use for the good of the community and was granted access to the campus during Gov. Gretchen Whitmer's statewide lockdown because his work was deemed "necessary to sustain or protect life." He's working out donation details with St. Joseph Mercy Hospital-Ann Arbor, located across Huron River Drive from the college.
"This is a rough time right now for our medical professionals working on the front lines," said Dr. Jimmie Baber, WCC Dean of Advanced Technologies and Public Service Careers. "This was Tom's idea and is one of several examples of our faculty and staff volunteering to serve our community."
The mask model Penird is manufacturing is made of PLA, a plant-based, biodegradable plastic. This allows the masks to be used, sanitized and reused many times. After printing, he sands the face masks for a smooth finish and adds elastic bands.
Penird has enough on-hand material to manufacture at least 200 face masks and is currently seeking sources for supplies to continue the project as long as health care providers are in need of donations.
The masks he has already printed come in an assortment of colors. That's not a fashion statement, but necessitated by the 15 spools of PLA Penird had stocked in his shop. He jokes that the variety is welcome, since he admits to looking rather menacing when he modeled his first prototype, printed with black PLA.
"I'm trying to mix colors up so they don't all run around looking like Darth Vader," Penird said.
Everyone knows our health care providers are much more Anakin Skywalker than Darth Vader.
Tags: 3D Printing, Advanced Manufacturing, Donation, ousearch_News_2020