May 14, 2020 WCC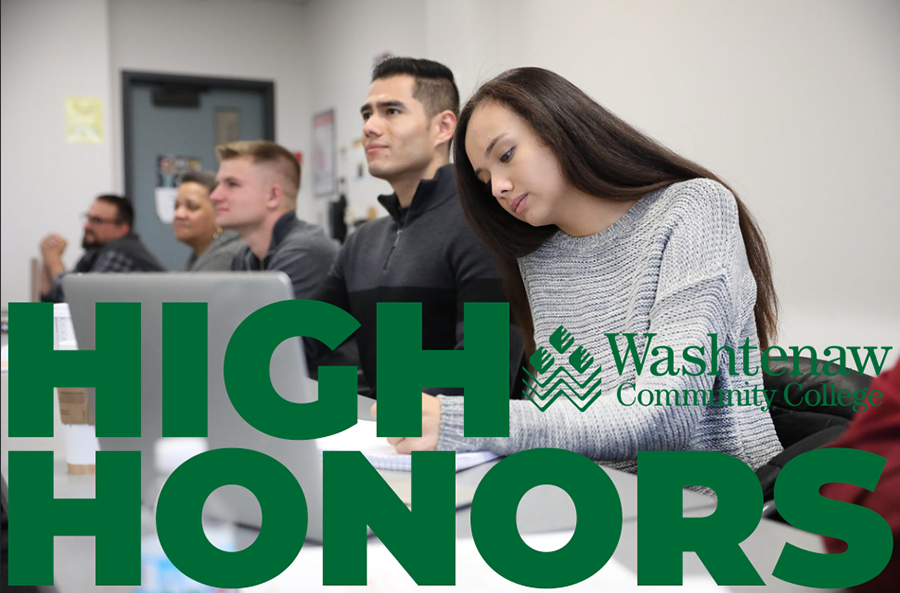 Congratulations to the 724 Washtenaw Community College students who earned "High Honors" during the Winter 2020 semester. To earn "High Honors" distinction, a student must complete 12 or more credits with a 3.8 GPA or higher.


Sarah Aardal
Malik T Abdelkarim
Majidah Abdulkadir
Hanzalah Abdullah
Youcef Abella
Nura Abernathy
Perla Sarahi Acuna-Hernandez
Rosibell Adolfo
Onyinye Lilian Akabogu
Faizan Mohammed Akheel
Ahmed Akkal
Sarah Yahia Al-Anssi
Elliot James Algase
Zayd Adenan Alghazali
Abdur-Raheem Al-Hallak
Saif Dein Mohammad H Alhammami
Kamal Alhashemi
Hana Ali
Reem Ali
Samreen Ali
Sundos Alihasan
Jennah Maryam Ali-Khodja
Mehdi Alipour
Aubrie Lynn Allen
Sarah A Allen
Alexander William Alt
Saja Mohammed Althabteh
Natalio Cuyler Alvarado
Jose Amaro
Elise Ambriz
Carson Werner Amezcua
Qian Feng Ang
Sarah Aqrabawi
Jahn Roque Clemente Aquino
Denise Armatis
Joseph Ashe
Stephen Assenmacher
Ali Attar
Marwa Awad
Emma Marie Ayotte
Andrew James Babcock
Henry Bacolor
Rayan Bahri
Alyssa Diane Baird
Dylan Baisden
Kelsey Cheyenne Baker-Shaw
Riley Paige Bakus
Leeam Baldridge
Paru Banjara
Marcellin Christopher Cor Barbeau
Dominic David Bargardi
Joshua D Bart
Courtney R Barton
Julianna Bartoszek
Ruqaeyah Noor Bashir
Kyle A Baskin
Lisa Maria Beard
Abdallah Beghidja
Cameron Behr
Julia Belcher
Isaac Augustine Benjamin
Ashley Victoria Bennett
Dylan C.J. Benson
Adam Lucas Bentley
Micaela Marie Bertolin
Umang Bhojani
Isaiah Bibb
Larry Matthew Bieber
Jesse Bishop
Kyle Sinclair Bishop
Michael Jacob Bishop
Brian Russell Blaesing
Bellamy M Blake
Levi Thomas Blasiak
Chase Vincent Boellner
Andrew Boettger
Abigail Bogits
Maxmillian Douglas Bonevich
Sophia Raquel Bonnewit
Eleanor Bookout
Holly Boprie
Christopher Lee Box
Briana E Bradley
McKenzie-Ann Paetyn Brandly
Edwin Joe Bredick
Brandon Brefka
Christopher Trace Briggs
Antonia Mary Brooks
Andrew Earl Brown
Jack Bruienne
Andrew James Brummer
Caleb Brzezinski
Aaron Michael Brzozowski
David Matthew Buck
Camille Marie Buckley
Sydney Mae Bumpus
David R Burby
Lindsey Marie Burch
Lelia Elaine Burley-Sanford
Kylie Bussell
Raymond James Byers
Kayla Annmarie Cameron
Clare M Campbell
Scott Levi Cann
Connor James Carene
Tracie Lynn Carico
Keaton James Carrothers
Michael Glenn Caruso
Steven Scot Catanese
Benjamin M Cauley
Katie Marie Cavanaugh
Haxhi Cazimi
Soroush Chabavi
Cristina M Chambers
Lynnae Nicole Chapman
Yuankai Chen
Christopher David Chesno
Brandon Micheal Childers
Katherine Rose-Marie Chinavare
Nicholas Horner Chinchak
Brooke Lee Choquette
Benjamin Sean Claar
Amanda Ashley Claes
Maya Lucinda Clarren
Wayne Lew Cline
Cooper Bennett Coatsworth
Bryce Torry Colf
William Ernest Comai
Jacob T Condon
Shannon Elizabeth Conley
Claire Rose Convis
Kenneth Paul Cook
Michael Frank Cooke
Levi Thomas Cooper
Haleigh Ashton Copeland
Michelle Deocampo Cordeniel
Ethan James Corkin-Howell
Chelsea A Coughlin
Cheyenne Jasmine Couture
Erin Alexandra Cox
Kathryn Elizabeth Crabb
Ryan Alexander Crawford
Kyle David Crenshaw
Caryne Annelaide Cristiano
Xiaoyan Cui
Qussai Imad Dababna
Tala Imad Dababna
Lama Ayman Daghlas
Rachel Marie Daniel
Dustin William Dapprich
Byron Louis Darrow
Marcia Maria De Carvalho
William Kristian Demas
Lauren Elizabeth Demember
Mattison Waverly Depriest
Elizabeth Derensis
Jeremiah J Desmyther
Brandon A Devereux
Kevin Austin DeVoogd
Domingos Diviziis Neto
Jaleah Lynn Dobbins
Peter Denis Donahue
Bridget Douglas
Josephine M Doyle
Ciera Nicole Dozier-Jefferson
Jack Richard Du Bois
Alexander Regis Dunn
Ashley Laura Durio
Alison Holland Dyke
Jason Eason
Adrian Carl Eder
Robyn Elizabeth Egmon
Osarumen Daisy Ekhator
Nadine Bassam El -Ghaffir
Chris Jay Elkins
Jensen Finwood Ellington
Morgan Rene Elliott
Shawn Michael Elston
Jack Ryan Evans
George Fata
Laura B Fidell
Nathaniel David Fiegel
Nicolas Figueroa
Corey Devon Folks
Kayla Kristin Foran
Kylee Callahan Foxx
Sonja Diane Francisco
Jennifer Lynn Frank
Karyn Elizabeth French
James A Fries
Joshua Adam Fudala
America Andrea Gallardo Gomez
Samuel Nathan Galler
Jakob C Gamble
Pablo Alonso Garcia
Santiago Garcia- Leco
Bryan James Garlitz
Grace J Garrison
Renee D Gaudet
Elizaveta Gavrilova
Yoel Achamyeleh Gebremariam
Joel Phillip Geffen
Samantha B Gelman
Hamida Muneer Ghali
Noor Muneer Ghali
Michael Gharbieh
Cassidy Ann-Marie Gillay
Laura Jose Gimenez Torres
Sophia Isabella Giuliani
Genevieve Nicole Glaser
Renny Elise Glenn
Marina Goetzke
Caroline Marie Golding
Jahne' Ashjanic-Marie Gollman
Weevern Gong
Mateo Gonzalez
Madelaine Gout
Mckenna Graham
Theodore Harrison Graves
Alison Paige Gray
Alexis Renee Greca
Thaddeus Deandre Green
Jahnaya Gabrielle Greene
Sofia Beatriz Greggio
Joshua C Griffin
Madison R Griffin
Connor Groff
Raquel Carmen Grogan
Nicholas Jason-Gerald Gronos
Kayla Evelyn Rose Grover
Asma Gundy
Colton James Guntzviller
Elena Renatovna Guro
Nisa Fathima Habibi
Catherine Marie Hadley
Saad Haider
Alexis Therese Haley
Jacoby K Haley
Robba Abd Elnaser Hamdan
Rasha Haider Hamoudi
Bassil Hanouti
Justine Hanrahan
Kyle A Hanss
Rachel Elisabeth Harding
Abdoulaye Adama Harouna
Ajahnee Nicole Harris
CarolAnne Elizabeth Harris
Mackenzie Ruth Haslock
Ardeshir Hassani
Sarah Hater
Sharon Marie Hatt
Madison Clair Haupt
Naomi Grace Havristiuc
Eissa Haydar
Dana E Hayes
Dylan A Hazzard
Cydney M Heed
Branden L Heifner
Travis C Heifner
Jamie Lynn Hein
Makennah Lee Heise
Cole Yohan Her
Joseph Arthur Herbert
Sydney K Herington
Omar Hernandez
Murphy Rose Hines
Kasheen Bahjat Hirori
Natalie Hoang
Byron Alexander Hodel
Thomas R Hodgman
Tim Hofstetter
Sierra Holmes
Zoe Ryan Holt
Steven Clifford Holtz
Lauren Anne Homberg
Matthew Lee Homrich
Hope Ambrose Hooper
Benjamin Horning
Scott R Howison
Grace Anne Howland
Ayla Melissa Hrncic
Victoria Marie Huehn
Dakota Michael Hurlburt
Natalia Feliz Huyck
Reham Imran
Aurora E Ireland
Fatima Isse
Abraham Adil Izzat
Olivia Grace Jayakar
Madalin P Jaynes
Alison Johnson
Jayci Lee Johnson
Kayla Marie Johnson
Cj Johnston
Brandon Isaac Jones
Gillian Marie Jones
Patrick Jones
Skye M Jordan
Hoan-An Vu Joseph
Cheyann Kanka
Adam Monzer Karaien
Cicely Margaret Karas
Matthew Dowman Karl
Andrew John Kean
Justin Alan Keck
Heba Kedir
Megan Danielle Keene
Shelby Keil
Sanata Keita
Lauren Paige Kelly
Alayna Diane Ketron
Jordan Elizabeth Key
Malaika Layl Khalid
Igor Khalip
Kateryna Khalip
Leena Hajar Khan
Zainab Khan
Jacob A Kidd
Andrea Judith Kiker
Heonjae Kim
Jinseong Kim
Judy Yesol Kim
Marybeth King
Keaton Wiliam Kinnard
Emma A Kirchoff
David Bradley Kirshman
Hailey Elaine Kitchen
Abdul Kizito
Joel D Klomega
Natalia Elena Knopp
Carter M Koch
Tessia Lucia Konwinski
Dominic Kopinski
Akshay Kotha
Elizabeth Lynn Kovacs
Michael V Kramizeh
Noah Bernard Kranz
Callie Teresa Sours Krawcke
Sara Mackenzie Krebs
Elizabeth Hope Krol
Lauryn Alexis Kruse
Skyler Hua Kung
Kyle Joseph Kusnier
Katherine Marie Kuss
Emily Loraine Kwaske
Thomas Kwaske
Adam M Lacasse
Elizabeth A Lacasse
Valerie Joyce Lammers
Lauren Rosemarie Lanzini
Noelle E Larose
Kathryn Elaine Larsen
Gabriel Vincent Latoraca
Autumn Dawn LaTour
Lindsay Gale Lavich
Catherine Lawrence
Katelyn M Leach
Isabelle Jean Lebert
Rosa Catriona Lechartier
Donaven Lee
Dong Hyun Lee
Tad Michael Lenhart
Elijah Walker Lennington
Erin Elizabeth Leonello
Alexandra Nicole Leppek
Margaret Grace LeRolland-Wagner
Hannah Leann Letang
Allyse Alexandria Letter
Katherine M Liddell
Nathan Joseph Liebetreu
Nikki M Liedel
Christina Lin
Alyssa Eden Lince
Jaydyn Lindsey
Reneson Liu
Songxuan Liu
Josiah Blue Livingston
Daniel Longoria-Castillo
Andrei Lopez
Nadine Rachel Lopez
Clarice Estelle Losey
Khanh Quoc Luong
Helene Lupa
Vivienne Jessica Lupu
Andrea Diana Luput
Andrew John Lyandar
Austin F Lyon
Alexander Justin Macarthur
Amanda Macdonald
Kelsey MacGregor
Leah Mackie
Amogh Mani Harsh Madireddi
Brendan Ross Maguire
Dagny Mahoney
Parisa Ghaderi Mahram
Karen Majgaonkar-Mathew
Olivia Maldonado
Joseph Michael Manni
Reide Cullen Marowelli
Kenneth F Marshall
Sabrina Elise Martell
Marko Martincevic
Alejandra Martinez Munoz
Rose Martus
Kameryn Mathewson
Zachary Matthews
Hailey Lynn Mauro
Holly M Maxwell
David Thomas Mazurkiewicz
Sara Carmen Mazza
Kaitlyn S McArthur
Emily Rose Mccarthy
Katharine Nicole Mcconnell
Ashley Marie McCoubrey
Garrett Patrick McCracken
Kira Mccreadie
Kendra L Mcdonald
Shannon May Mcdonald
Dustin Hayes McLouth
Mary Margaret McQueen
Katy Elizabeth McWilliams
Giancarlo Medrano
Katerina Noel Mendel
Jacob Allyn Snyder Menke
Maria Magdalena Merrill
Michael Joseph Mertke
Claire Marie Middleton
Megan Middleton
Ariel J Miller
Lindsey Marie Miller
Michael Sean Miller
Anfernee Jerome Milton
Anthony Giovanni Mitrano
Ehtesham Mohiuddin
Hyon-Oung Moon
Kathleen Victoria Moore
Hallie M Morris
Aafaf Sophia Moustafa
Grant Mullins
Spencer Mullins
Gabriela Nicole Munoz
Ashlyn Michelle Murphey
Melissa NianYing Murray
Madeline Joyce Musial
Adela Emma Myles
Nathan R Myyra
Prachi M Nalgirkar
Youngkyun Nam
Noor Adib Nashashibi
Noah Grayson Neff
Nina Nguyen
Abisoye Oluseun Niyi-Fatunke
Jordan LeeAnn-Fondren Noce
Jozef Noch
Kolbe Noch
Eric John Nordman
Hannah M Northrop
Safia Abdulkarim Nur
Damon Mathew O'Connell
Rachel O'Farrell
Matheus Oliveira Do Val
Adeola Adedayo Olusola
Brianna Lyne O'Neal
Joy Onuoha
Wisdom Arinze Onyishi
Felipe Ortiz Villegas
Kastriot Osmani
Adaora Kikelomo Osolu
Amal Khalid Oudeif
Rema Oudeif
Malia K Overstreet
Karlee Jane Elizabeth Owen
Jessica Michelle Pace
Raul Pacheco Garcia
Taras Andrew Palczynski
Paul Alessandro Paliani
Cameron Alexander Pall
Erica Lynne Pankow
Sangwon Park
Kate Lynn Parr
Karen Lisette Parra Albuja
Bianca Marisa Pascarella
Lily Marie Pattee
Connor A Patterson
Gabriella Alexis Patterson
Lily Christine Patterson
Troy Dimirti Payne
Clara Elizabeth Pense
Kennedy Elizabeth Peoples
Diego Fernando Perez
Karla Mariana Perez Y Perez
Nathan R Perry
Elizabeth Lynnette Perryman
Jacob Michael Peters
Alyssa Kristen Peterson
Laurel Faith Peterson
Danielle N Phillips
Mekhi Phillips-Rincher
Nicole Phipps
Caroline Grace Plotner
Sarah Kate Pondell
Dana Porter
Ethan M Price
Madeleine May Pritts
Rebecca Ann Privatte
Thomas Edward Proffitt
Marisa Pszczolkowski
Ashlee Marie Radoicich
Zahra Rahmani
Varun Rajesh
Briana Renee Randall
Jordyn D Randall
Grace Victoria Raney
Samuel Eldon Recker
Heidi Marie Reeser
Karie Evelyn Reiber
Briana Lynn Render
Nur Muhammad Renollet
Chloe Reynolds
Phillip Tyler Rich
Anna Leigh Richards
Megan Ann Richendollar
Ella Ridge
Derek Lowell Rife
Samuel Thomas Rimatzki
Nyah Rincher
Ava Grace Ringold
Tiffany L Ringuette
Chloe Elizabeth Robberts
Selenia Marie Rodriguez
Olivia Grace Romano
Ashlee Elizabeth Root
Julio Alejandro Roque Buenrostro
Andrew Armas Rose
Dahlia Kay Rose
Sommer Marie Rosenthal
Anthony Lyle Rosewarne
Kali L Roskowski
Joseph Geoffrey Rossi
Jenna Marie Rothfuss
Hunter Binney Rowland
Taylor Alyse Rowland
Rachel Rubanguka
Kelly Ruddock
Priscilla Eden Russel
Andrew Robert Russell
Grace Elizabeth Ryan-Streetman
Katherine Rybkin
Cassandra Ann Ryerson
Hadeer Saadeldin
Abigail R Saborio
Bayarbileg Sainbayar
Savan Rose Saiya-Cork
Adam Blackmer Sak
Daichi John Barnuevo Sakuma
Lemma Nasser Samaha
Caroline Sanchez
Jessica Claire Sanders
Jessica E Sandusky
Celeste Rose Sangster
Jose Alejandro Santos-Cruz
Ryan Webster Sauer
Michael Liam Schafer
Lauren E Scherer
Zack Robert Schingeck
Genevieve M Schoeberlein
Eleanor Jane Schramm
Emily Marie Schriemer
Erik Alexander Schuch
Alayna Leigh Schwartz
Jonathan Daniel Schwartz
David Alexander Kent Seaman
Calvin Wright Sears
Emilee Marie Seghi
Elizabeth Anne Selby
Mahmoud K Shadeed
Elizabeth Ashley Shafer
Naji Rashad Shafie
Osama Shahab Ahmed
Michael Ghassan Shahine
Roham Saeid Sharbatdaran
Kourtney Ann Sharkey
Julien Sheets
David Shen
Leighlana Eve Sherman
John Paul Sherry
Nathan John Shin
Daniel Thomas Shonnard
Rebecca Michelle Shuh
Abdul Hai Siddiqui
Dylan Douglas Siewert
Richard Owen Sigler
Cynthia Silaghi
Trevor Gerald Silverson
Scott Ryan Sinclair
Morgan Sisson
Hannah Rosalee Sivils
Daria Christinia Skalitzky
Dorotea Pauline Skalitzky
Sarah M Skynar
Dakota H Smith
Jenelle T Smith
Shayna M Smith
Andrew Dean Snyder
Raul Jose Solorzano
Paige N Sommerfeld
Lauren Jessica Spagnoli
Savannah Spangler
Parker Elizabeth Sparrow
Kaitlin Mary Sponseller
Joshua St Laurent
Jordan Stahl
Jerry E Stainbrook
Jasmine C Stallard
John A Stapleton
Wrenn E Staton
Kara Marie Steinaway
Danielle Stevanus
Lauren N Stockelman
Allison Dawn Stone
Tyler B Stott
Nathaniel E Stringham
Aidan Elizabeth Stubbs
Alexander J Stubbs
Jonathon D Sturza
Kathleen Marie Styles
Rory Kaiden Styles
Zahra Sule
Yanran Sun
Caleb Jay Sweet
Kari Elizabeth Szalay
Caitlin Elizabeth Tailford
Zuvuya Seraphim Talley
Joanna Tatomir
Haven Scout Taylor
James Russell-Darryl Terry
Tami A Theobald
Eva Francis Thomason
Christopher Cory Thompson
Emily Claire Thompson
Nicholas Rae Thompson
Caton M Todd
Kiernan Jack Oswald Tomtishen
Lee A Towler
Jonathan Robert Townley
Spencer Alan Travis
Dominic Trentadue
Dominick Tressler
Lilith Grace Trombley
Taylor Analise Turla
Marisa Lucia Vallejo
Neal Andrew Valley
Brendon Vance
Benjamin Vanderhyde
Estella Vandeventer
Hannah Varner
Melissa Sue Varney
Lourdes Velez
Marko Veljkovic
Amanda Cristina Pinto Venancio
Narine Angelik Verdiyan
Jason Verhelle
Kenneth Joseph Vernon
Sarah R Vickers
Justin Villa
Emma May Vink
Briana Janet Viurquiz
Brandon Patrick Vogt
Kaylee Madison Voight
Benjamin Caleb Voogd Stensen
Kalliopi Kiriakoula Vorias
Diana S Wahba
Ian L Wait
Aubrey N Wallace
Darvious M Wallace
Hailey Renee Wallace
Konnor Patrick Walter
Anna Elizabeth Walz
Kamryn J Warner
Savannah Grace Warner
Hannah Leigh Warthman
Mya Alexis Welch
Justus Wells
Christopher Joseph Wepler
Elijah Kevin Werner
Mary Margaret Werner
Michaela H Werner
Holland Wesley
Michelle Sharon Wesnoski
Reese Westerdale
Gillian Elizabeth Wheatley
Cynthia L Wheeler
Diamond Destiny White
Katelyn Rose White
Meadow Anne Whitney
Anna Belle Whittenburg
Madison Paige Wigley
Kristina Jo Wilhelm
Courtney Janell Williams
Jennifer L Williams
Jermaine Williams
Joshua Lowell Williams
Marlo Teresa Williams
Shaun Theron Williams
Lisaurel J Winfree
Kirby James Winters
Travis A Withrow
Joseph R Wittmann
Rachel Michelle Wixson
Melissa Electra Workman
Charles Samuel Works
Jenae Leigh Wright
Elaine Yanling Wu
Fardous Yasin
Ethan Garrett Yeager
Kara Lynn Young
Samuel Benjamin Zahina
Milan Madeline Zakosky
Natalie Rose Zaran
Bryan Zavala
David B Zehnder
Xia Zhang
Xubo Zhang
Yu Zhang
HONORS STUDENTS
Congratulations to the 410 Washtenaw Community College students who earned "Honors" during the Winter 2020 semester. To earn "Honors" distinction, a student must complete 12 or more credits with a GPA between 3.5 and 3.8.
Bayan Abdeljalil
Hamzah Mushtaq Ahmad
Kij'Ra De'Onna Akoma
Zaina Al Habash
Hamza Jehad Albataineh
Alexander Carl Aldighieri
Logen Alexa
Nathaniel John Alexander
Lucas Harrison Allen
Nora Iyad Alobudi
Rawan Mohammad Al-Thabteh
Khitam Mohammad Alzaatreh
Humam Alzahabi
Sherry Mikayla Anderson
Marcus Theodore Apostoleris
Brandan Atkins
Sierra Aunins
Selene Rebecca Avila
Ahmad Awad
Roma Shadi Azar
Christina Camille Bader
Gregory Matthew Baginski
Joette Sue Baldwin
Julia Ana Barge
Bennett Irving Barker
Marie Theresa Fox Barnard
Grace Noelle Barron
Kathryne S Bauer
Trevor Aaron Bean
Mckenna Brooke Beaton
Elizabeth Lee Beaudoin
Nicholas Dean Bertrand
Jarrett Scott Binert
Joshua Birchler
Arielle Elise Bliznik
Angelina Lizhen Bollella
Glen Alyn Bolt
Wesley Bostwick
Therese Boudreaux
Maclain William Bowman
Mackenzie M Bradbear
Mallory Branch
Jennifer Marie Brandt
Elanor Christine Branton
Jasmine Louise Brause
Alexis D Brennan
Mikaelah Marie Brinkerhoff
Olivia L Brinkerhoff
John M Bristoll
Saranikka Hou Brockway
Matthew Sean Brooks
Mandy Rae Brothers
Charles James Buckner
Jaclyn Buehrle
Joshua Gordon Burns
James Earl Calcut
Nathaniel Alan Campbell
Kaitlyn Ann Carr
Samuel Carter
William Castle
Sergio A Cereceres
Bradley Andrew Chardenet
Travis S Childs
Olive Rose Cianciolo
Miguel Angel Cisneros
Sara Renee Citizen
Alexander Thomas Clark
Rachel Ann Clark
Sydney E Coleman
Ambyr Elan Cook
Hannah Elizabeth Copeland
Marvin P Cordeniel
Cody James Culver
Colin Cunningham
Alessandra Curry
Jerry Elie Dabbagh
Lillian Daghlas
Sarah Anne Daily
Nicholas George Danci
Scott Patrick Davis
Ezekel Andre Rabago De Manuel
Sophie Gruber De Oliveira
Makayla Elizabeth DeBrock
Ryan Rushmore Deskins
Jasmine Gabriel Dinnell
Mackenzie E Dixon
Patrick Michael Doan
Matthew Joseph Dobrowolski
Ashley Jo Dolan
Jasmine Donald
Teagan Summer-Strader Donnell
Maureen Therese Doyle
Anthony Alexander Duke
Nathan Michael Dunn
Jason Phuoc Duong
Matthew D Edson
Matthew Edwards
Taylor Lindsey Eicher
Jane Louise Eisenberg
Ayman R El Issa
Allison Noel Elliott
Krystalynn Jot-Ti Elliott
Marche S Ellis
Brendan Emch
Dominic Carl Engel
Chelsea Marie Evans
Gabrielle Evans
Olivia Kristine Evans
Alexa Mae Fansler
Micah Josiah Farrand
Abigyle Michelle Fazecas
Taylor H Finamore
Megan Lee Fish
Dayonna Marie Fisher
Abigail Grace Fletcher
Kayla L Forster
Ronald Mitchell Foster
Nikolas Michael Francis
Benjamin Mott Freatman
Nina Marie Freter
Marvin Gene Frye
Jaydin Grace Fryt
Madison Ann Grace Fulps
Nicole Lee Fulton
Zoe G Gagalis
Kaitlyn Taylor Gailbreath
Elizabeth Grace Garcia
Sofie M Gelderloos
Sylvia Marianne Giger
Alina A Girard
Lucia Rose Gonzalez
Nicholas Caleb Greene
Jonathan David Guarisco
Destiny Marie Hadley
Emma Nicole Hall
Zachary T Hall
Kenneth P Hannan
Dakota Richard Gerard Hanson-Meier
Deborah Suzanne Hares
Allison DeVee Harper
Joshua Ct Harris
Alicia Harrison
Shelby Christine Hart
Rachel Anne Hayes
Allan Roque Haynes
Iva M Hendrickson
Kayse Geselle Herrera
Brandi Hess
Kathleen Higgins
Dominique N Hinestrosa
William Hodson
Laura-Leigh A Holley
Cheyenne Rae Honey
John Samuel Hooker
Brandon Hoormann
Grace M Huard
Jayda L Hudson
Mitchell Reed Hundal
Natalie N Hunter-Davis
Shaquan Monique Hutson
Chinedu Terry-Daniel Ifemeje
Shadi Mufid Imran
Abdullaah Ibn Irfan
Chase Andrew Jacks
Sydney Jacobs
Nickolas Jansen
Andrew Johnson
Daniel Johnson
Za'ria Lynese Joiner
Taylor Loren Jones
Herbert Fara Jow
Tristan Nathaniel Juarez
Lauren Anne Kafara
Ryan Donald Kaliszczak
Joseph Kanny
Jacob Emil Kauranen
Bilal Kedir
Webber Watson Ketz
Katherine Rebec Kindrick Hardwick
Aidan Kingwell
Laila Kitchen
Kelly Ann Komander
Leslie Lynn Komorowski
Isiaka Kone
Ellen Koons
John Wells Kopelman
Elizabeth Ann Koziara
Carston Joseph Koziol
Jennifer Nicole Krell
Danica N Kremidas
Megan Krol
Sarah Kathleen Krzywicki
Nana Kaitlin Kubo
Iryna Kucheriava
Kaitlin Rose Kurasz
Taylor Ann Laderoot
Samantha Dorthianne Lamb
Jacqueline A Lampers
Nathan C Land
Sabrina Lynn Lanker
Elizabeth Marie Larmee
Sydney Larmee
Matthew Ryan Larson
Shannon Rose Lawless
Jacob David Lawton
Thi Mai Anh Le
Elizabeth Marie Leach
Yeaji Lee
Kenya Michelle Leon Meza
Emily Elizabeth Leonard
Mandana Lezgi Azarbayjan
Madeline B Ligotti
Chyna Lincoln
Alexis Nicole Linderman
Susan Patricia Lintott
Olivia Marie Linzell
Andrea Lizarazo
Emma Lynn Lobert
Samuel James Love
Mikhail Mikhailovich Lozovyy
Kayla Lugo
Dinh Phuong Luu
Brooke Mackenzie Machleit
Eric Kaito Mackie
Reginald Dontae' Madison
Diego Marz Magdamo
Kyle Anthony Majewski
Riverlyn Majhail
Jad Majzoub
Nicolas D Marconcin
Isaac Terrell Marks
Brandon Ross Martell
James Leonard Martin
Phoebe Rose Matthews
Bernard Joshua Maye
Brock Alexander Mayfield
Alec Douglas Mccray
Brianna Mccullough
Zechariah Edward Mcdavid
Liam T Mcmullen
Liam Francis Mcwilliams
Connor Preston Meadows
Ian Lim Menor
Anthony Merino
Abbigail Lorraine-Alice Middling
Aaron Robert Miller
Andrew J Miller
Joseph Johnathan Miller
Miles Gilbert Milliken
Mohamed Abdinasir Mohamed
Kirill Mojeluk
Kimberly Mompremier
Audrey Jesteen Montgomery
Davionna T Moore
Brian Joeseph Morey
Iyana Lanae Morgan
Joshua Alan Morris
Malik Ehab Morsi
Rama Moussa Aleech
Daniel Mukkala
Alexander G Mulkey
Jorden Makell Mullins
Jaspreet Multani
Mashhood Munir
Laith Osama Musa
Mohammad Abdel Razaq Musa
Tala Rose Myers
Brenden Joseph Nagel
Cameron James Needham
Evan Mitchell Nelson
Ghina Nimer
Thomas Jude Nomura
Christopher J Nowak
Loumonvi P Odin
Michael Aaron Odom
Justin T ODonnell
Katuscia Okana Mackila Wabo
Olivia Rose Olmsted
Mackenzie Karissa O'Malley
Megan D Omar
Jenna Lynn Orlando
Brent Xavier Ortiz Johnson
Hanan Oudeif
Patrick Ryan Ovaert
Harith Palmer
Kyle Jullian Pamplona
Alexis Makayla Parrish
Emma-Noelle Louise Parrish
Dartangen Peterson
Abbigale Elizabeth Pfeiffer
Duc N Pham
Timothy E Pieniazek
Annie Erin Pietila
Cameron Michael Pompey
Tzadkiel Ponce De Leon
Christian Alexander Porter
Damaris Jacqueline Potter
Brooke Lynn Press
Asia Bibi Rahman
Katelyn Louise Rains
Rylee G Rasmussen
Timothy John Redman
Amber Nicole Reid
Nathan Andrew Remillard
Mary Selene Remski
Delbert Reynolds
Devon Jacob Risacher
Abby E Risse
Taaha Rizwan
Kayleigh Anne Rogge
Briana Yvette Roland
Gabriel Angel Romero-Brownell
Alexander Ross
Alexis R Rumics
Joshua Michael Rundel
Sydney Mckay Rupp
Graciela Louise Saborio
Lilac Wijdan Sabri
Hadeel Sabtah
Zeb Sadiq
Brenda Ines Saenz
Meena Mariam Salih
Joseph Francis Sanders
Manmant Singh Sandhu
Zachary Scott Saylor
Patrick Schaldenbrand
Kyle Scott Schoel
Ethan D Schwab
Ethan D Seiter
Omar S Shihab
Tucker Daniel Sholl
Jenna Marie Shurtleff
Laibah Siddiqui
Miriam Gittel Siegel
Katelyn Marie Sinclair
Chase Fitzpatrick Sirota
Abigail Lauren Smith
Gregory Smith
Hope Elizabeth Smith
Jasmine Alise Smith
Lawrence Smith
Trevor T Smith
Russell Snyder
Ian A Sosenko
Liam Daniel Soules
Jemma Sabrine Sowards
Nathan Robert Sprague
Nicholas Stearns
Eliyah Janiece Stevenson
Sara Stoelton
Duncan Michael Stout
Zachary David Stout
Maxwell Kenneth Strong
Thomas Nicholas Struss Iii
Stephanie L Suchala
Mark Steven Sulja
Emma Louise Svinicki
Jacqueline-Pear Oghenekeywe Swann
Abigail Nadine Swanson
Finn Sweeney
Joshua Robert Dorado Talampas
Leah Lynn Tarnacki
Kelsi Elizabeth Thayer
Sebastian Klaus Thiels
Chelsea Therese Thomas
Heavyn Andrea Thomas
James Thompson
Madison Paige Thompson
Erica Lynne Thornton
Ariel Torres
Madelynn Baillie Tracy
Krystal Trevino
Matthew Thomas Trybus
Taylor Renee Tschirhart
Yacoob Ishaq Vaid
Jean Carlos Valenzuela Sanchez
Anthony Tam An Van
Haley Autumn Van De Car
Ashlyn Vandemergel
Dominic Paul Ventimiglia
William Vinson
Kayla Mackenzie Vogel
Madison Elizabeth Vogt
Aric Voll
Kimberly A Vontom
Devin Senon Wadley
Deoshyonna Johnnae Wallace
Roman Wanczyk
Layla Alfie Ahmed Warshow
Haley Ann Waterbury
Melissa Weaver
Felix Weber-Bailey
Devin Joseph Wessel
Danielle L. White
Brannon Jakob Wiegers
Dalzel Williams
Jeremy Robert Williams
Niejai Ashaun Williams
Taylor Wilson
Raynelle Michelle Witherspoon
Rachel Wittenberg
Kaia L Wright
Showan Kahlil Yasin
Kristy Renee Yori
Randa Younes
Adam Philip Zaborowski
Josie Lyn Zabrosky
Xiaoyun Zhang
Diego Antonio Zimmerman
Avery June Zultowski
Tags: High Honors, Honors, Student Recognition, Winter 2020, ousearch_News_2020