September 2, 2020 Rich Rezler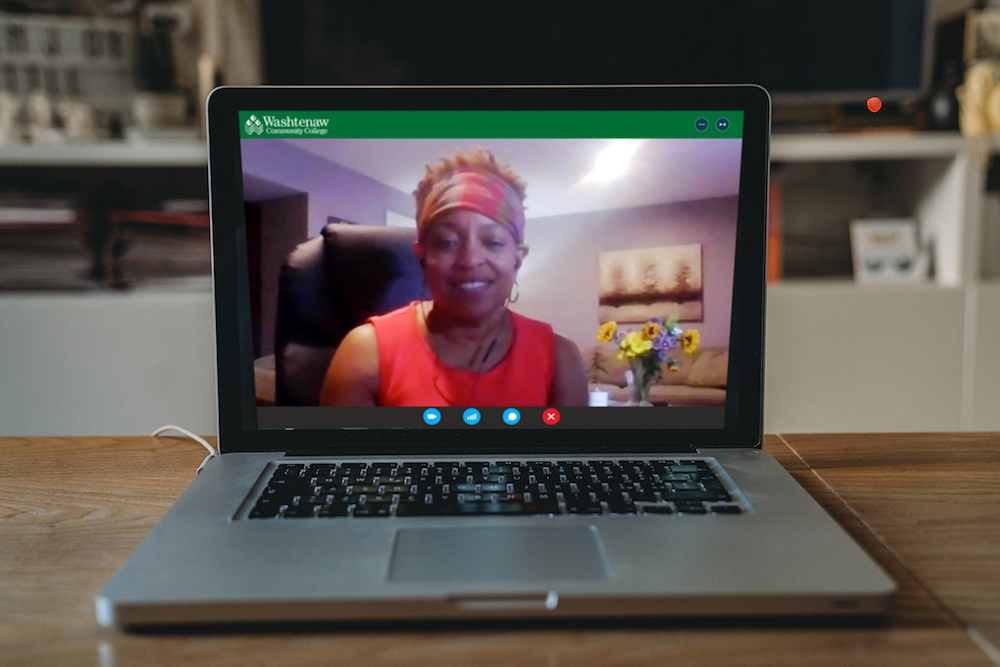 With the importance of addressing students' mental health amplified during the COVID-19 pandemic, the Washtenaw Community College Counseling & Career Planning department has taken an extra step to ensure it is providing the best possible resources.
All six of WCC's licensed personal counselors recently completed TeleMental Health Training Certification to better serve students virtually. While a limited number of hands-on learning classes have returned to campus, all student services are continuing to be offered virtually during the Fall 2020 semester.
"These are unprecedented times and there are a lot of extra stress factors that students didn't deal with before," said WCC Dean of Students Tracci Johnson. "The value of this certification is to make sure our counselors have all the information they need to provide the best possible service to students. Videoconferencing allows us that extra connection that we cannot have over the phone."
Currently enrolled students can make a telemental health appointment by calling the counseling department at 734-677-5223.
Students were greeted with an email from the WCC Counseling & Career Planning department on the first day of classes that described the new telemental health services.
"We strongly believe that making your mental health a priority is an important part of being a successful student," the email notes.
Johnson said that due to licensing restrictions, any student receiving telemental health services must be located in the state of Michigan at the time of the videoconference. Alternative services are available for those who are not.
"We have a lot of additional information on our Blackboard site (under the "Personal Counseling" tab) that is accessible to all students," Johnson said. "This includes resources that have always been available — such as our Campus Assistance Program and other hotline resources — but also some tools and information specific to coping during the COVID-19 pandemic."
The most important message, Johnson says, is that students should not be afraid to reach out for help if they need it.
"That's what we're here for!" she said. "We have trained counselors ready to help students deal with school and the traditional stressors associated with that to help manage stress and anxiety levels. We also work with many community partners for things outside of our scope and will help any student find the resources they need to be well."
"It's very important, especially in these atypical times, that students are aware we are still here for services," Johnson continued. "It may not be in person, but we've adapted to a new way."
In its psychiatry resources for COVID-19, the University of Michigan Department of Psychiatry notes that "it is well studied that college students are especially prone to feelings of loneliness, and they experience higher rates of anxiety and depression compared to the general public." Furthermore, it notes, "removal from their social support system and extracurricular activities at their school can cause students to feel less connected with their friends, organizations and hobbies."
The department offers the following five tips for college students:
KNOW IT IS OK TO FEEL HOW YOU ARE FEELING
It is normal during this crazy time to experience feelings of sadness, anger, frustration, anxiety, or all of the above. You are allowed to feel this way and to communicate with others how you are feeling. It is also okay to sit with these emotions. If these feelings worsen to the extent that you are no longer able to function like your normal self, reach out to one of the resources listed below for additional support.
MAINTAIN A ROUTINE
Start your day at about the same time each day. Set a goal for coursework to be completed for each morning and afternoon. Maintain adequate nutrition by eating three healthy meals per day; now is a great time to try new recipes! Try to get in at least one physical activity each day. It is very good for your mental health to get some fresh air and go on a walk, run, or bike ride.
PRACTICE GOOD SLEEP HABITS
Maintain a consistent sleep schedule. The goal should be 7-9 hours per night. Limit screen time in the evening, and avoid caffeine starting in the afternoon.
CONNECT WITH OTHERS
It is easy to quickly feel lonely and secluded from others during this stay-at-home period. Make an effort to stay socially connected by engaging in regular video or phone calls with friends and family.
TAKE A BREAK
Take time for yourself each day. Step away from the news and from your coursework to do something you enjoy and that you find relaxing or rejuvenating.
Tags: Counseling, Personal Counseling, Student Services, ousearch_News_2020