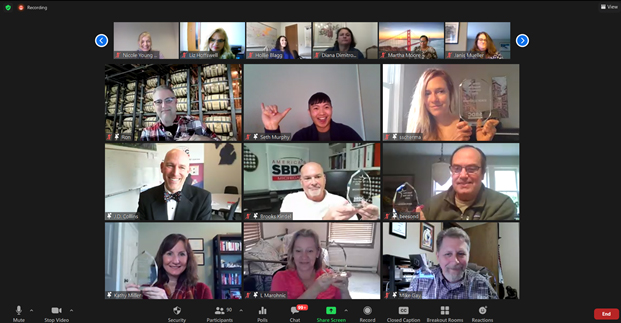 Over the last seven months, local and regional businesses have been put under unimaginable stress due to the COVID-19 pandemic
Now more than ever, the business counseling and mentoring work that the Greater Washtenaw Region of the Michigan Small Business Development Center (SBDC) provides out of the Washtenaw Community College campus is an invaluable resource to regional businesses.
And the local SBDC is in good hands. Associate Regional Director Ron Stevens recently received of the State Star of the MI-SBDC, an award that honors an individual who is an exemplary performer, a professional who makes a significant contribution to their state and regional SBDC programs, and shows a strong commitment to small businesses.
"Ron has been a standout SBDC counselor since he joined our organization," said SBDC Regional Director Charlie Penner. "His clients love him, and he's held in the highest regard by his many colleagues and community partners."
Penner explained Stevens role at the SBDC and how it had evolved from when Stevens started in 2007 as a senior consultant.
"Ron always exceeds his goals and also participates in numerous network teams, task forces, and committees. He's most recently taken on the role of Interim Export Team Manager," Penner said. "Ron has provided advice and mentorship to many of his SBDC colleagues, and has helped hundreds of local business people launch and grow their companies. Ron received multiple nominations to be State Star, and was selected by a panel of statewide leadership."
Stevens reflected on his 13 years at the SBDC: "This is easily one of the best jobs I ever had as far as being able to help local small businesses. The biggest reward is working with clients on goals, anything from starting a business to acquiring something for a previously established community staple. I love to work with clients that want a coach in their corner to grow their business with.
"I have been in the network a long time and the recognition meant a lot because I was chosen by my peers. It is good to know my colleagues and clients appreciate the work I have been doing. We are a very close-knit office and frequently refer to it as the SBDC family."
The Greater Washtenaw Region SBDC, located on the campus of WCC, has been recognized as one of the statewide network's highest performing teams, providing more than 5,600 hours of business counseling to more than 800 small businesses, resulting in 57 business startups, 538 jobs created or retained and $42 million in capital formation.
Besides Washtenaw County, the region includes Hillsdale, Jackson, Lenawee, Livingston and Monroe counties.
Tags: Awards, SBDC, ousearch_News_2020