November 17, 2020 Rich Rezler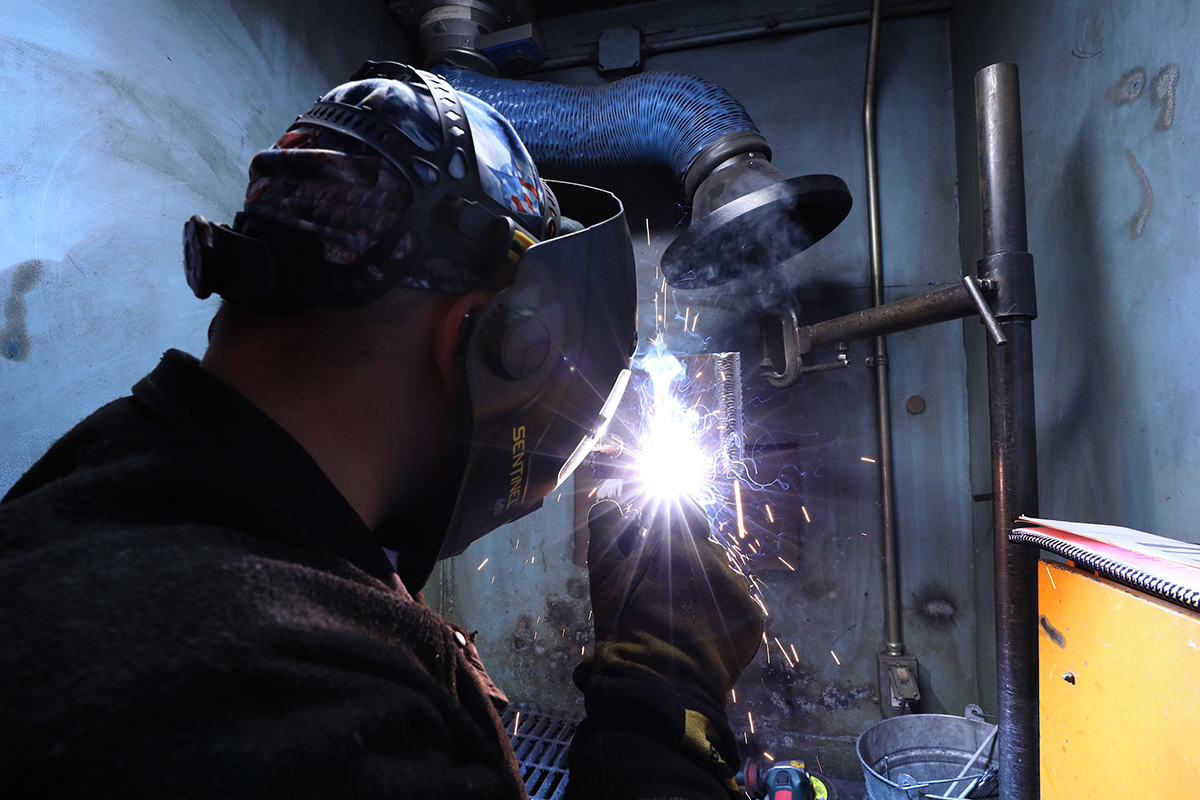 There aren't many ways for welding students to put their unique skillset toward a four-year degree, but one such opportunity just became available to those in the Welding & Fabrication program at Washtenaw Community College.
The WCC Board of Trustees on Tuesday approved a new 3+1 articulation agreement with Wayne State University that allows students to complete 87 credits at WCC before transferring to complete a Bachelor of Science in Metallurgical Engineering Technology from Wayne State's College of Engineering Technology.
The addition of this agreement with Wayne State brings the total number of 3+1 articulation agreements WCC has with four-year universities to 50. Completing three years' worth of credits at WCC's low tuition rate before transferring can save students thousands of dollars.
The new agreement includes completing the Welding Technology associate degree program, some electrical and advanced math courses, and all general education credits required under the Michigan Transfer Agreement at WCC, a total of 87 credits. The remainder of the 121 credits required to earn the bachelor's degree are taken at Wayne State.
While announcing its new welding and metallurgical engineering technology degree earlier this year, Wayne State profiled a pair of WCC students ready to follow the new pathway to a bachelor's degree.
WCC student Daniel Sims, an Army veteran who completed two tours in Iraq before being medically discharged, is planning to transfer to Wayne State in 2021.
"Being able to go into this program gives me an opportunity to do something more than what is physically laborious," Sims told [email protected] "It also puts me in the position where I can give back to what I learned."
Another WCC welding student, Aso Hama, plans to follow a similar track.
"WCC has given me everything a school could give to a student: resources, assistance, support and inspiration," Hama said. "Now it's time to capitalize on everything they taught me."
Options are limited for students in trade professions to obtain a bachelor's degree. Wayne State and Ferris State University are the only two universities in the state of Michigan to offer a bachelor's in welding.
Welding students moving on to the College of Engineering at Wayne State will take courses in thermodynamics, design, automation and robotics, and structural analysis.
WCC does offer another 3+1 articulation agreement with Eastern Michigan University that culminates in a Welding Technology associate degree from WCC and a Bachelor of Science in Technology Management from EMU.
Tags: Advanced Manufacturing, Articulation Agreements, December 2020, On The Record, Welding, ousearch_News_2020, ousearch_News_On The Record