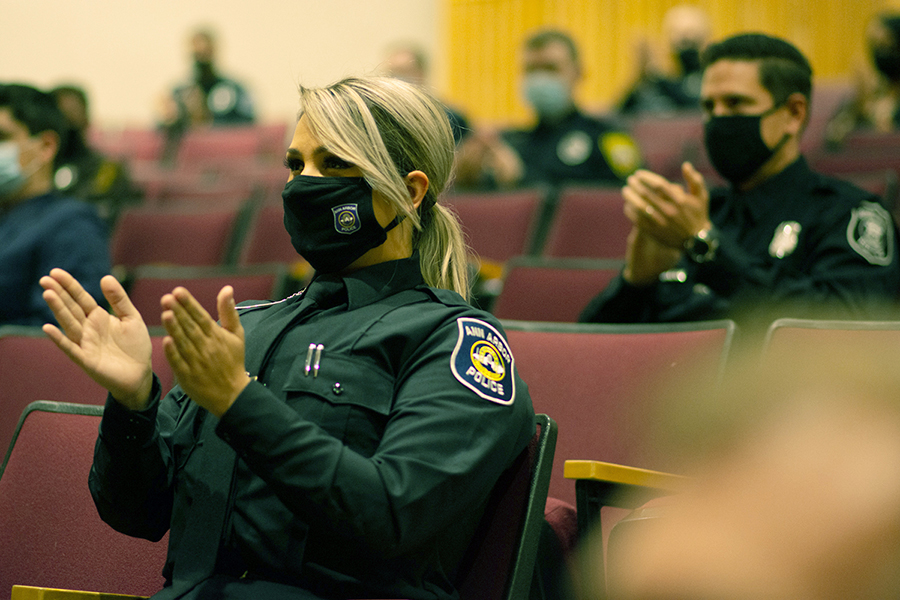 RELATED: VIEW PHOTO GALLERY
What this year's Washtenaw Community College Police Academy graduation ceremony was missing of its typical pomp and circumstance was replaced with an unparalleled level of pride and admiration for those who completed their training in a most atypical year.
In video addresses delivered to the 33 graduating recruits as they sat socially-distanced across an otherwise empty Towsley Auditorium on Friday afternoon, WCC President Dr. Rose B. Bellanca and Associate Vice President of Workforce and Community Development Brandon Tucker praised the Class of 2020 for its perseverance through the COVID-19 pandemic and their dedication to the profession in a time of social unrest.
"This year's academy class overcame many obstacles and we are proud of their performance in preparation for their new career in law enforcement," Tucker said. "No other class has undergone the intensive scenario-based training developed in light of the events occurring across our country."
Family and friends were watching the graduation from home via a live stream while speakers — including a number of local law enforcement officers and leaders offering congratulations and advice – appeared virtually on a large screen set up on the auditorium stage.
Senior Director of Public Service Training Joyce VanMeter was in-person with the graduates, as she's been throughout their training.
"I am so proud of this group of recruits. They are entering into law enforcement in a time of tremendous challenge," VanMeter said. "They are striving to bridge communities, join in establishing new law enforcement norms, and do their part to wear the badge of their chosen profession with compassion and caring."
Class President Will Bornheimer, a Dexter native, spoke on behalf of the class. He echoed VanMeter's sentiments about the timing of emerging from the police academy.
"Since pursuing this journey in the academy, I have been asked one question with consistency: 'Why would you want to go into law enforcement now?'" said Bornheimer, one of four academy graduates hired by the Farmington Hills Police Department. "My consistent answer is, 'Why wouldn't I?' Now, more than ever, those who embody the values and mission of the profession are needed to strengthen and protect our communities with integrity and compassion."
The COVID-19 pandemic delayed the start of the 18-week police academy training and education by more than a month, inspiring a video thank you message from the cadets to college administrators and its Board of Trustees for allowing training to commence under strict safety protocols.
Once underway, the cadets adapted to a strict adherence to daily health screenings, socially-distanced class setups in large conference rooms, mandatory masks and other personal protective equipment and physical fitness training occurring in unique locations — such as parking garages and parking lots.
"Almost every minute of the 807 hours of curriculum was forced to change in some way for safe learning," said Senior Director of Public Service Training Joyce VanMeter. "But their resilient drive and determination pushed them across the finish line and into a life of service to others."
The 33-member class is the largest since the WCC Police Academy started in 1987. VanMeter called it diverse group (four females and nine minorities) both demographically and in its reasons for entering into the profession.
"Incidents of personal tragedies, their own law enforcement encounters and family traditions have driven this group of 33 strangers together for a common purpose," she said.
Class president Bornhiemer described the academy as a process that started alongside unfamiliar individuals and ended graduating alongside 32 "brothers and sisters."
"We came together as a family who laughed with each other, cried with each other and spent hundreds of hours putting up with each other," he said. "And, most importantly, we learned just how important being a team truly is."
MEET THE GRADUATES
Fourteen members of the class are in-service graduates, meaning they had secured employment and were sent through the police academy by their department. Those include:
Jennifer Baldwin (Ann Arbor Police Department)
Brandon Blackwell (Washtenaw County Sheriff)
Howard Cooper IV (Ann Arbor Police Department)
Zachary Cunningham (Ann Arbor Police Department)
Thomas Deponio (Albion Department of Public Safety)
Alex Farmer (Washtenaw County Sheriff)
CC Johnson (Ann Arbor Police Department)
Alexis Powell (Huron Township Police Department)
Joseph Renshaw (Branch County Sheriff)
Charles Shankland (Washtenaw County Sheriff)
Cody Straits (Milan Police Department)
Dalton Turmell (Branch County Sheriff)
Brian Wright (Saline Police Department)
Daniel Zehel (Washtenaw County Sheriff)
Of the 19 graduates who entered the academy as a pre-service recruit, meaning they started without already being hired by an agency, 10 of them finalized employment during training. They include:
Dayne Bohn (Williamston Police Department)
William Bornhiemer (Farmington Hills Police Department)
Victor French (Washtenaw County Sheriff)
Madyson Gee (Washtenaw County Sheriff)
Raymond Hall (Washtenaw County Sheriff)
Spencer Hilden (Farmington Hills Police Department)
Devin Hunt (Farmington Hills Police Department)
Joshua Jackson (Auburn Hills Police Department)
Mason Trowbridge (Washtenaw County Sheriff)
Nathan Weston (Farmington Hills Police Department)
Pre-service graduates who are finalizing their employment or planning military service include:
Conner Cassar
Montreal Clary
Colton Fay
Anthony Gomez
Karlton Kroske
Joshua Russow
Adam Schwab
Dylan Tanis
Bryan Tripp
AWARD WINNERS
Raymond Hall, an Ypsilanti native and Washtenaw County Sheriff Department recruit, is the inaugural winner of the WCC Police Academy's "Train Like Troy" Award. The award was created by police academy staff to honor the legacy of Troy Stern, the former Chief of Police for the City of Tecumseh and a long-time instructor at the academy. Chief Stern died of cancer in 2019.
VanMeter described the award as given to the recruit who "demonstrates how true commitment is defined. … True commitment as Troy carried himself and gave to every recruit he trained."
Other class awards include:
MCOLES Outstanding Recruit Award: Joseph Renshaw
High Academic Average Award: Howard Cooper IV
Physical Fitness Excellence Award: Mason Trowbridge
Emergency Vehicle Operation: Spencer Hilden
Firearms Excellence Award: Joshua Jackson
Firearms Instructor Award: Anthony Gomez
Subject Control Excellence Award: Alex Farmer
Graduate Alexis Powell received the honor of being selected by her class to read the Law Enforcement Code of Ethics.
Members of the 2020 class also created their own Class MVP award and presented it to Patrick Downey, Manager of Events & Conference Services at WCC. Downey was primarily responsible for the carrying out the COVID-19 safety protocols during the academy.
"There was someone crazy enough to be here longer than us throughout our days in this academy," graduate Thomas Deponio said with a laugh while presenting the award to Downey. "Starting our day checking our temperatures and ending it saying 'Have a good night,' you have made our academy experience unique and special during a time of fear and sickness."
Tags: December 2020, Graduation, On The Record, Police Academy, ousearch_News_2020, ousearch_News_On The Record