December 20, 2020 Anita LeBlanc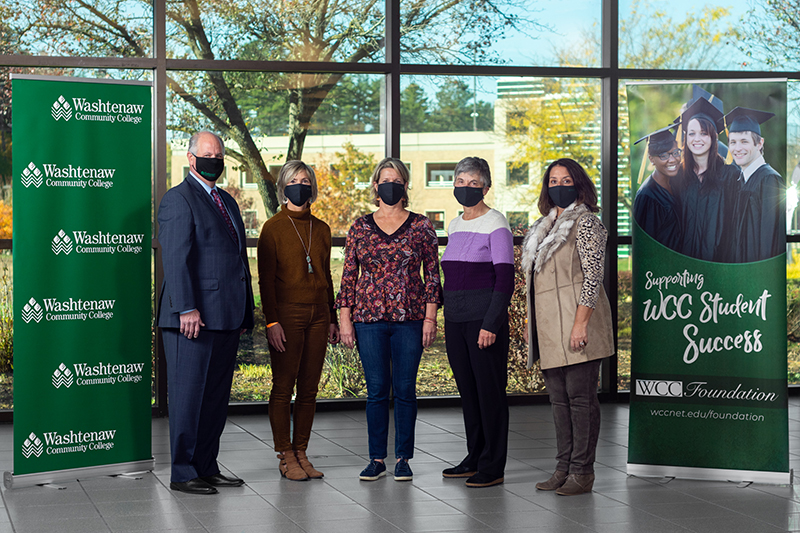 A generous $19,800 donation to the Washtenaw Community College Foundation's Student Emergency Fund from an organization called 100+ Women Who Care of Washtenaw County is helping meet a 200% increase in student requests for aid since the COVID-19 pandemic began.
"Most requests have been for food assistance, help paying utility bills, and acquiring laptops to participate in on-line classes," said Phillip Snyder, the Foundation's associate vice president.
The Washtenaw Chapter of 100+ Women Who Care launched in 2011 and meets two times per year for one hour to decide upon a not-for-profit to receive donations from their members.
Specifically, each member is asked to write a check of at least $100 that will be combined and awarded to a selected organization.
At the meeting, three local nonprofits are pulled from a ballot box containing the names of member-nominated organizations and a five-minute presentation is made by the member who made the nomination.
After members vote, and while votes are tallied, the previous year's beneficiary shares details about how funds from their award were used. The new winning nonprofit is announced at the meeting's end.
Amy Cattell and Sara Martens, the group's co-leaders, said the economic obstacles created by the pandemic prompted the membership to allow members to donate less than $100 and to hold their fall meeting in a remote format. Both factors made the chapter's total $19,800 award an especially happy surprise.
The organization's leaders encourage other women to join the Washtenaw chapter's current 250-membership by visiting 100womenwashtenawcounty.org.
"The more members we have," said Cattell, "the more good we can do in our community."
Debbie Green is the member responsible for nominating WCC's Student Emergency Fund.
"I wanted an organization that would appeal to everybody and would be a fitting recipient of funds during the pandemic," Green said. "WCC was an obvious answer. It's a well-respected institution in Washtenaw County. Many at WCC are facing even more difficult times because of COVID … I think that education is the best cure to almost all societal issues. It must be accessible to those willing to work to better themselves."
WCC Foundation Women's Council chair Meredith Miller said the organization was grateful to have the 100+ Women group join forces with the WCC Foundation Women's Council in support of the Student Emergency Fund.
"With our goal of 'women helping women,' this gift will help keep WCC students in the classroom so that they can achieve their educational goals," Miller said.
---
Learn more about giving opportunities to the WCC Foundation.
Tags: December 2020, Donation, On The Record, Student Emergency Fund, WCC Foundation, ousearch_News_2020, ousearch_News_On The Record