January 7, 2021 Rich Rezler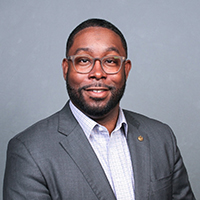 Washtenaw Community College Associate Vice President for Workforce and Community Development Brandon Tucker has accepted an invitation to serve on the 21st Century Policing Compliance Commission operated by the Washtenaw County Sheriff's Office.
"It is an honor to be appointed to this commission, which has a goal of enhancing and improving the profession of law enforcement in Washtenaw County," said Tucker, whose role at the college includes oversight of the WCC Police Academy. "With all the recent events in our country, there is a great opportunity to have open and honest dialogue about how we might position Washtenaw County to be a leader in applying best practices of law enforcement education and training."
The commission was created in July 2020 to be a community-based, collaborative effort to achieve compliance with all of the local police agency recommendations in President Barack Obama's 21st Century Policing Task Force.
That task force's recommendations for strengthening community policing and trust among law enforcement and the communities they serve are organized around six pillars:
Building Trust and Legitimacy
Policy and Oversight
Technology and Social Media
Community and Crime Reduction
Officer Training and Education
Officer Safety and Wellness
The commission will review Washtenaw County Sheriff's Office policies and procedures, hiring and recruitment practices, training, internal accountability practices, public-facing data and information, and other areas of the agency to ensure compliance in each of those pillars.