January 27, 2021 Rich Rezler
Dr. Eric Reed didn't have to move far for his position at Washtenaw Community College. The new Dean of Student Access, Success, Equity and Inclusion spent the past eight years just a two mile drive east on Huron River Drive at Eastern Michigan University.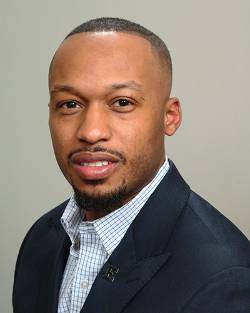 "I'm really excited to add a community college component to my career, to see the full spectrum of higher education, and am grateful for the opportunity to do that right down the street," said Reed.
Reed says he believes the primary goal of postsecondary education is to enhance the economic situation of each student and he is committed to continuing those efforts at WCC.
He has spent most of his career primarily helping minority and low-income students get to college, through college, and into gratifying yet equitable careers. He said he knows first-hand the challenges faced the moment students step foot onto campus, crediting a major portion of his undergraduate success to a retention program at Central Michigan University, which propelled him to earning a B.A.A. in Health Administration and M.S.A. in Public Administration from the institution. Reed completed a Ph.D. in Educational Leadership from Eastern Michigan University in 2019.
While employed at EMU, Reed served as the Director of TRiO Student Support Services, a grant-funded program by the U.S. Department of Education designed to provide wrap-around support services (mentoring, tutoring, scholarships, graduate school tours, and more) for first generation and low-income students.
He also coordinated several of the institution's retention initiatives, including its summer bridge, and is an adjunct lecturer, teaching graduate level courses in the College of Education as well as first-year experience courses for freshmen.
Reed also previously worked at the University of Michigan and Central Michigan University ensuring equity for students from a wide scope of academic backgrounds.
Reed and his wife, Kriss, live in Detroit and with their newborn daughter, Kallie.
Tags: ousearch_News_2021