March 1, 2021 WCC


Washtenaw Community College has joined with the private sector and state employment agencies in working to fill a worrisome talent gap in the critical cybersecurity field.
The college recently completed a 10-week "boot camp," working with Novacoast, a privately owned cyber security company with an office in Ann Arbor, Michigan Works! Southeast and Michigan Rehabilitation Services.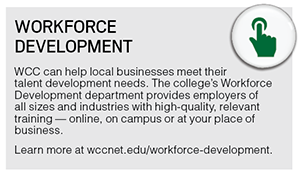 Fifteen students were enrolled in the program resulting in them receiving four stackable certificates and a chance to start a well-paying career at Novacoast.
"What the program aims at is getting trained students into the workforce in jobs that start above minimum wage," said Jose Reyes, WCC's Director of Workforce and Community Development.
In fact, some starting jobs at Novacoast start at $17/hour and up, according to Novacoast security analyst David Mayne.
"Industry studies show that there are nearly two million jobs in cybersecurity that are unfilled today," he said.
In addition to addressing the shortage of IT workers, the program also focused on recruiting traditionally underserved populations, such as veterans and their spouses and people with disabilities.
That's where state agencies such as Michigan Works! Southeast and Michigan Rehabilitation Services came into play in finding boot camp candidates.
"We sent the message out county-wide through digital media, explaining the cyber security boot camp and how to apply," Reyes said.
"IT jobs are in such demand that careers in the field are more bullet-proof," Reyes said, meaning that those jobs better withstand the usual economic ups and downs.
Starting jobs include: service desk analyst; technical support technician; associate network engineer; data support technician, and many others leading up to security administrator and security specialist.
Reyes said the cybersecurity program, which was conducted virtually, was designed to give participants who don't have the time or resources for a traditional college education to get started in a career with a livable wage.
And for students who may have fallen behind a bit in their studies due to time constraints or other issues, training can be extended. "We want students to succeed," Mayne said.
Both Mayne and Reyes say that the first boot camp will not be the last. They said the plan going forward will be to continue the training programs.
Hiring people with disabilities is personal (and just plain smart) for Novacoast's David Mayne
About a year ago, David Mayne decided to take action on an idea he had been mulling for years: Filling much needed jobs in cybersecurity by reaching out, at least in part, to people with disabilities.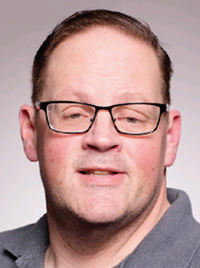 Now, a year later, the first class of students enrolled in a "Cybersecurity Boot Camp" at Washtenaw Community College has completed studies. Their new certificates could help them land jobs at hourly rates starting from $17 an hour.
"It's a foot in the door," said Mayne (right), a security analyst at the Ann Arbor office of Novacoast, a California-based high-tech company.
For Mayne, recruiting persons with disabilities is personal. Fifteen years ago, he was critically injured in a car crash in Toledo, Ohio. The accident resulted in the loss of an eye and amputation of his left leg below the knee.
"I had to start over," he said of his rehabilitation and multiple subsequent surgeries. "I had to go back to school to learn what I needed to survive."
And it was more than the car accident that motivates him to look to persons with disabilities to fill badly needed cybersecurity jobs. He has a son with Asperger's syndrome, a condition on the lower end of the autism spectrum.
"I'm proud to say that he's now one of our best analysts," Mayne said.
"It's been great participating with WCC in this project," Mayne added. "It just makes sense to work with the college and the state agencies to find and train students for this important work."
Tags: February 2021, On The Record, Workforce Development, cybersecurity, ousearch_News_2021