While sitting on a dock on the Fourth of July a few years ago, Michael Kelley had an epiphany about a new career in medical imaging.
He had returned to his native Ann Arbor, where he graduated high school in 2004, after finding himself at an impasse with his career in Colorado.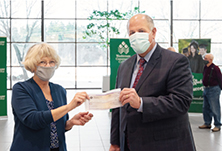 Washtenaw Community College was his college of choice, but "with a mountain of student debt from my previous career, and beginning a full-time program with a full course load and a 20-hour clinical component, finances were certainly an obstacle."
Kelley's burden was significantly lightened by the Finish Line Scholarship he received through the Kiwanis Club of Ann Arbor Scholarship Program at the WCC Foundation.
The full-ride scholarship of $3,500 covered his tuition, books and fees for the first year of his WCC studies. He then received another $3,500 Kiwanis Scholarship that will see him through to graduation in June 2021, when he will be receiving an Associate of Applied Science Degree in Radiography.
"Receiving the scholarship was such a relief," Kelley said. "I worked in a restaurant in the area to help make ends meet and the scholarships went a very long way in helping to reduce my need to overload myself with more shifts than would've been sustainable."
The Kiwanis Club of Ann Arbor, its members and volunteers, the Ray and Eleanor Cross Foundation, and the Kiwanis Thrift Sale fund the scholarships.
In the 2019–2020 school year, the Kiwanis awarded $70,000 worth of full-ride scholarships to WCC students and $2,000 to the college's Student Emergency Fund.
The club has awarded even more for the 2020-21 school year.
The Kiwanis Foundation has been awarding scholarships to Ann Arbor high school grads for their first year of college since the early 1990s.
Developing a partnership with the WCC Foundation in 2019, Kiwanis made a significantly higher number of scholarships available to students to aid them in continuing and finishing their WCC academic programs.
They dubbed the new scholarship the Kiwanis of Ann Arbor Finish Line program.
The Kiwanis Foundation has now designated the WCC Foundation as the sole recipient of its entire scholarship budget and administrator for the funds.
For the 2021–22 school year, the program will open scholarship eligibility, previously restricted to Ann Arbor high school graduates, to any Washtenaw County graduate for their first and second years.
Dan Burroughs, co-chair of the Kiwanis Scholarship Committee, said, "We are well satisfied with the program. It benefits the students who really need help in beginning, continuing and finishing their academic programs."
Phillip Snyder, WCC's Associate Vice President of College Advancement, praised the Kiwanis Foundation.
"The generosity of so many thoughtful members of the Kiwanis Club of Ann Arbor has made it possible to provide eligible WCC students with critical scholarship and emergency support," he said.
"I am grateful to have worked with the Kiwanis Club's leadership to establish, implement and refine this tremendous program."
Kelley met Kiwanis members as a grateful recipient at the organization's annual scholarship luncheon in Fall 2019.
He was so impressed that he promptly joined the club and became a member of its scholarship committee.
He said after attending the luncheon, "It was very touching to interact with the people who so willingly grant their time, resources and energy so that WCC students can make their academic and career goals a reality.
"I left with a fresh energy knowing that this community was in the wings rooting me on, Kelley said."
Tags: Donation, February 2021, Kiwanis Club of Ann Arbor, On The Record, Scholarships, Student Emergency Fund, WCC Foundation, ousearch_News_2021