April 25, 2021 Rich Rezler

When Patrice Scott transferred from Washtenaw Community College to Grand Valley State University earlier this year, he took with him the Student Production Award trophy he won as a WCC student in 2020.
He needs to make room for another one on his dorm room shelf.
Scott was one of three WCC digital video students to win first-place trophies from the Michigan chapter of the National Association of Television Arts & Sciences during its 43rd annual Student Production Awards show award.
The virtual event was hosted by Brett Kast of WXYZ Channel 7 in Detroit and streamed live on the NATAS-Michigan YouTube channel. (View replay.)
Scott won in the Non-Fiction Short-Form category for "To All the Songs I'll Never Finish," a project that combines his love of music and video.
WCC's other winners were Tyler Ferrell, who tied for first place in the Director category for "My 2020 Experience," and John Sherry, who had two of the three nominations in the Animation/Graphics/Special Effects category and won for "Captain Calculator: Train Freeze – Episode 1."
The awards are open to all two-year and four-year institutions in the state of Michigan. WCC's three first-place awards were the second-most by any college, trailing Michigan State University.
Scott won the Director category in 2020 for his music video, "Distorted." And there's no coincidence that both of his winning projects have combined music and video. Ever since he created a music video for his senior project at Arbor Preparatory High School in Ypsilanti, he's been hooked.
"It was then that I decided I needed to keep combining the two," Scott says. "It's what provides the most fulfillment for me."
His 2021 award-winning production was created for a Fall 2020 Documentary Video Production class with Digital Media Arts faculty member Matthew Zacharias. Creating an autobiographical storyline was ideal for taking that class during a pandemic, when in-person learning was limited.
"The first big project for that class is a project about yourself. In quarantine, all we had was ourselves," Scott explained. "So during one of the times we did meet on campus, Matt put us in a chair for interviews and we had to take that footage home, add our own b-roll and make it a film."
Zachararias calls the resulting 8 minute, 18 second project — the award-winning "To All the Songs I'll Never Finish" — a "story of total transparency."
"His story poured out his truth about being a music composer and allowing that passion to become an obsession that took over his life," Zacharias said. "He realized that he was losing touch with his school, his family and himself. The story celebrates 'failure' and shortcomings and, in the end, turns into a triumphant work of art, film and documentary."
Scott transferred from WCC to Grand Valley prior to the winter semester and is pursuing a Bachelor of Arts in Film & Video Production, although music remains an equally important aspect of his life.
He's not sure exactly how his two passions will evolve into a career, but he knows his career will involve both.
"I have the goal of making videos and making music, those things that bring me fulfillment and hopefully an income at the same time," he said. "How I do that is sort of up in the air. I like the idea of being the content creator, but also enjoy working with other people."
While Scott's award came from one of the digital video production program's capstone classes, Ferrell's win in the Director category was for a project created for Foundations in Digital Video, an introductory class that doesn't often result in work deserving of statewide recognition.
Of course, being a beginner is a relative term. The 20-year-old Ferrell says he'd been producing video content for his own YouTube channel for seven years before enrolling in WCC's digital video production program. After meeting Zacharias – who has 25 years of professional media experience, including award-winning roles producing, directing and editing for PBS – he knew it was time to step up his game.
"I thought, 'maybe I should try to impress this guy,'" Ferrell said with a laugh.
It worked. Not only did he impress Zacharias, but also the NATAS Michigan selection committee.
"To garner a nomination after completing an introductory course is an extremely rare occurrence," Zacharias said. "And then to win it? This is a testament to Tyler's talent as a young gun with a vision. I'm stoked for him and his future as an amazing artist."
The perfectionist within Ferrell says he sees "some issues" with "My 2020 Experience," a project that he filmed and edited in about 12 hours. NATAS judges, however, deemed it worthy of tying for first place with a project by a Mott Community College student.
"Being nominated was all the validation I needed. The award feels a little undeserved, to be realistic, because I see a lot of little misses in that video that bug me," Ferrell said. "But I'm very happy to win and I graciously and gratefully accept it."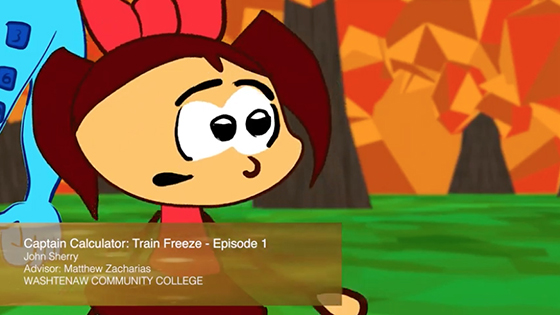 Washtenaw Community College garnered all three nominations in the Animation/Graphics/Special Effects category, including two by John Sherry — who, Zacharias says, "was born to animate." Sherry won for "Captain Calculator: Train Freeze – Episode 1."
"He writes, produces and develops original content," Zacharias said of Sherry. "We were not surprised by his two nominations because of the way he eats and breathes animation."
Sherry's other competition in the category was from former WCC student Ta'mar Reynolds, who is currently continuing her education at Eastern Michigan University.
While she did not win a first-place prize, Reynolds impressed many by being nominated in three categories that span the production spectrum: Animation ("Isolation"), Non-Fiction Short Form ("Avid") and Commercial ("ReaLemon").
"Ta'mar demonstrated her range as a storyteller, cinematographer, animator and her eye for commercial flair," Zacharias said. "Her creativity and technical skills showed she is one of the best in the state of Michigan. Remember her name – she is a powerhouse and deserves a lot of credit for making three nominations happen for herself."
WCC student Patrick Sullivan was also nominated in the Non-Fiction Long-Form category for his documentary "Empty Skies," about bird population decline and the people fighting to save them.
"Patrick poured in so many hours into 'Empty Skies' in the advanced documentary course. He went all in because he cares about the birds and he wanted to make a difference and try to reverse or slow down this ongoing disaster," Zacharias said. "This film will be in festival contention soon."
Tags: Digital Media Arts, Digital Video Production, Student Awards, Student Production Awards, Student Success, ousearch_News_2021