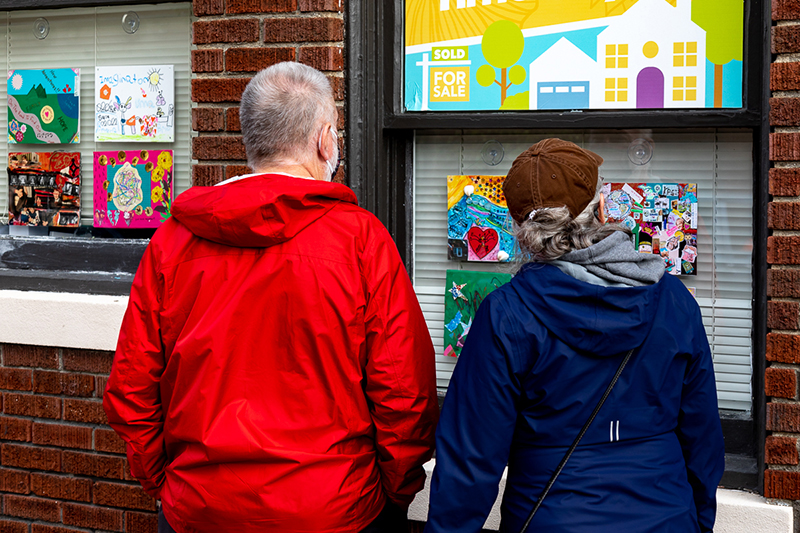 The Washtenaw Community College Fine Arts department and First Fridays Ypsilanti partnered on an exhibit reception for the Our Layers of Identity community art project on Friday, May 7.
Threatening skies cleared just in time for an enjoyable outdoor event in downtown Ypsilanti, where submissions for the exhibit have been hung in business windows since April 24. Steve Somers and Friends — a band made up of WCC music students, alumni and faculty — performed on the stage in the center of N. Washington St.
RELATED: Photo gallery from exhibit reception
WCC Dean of Humanities, Social & Behavioral Sciences Scott Britten, Fine Arts faculty member Jill Jepsen and instructional coordinator Katie Williams were among the speakers who described the intent behind the project as a way to increase community engagement with the arts and improve well-being and interpersonal connection in response to the COVID-19 pandemic.
Jepsen and Williams led the months-long project, which started with packing 500 boxes that were distributed to any community members interested in participating. The boxes included project directions, art supplies and a pre-paid envelope so participants could return their finished work.
Several of Jepsen's art students also participated by contributing their own art, creating the display grids for local businesses' windows and helping with installation.
The artwork will remain in windows through May 23 at these participating businesses:
Back Office Studios, 13 N. Washington St.
Bobcat Bonnies, 200 W. Michigan Ave.
Hinton Real Estate, 36 N. Washington St.
K&S Embroidery, 10 N. Washington St.
Unicorn Feed & Supply, 114 W. Michigan Ave.
734 Brewery, 15 E. Cross St.