Officially, Catherine Hadley is the 28th University of Michigan student to win a prestigious Truman Scholarship since it was established in 1977 as a living memorial to President Harry Truman.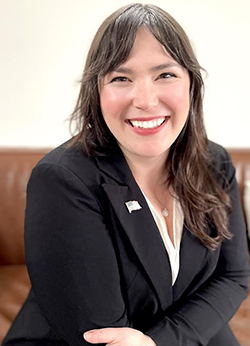 But Hadley – a mother of two better known as Cat – was quick to thank Washtenaw Community College for its role in her receiving the $30,000 scholarship toward graduate studies that is awarded to outstanding students committed to public service leadership.
Shortly after learning she'd won, Hadley sent off an email to WCC Executive Vice President of Student and Academic Services Linda Blakey and Executive Vice President of Instruction and Academic Affairs Dr. Kimberly Hurns that said:
"None of this would be possible without my time at Washtenaw Community College. I had such a transformative experience while on campus. It is truly the foundation of what I do and hope to achieve in my life," she wrote. "I just feel so lucky to have been a student at WCC. I thought I would tell you about this win because I see it as not just a win for me, but also a win for WCC!"
A former high school dropout who had pursued some entrepreneurial ideas, Hadley spent 2 1/2 years on the WCC campus — first reacclimating herself to education, then compiling transferrable credits at the college's low tuition rate.
She gave birth to her youngest son just one week after her first semester back in school, but she was hooked. She returned to WCC the following fall semester as a full-time student following the college's General Studies transfer program.
"I was encouraged by a lot of people on campus and fell in love with learning again," said Hadley. "Plus, I was introduced to the student newspaper (The Washtenaw Voice) and that ended up being a life-changing experience."
Hadley, who has already been accepted into U-M's Master of Social Work program, was still in her first semester of virtual classes at the university when she started the Truman Scholarship interview process. That meant much of the conversations with nine different interviewers focused on community college and how it impacted her.
"I think being a community college student set me apart and made me a more dynamic candidate," Hadley said. "I come from a different background than a lot of the applicants and have had more life experiences. They understand I'm coming at it from a very different lens, and that lens is valuable."
Hadley was chosen as one of 62 scholarship winners from around the country out of a record number 845 candidates from 328 colleges and universities. Selection is based on academic success, leadership accomplishments and the likelihood that scholars will become public service leaders.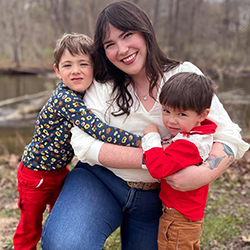 During her time as a full-time WCC student and mother of two, Hadley began demonstrating those public service leadership qualities by founding BirthSafe.org, a non-profit organization that gathers information about birthing providers and facilities while advocating for legislation that uplifts and empowers birthing patients.
She has also worked as a political organizer for Hungry For Justice, was an intern for the Michigan Women's Commission and is currently a junior associate for Patriotic Millionaires.
Hadley said the long application process for the Truman Scholarship forced her look deeper into her own potential future than she had previously. While compiling letters of recommendation, writing nine essays and sitting through two interview processes, Hadley came to the realization that she was limiting herself until others "held up a mirror" to her own potential.
So while her end goal isn't completely finalized – operating her own think tank or running for political office are among the possible options – it's bigger now than it ever has been. Certainly bigger than the day she convinced herself to enroll in a couple WCC classes back in 2018.
"I would never have applied for this scholarship, or even be on the U of M campus, if I didn't go through WCC first," Hadley said. "WCC had so many lovely instructors that were just so supportive and nurturing. Everyone there is so happy to see people thrive."
Tags: Alumni Profile, Student Awards, Student Success, Transfer, ousearch_News_2021