Washtenaw Community College is one of 153 colleges and universities around the world recently honored by the American College of Sports Medicine (ACSM) Exercise is Medicine initiative for its efforts to create a culture of wellness on campus.
The 2021 honor marks the third consecutive year WCC has earned silver-level designation from the Exercise is Medicine On Campus (EIM-OC) program. EIM-OC calls upon higher education institutions to promote physical activity as a vital sign of health and encourages faculty, staff and students to work together to improve the health and well-being of the campus community.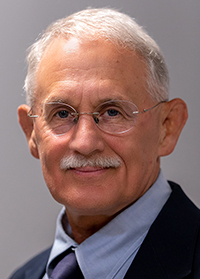 Marvin Boluyt (right), a Biology faculty member in WCC's Math, Science & Engineering Technology Division, credits the dedication and innovation of several groups who helped keep the WCC community active while the campus was in remote operations due to the global pandemic.
WCC was one of 127 institutions that received a "COVID Conquerer" badge from the EIM-OC program to indicate the campus demonstrated adaptations to physical activity programming.
"Despite the pandemic, the departments that run the programs at WCC continued to find ways to keep people involved," Boluyt said. "From the CHEERS Committee's walking program to the multiple exercise-based activities offered by Student Activities, they've all had to be very inventive to do that."
Boluyt, who developed the Exercise Science program at WCC, has been a member of the American College of Sports Medicine for more than 30 years. He accepted WCC's silver award during a virtual presentation in June.
He said that while the COVID-19 pandemic created challenges for the college's EIM-OC program, it also helped prove the point that exercise is, in fact, medicine.
"There are quite a number of studies coming out in the Exercise Science realm that show that people who exercise regularly had a significantly lower risk of being hospitalized or dying from COVID," Boluyt said. "People who exercise – in addition to the one million and one other benefits we already know about – also benefit in facing COVID."
More about Exercise Science
Interested in a career that emphasises the importance of physical activity? The WCC Exercise Science program teaches the science involved in health, fitness, nutrition, wellness and weight control. It prepares students for entry-level employment in health and fitness-related occupations and for ACSM certification exams to become a personal trainer and/or health and fitness instructor. Graduates of the program also transfer to four-year colleges and universities to complete a degree in fields such as sports medicine, exercise science, kinesiology, movement science or physical education.
Tags: American College of Sports Medicine (ACSM), August 2021, Exercise, Marvin Boluyt, On The Record