August 20, 2021 Anita LeBlanc
Kevin Van Kannel believes his Ann Arbor-based business, UTEC, continues to thrive in part because of investments in relationships like the one his company has with Washtenaw Community College and more than 25 other Washtenaw County nonprofit organizations.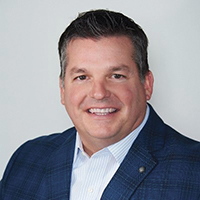 After he graduated from Capital University, a small liberal arts university in Ohio, Van Kannel's dream was to follow in his father's entrepreneurial footsteps.
His opportunity arrived in 2008, when he bought a small office equipment company with eight employees and a 5,800-square-foot building that was still selling typewriters and fax machines.
With a focus on creating a positive customer experience, the addition of new and enhanced products and services, UTEC now has 50 employees in a sleek, modern 30,000-square-foot facility in Ann Arbor.
Unlike many other businesses, a receptionist answers the phone at UTEC.
"Sure, I could save money with a machine, but people want to be able to talk to a human, not go through a bunch of prompts," Van Kannel said.
He became acquainted with WCC by attending Ann Arbor-Ypsilanti Chamber events, tradeshows and Washtenaw Economic Club luncheons. His favorable impression of the campus increased as he learned about more about the mission of the college.
Collaborations with other WCC-affiliated business owners led to his position on the WCC Foundation board of directors, a sponsor and a donor.
"WCC is a great way to educate kids and get them on the right track. And then, they can choose to continue their education to get a bachelor's degree or take the skills they've developed to launch a career," said Van Kannel.
"Putting out a quality product at WCC takes time and money, right? It takes money and time to build first-class facilities, deliver top-shelf education to students and employ excellent instructors."
Van Kannel also sees WCC as a treasure for business owners looking for "amazing young minds."
He credits the college for introducing interns and new employees to UTEC. He counts WCC as a valuable business resource ("WCC does recruiting for me!"), and the interns and students as contributors to UTEC and the community.
"We give interns real-world people skills by working with them, coaching them, and developing them while they're working in the field," he said.
Van Kannel believes the relationship with WCC is one of the ways UTEC helps strengthen Washtenaw County's economy.
"The investment and upgrades to our facility, the relationships with our new hires, employees, vendors, and partnerships are some ways we support the community," he said. "These folks work, eat, shop and play in Washtenaw County. Their dollars support the local economy and community."
UTEC's relationships with nonprofits are another way.
"When I worked for a conglomerate, the guys at corporate wouldn't give us any money for local events and organizations," he said. "They'd write one big check to a one big organization, and, yeah, that's important. But there are so many small local nonprofits that don't get these big checks."
In addition to the WCC Foundation, Van Kannel counts Ele's Place, 826Michigan and SafeHouse Center among the nonprofits UTEC supports.
"The good news is that they don't have the overhead, so every dollar you give them goes farther," he said. "It gives you a chance make a big impact at the local level by spending money and time and creating experiences for people.
"I believe business owners have a responsibility to give back to the community. We encourage our employees to find a nonprofit they're passionate about … and go with it. Our customers do business with us locally; it's our responsibility to invest in the community.
"Being involved with education, being involved in nonprofits is the right thing to do, so let's do it. We're a stakeholder in this community … I want it to be a place I'm proud of."
Thanks to its donors, the WCC Foundation has supported thousands of students with scholarships and assistance for unexpected transportation, food, housing and childcare challenges since its founding in 1983. Learn about giving opportunities.
Tags: August 2021, On The Record, WCC Foundation