October 1, 2021 Fran LeFort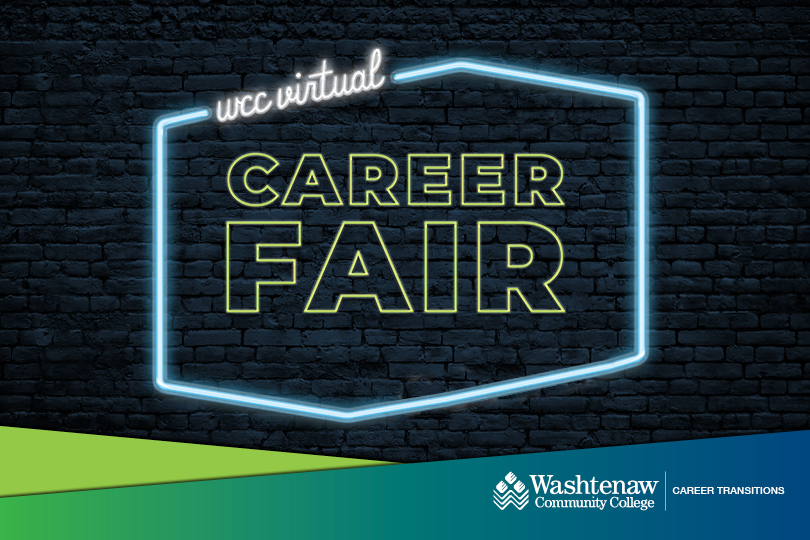 Washtenaw Community College (WCC) will host a career fair Oct. 15 with an anticipated 60 employers seeking to fill positions. The virtual event is free and open to the public.
Employers range from health care facilities to tire and automotive companies to IT and human resources-related services.
Two sessions are scheduled, from 9 a.m.- noon and 1-4 p.m., with half of the employers at the morning session and the other half at the afternoon session. Attendees are encouraged to register for both sessions to visit with as many employers as possible. Registration links may be accessed through WCC's website at wccnet.edu/careerfair.
Attendees will have the opportunity to chat one-on-one with company representatives as well as explore through the virtual lobby and view materials offered at each employer's booth.
Confirmed participating employers include Belle Tire, Beaumont Health System, Doordash, Eisenhower Center, Express Employment Professionals of Ann Arbor, Faurecia Interior Systems, Fedex Ground, Henry Ford Health System, IHA, LaFontaine Automotive Group, Manpower Inc. of S.E. Michigan, Michigan Medicine, Northwestern Mutual, Rocket Companies, ROUSH, Trinity Health Senior Communities, University of Michigan Information and Technology Services, UPS, WCC Human Resources, XPO Logistics and Zingerman's Community of Businesses.
Attendees may check the website regularly for updates of new employers.
"We're excited to offer a robust lineup of employers at our fall career fair. This is a great opportunity for people in career transition to explore the wide variety of jobs hiring managers are looking to fill. With options to connect with employers via laptops, smart phones or tablets, the format is very convenient and simple to navigate through," said Cheryl Harvey, Director of WCC's Center for Career Success.
The virtual fair will be hosted on the Brazen platform made possible by the Michigan Department of Labor and Economic Opportunity's Office of Employment and Training.
WCC's Center for Career Success hosts two career fairs annually, one each in the fall and spring semesters, as well as other career preparation workshops and events. All events are open to the public unless specified otherwise. The full calendar of events may be viewed at wccnet.edu/career-events.
Tags: Career Fair, Center for Career Success, Community enrichment