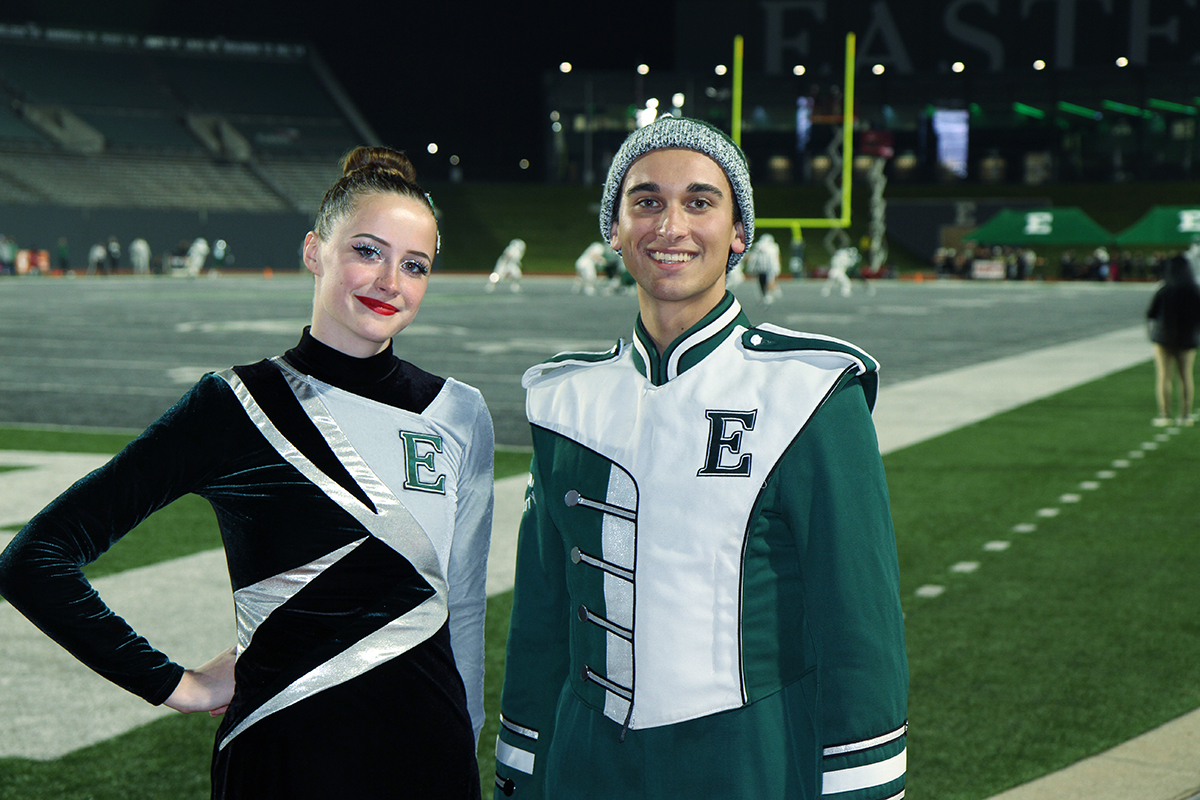 Eastern Michigan University's Rynearson Stadium is located just one-half mile — or roughly the length of nine football fields — down Clark Road from the Washtenaw Community College campus.
Inside that stadium during the six football game days this season, Jamis Coates and Katie Loy perform alongside their fellow EMU Marching Band members, the continuation of an agreement by the band to welcome WCC students into the mix.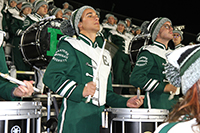 "A lot of people don't know it's possible, but it's a great opportunity," says Coates (right), a snare drum player in the band who plans to pursue a mechanical engineering bachelor's degree at EMU after completing the Pre-Engineering Science Transfer program at WCC.
"I've been really invested in marching band and marching arts for almost five years and you can only do it for so long," added Coates, who also plays guitar. "Doing marching band is pretty important to me. Although my career path will be engineering, I have a musical passion that I like to fill."
Coates attended EMU as a freshman, but quickly discovered he could complete many prerequisite classes at WCC for a fraction of the price. He has 12 more credits to complete his WCC program before transferring back to the four-year university.
While Coates enjoys the opportunity to continue interacting with current EMU students that may be a classmates again one day soon, Loy was drawn to the EMU Marching Band by one student in particular.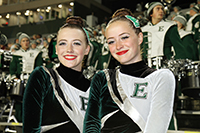 Her sister, Emma Loy, is a sophomore at EMU. As they once did at nearby Chelsea High School, the sisters (right) are performing together with the EMU band's color guard.
"It's fun spending the time with her, plus I like the rehearsals and the games," said Loy, a freshman Criminal Justice student at WCC. "It gives me something to do, it's a good experience and a fun time."
"It's just a different experience, going to a different college and participating in their band," added Loy, who is considering a transfer to EMU upon completion of her WCC program.
Coates and Loy say they're looking forward to a holiday season bowl trip the band is likely to take with the EMU football team, which has a 7-3 record after Tuesday night's 22-21 win over Western Michigan University in the final game to be played at Rynearson Stadium this fall.
And the band is looking forward to welcoming its next batch of WCC students next season.
"The EMU Marching Band has always been excited to welcome WCC students into the band, and we look forward to continuing the partnership with the 128th edition next fall and beyond," said band director Dr. J. Nick Smith.
WCC students interested in joining the EMU Marching Band can fill out the "Join the Band" form on EMUMB.org or contact Smith at [email protected] for more information.
Tags: December 2021, Eastern Michigan University, On The Record, Student Activities, Transfer