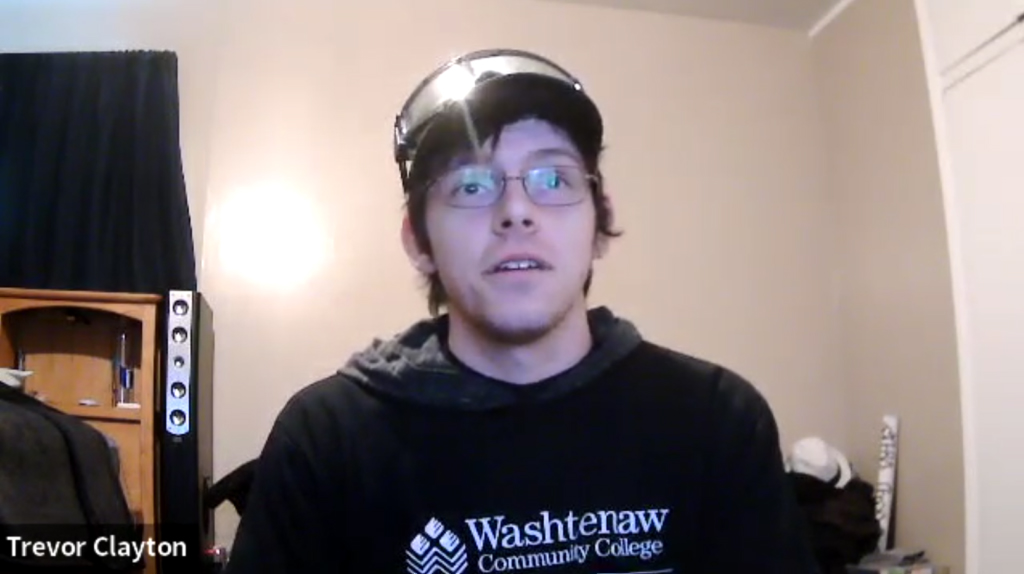 Washtenaw Community College student Trevor Clayton was selected as a panelist for the National Intelligent Transportation Systems (ITS) webinar discussion held December 3. Clayton joined peers from four other community colleges throughout the nation to discuss the many transportation fields of study and potential career paths and to impart advice to interested high school students.
Enrolled in the Powertrain Development Technician program within WCC's Transportation Technologies department, Clayton credits WCC's instructors and lab equipment for fueling his passions. His goal is to build a career in automotive testing and development.
"The college is constantly staying on top of new procedures and futuristic technologies and providing students with new classes and training, such as the new automotive penetration testing class that deals with the challenges of hacking into newer technologically advanced vehicles," said Clayton.
"It's been a huge honor to be selected to represent the school in a national discussion panel. I'm really hoping that I can prove that our programs at WCC are at the cutting edge of the future of transportation and the industries supporting transportation technology," he said.
Automotive Services Transportation Technologies Department Co-Chair Rocky Roberts has taught Clayton in an ASV 256: Electrical and Electronic Systems class this semester.
"Trevor is particularly passionate and inquisitive about expanding his knowledge and consistently asks meaningful and high-level questions regarding course content. His hunger for education and growth mindset made him a great candidate to be on this panel," Roberts said.
Clayton's participation on the national panel was featured in the December issue of the Center for Connect and Automated Transportation (CCAT) newsletter.
WCC is the only community college participating in CCAT, a U.S. Department of Transportation-funded program created at the University of Michigan and which includes WCC, Purdue University, the University of Illinois, the University of Akron and Central State University. The center aims to advance research in the field of transportation safety, mobility and sustainability via connected vehicles, connected infrastructure and autonomous vehicles and has allowed WCC to develop new courses to train technicians, engineers and entrepreneurs who can serve as leaders in the world of mobility.
Tags: Advanced Transportation Center, Automotive, CCAT, Intelligent Transportation Systems, January 2022, On The Record, Transportation Technologies