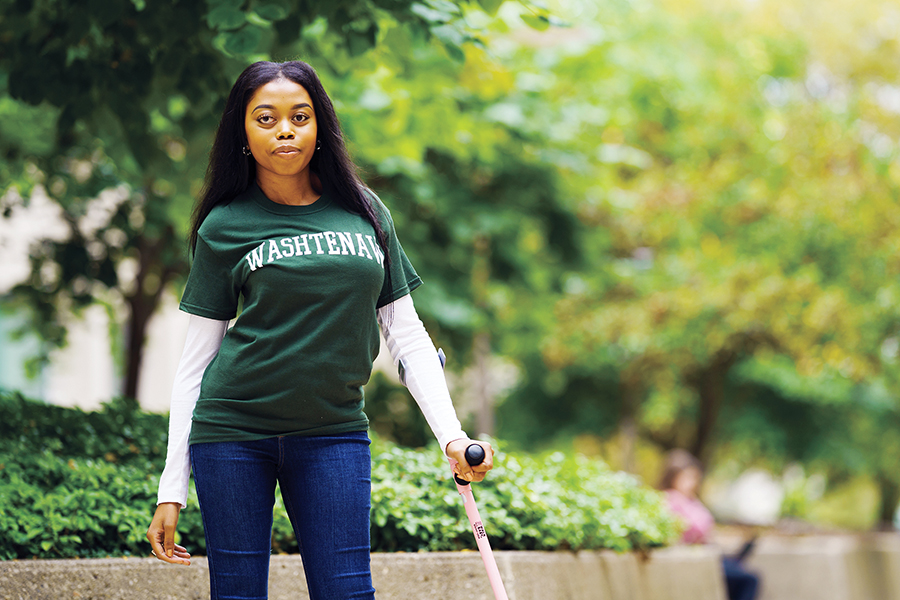 Malia Ellis fought through the burdens of embarrassment and isolation that a physical disability can crudely place upon a pre-teen. So the 19-year-old Washtenaw Community College student is on a mission to erase those burdens for future generations.
"You say the word 'disability' and that makes you think about what people can't do, but it doesn't mean we're less of a person," says Ellis. "We don't need to hide. Our voices should be heard. We can do just as much as anyone else and our disability doesn't define us."
Ellis has a rare condition called epidermal nevus syndrome, which caused severe scoliosis at the onset of puberty. She went from a child who loved to dance and play sports to having eight surgeries in as many years, resulting in a completely fused spine.
Physical therapy sessions helped her graduate from a wheelchair to a forearm crutch, but they also exposed her to other kids that looked like her — which is when, Ellis says, she realized that "because you may feel different doesn't mean there aren't people who feel just like you."
That ultimately led to the creation of Malia's Movement, a website and social media accounts intended to bring Ellis' own life to the public eye in order to change perceptions about people with disabilities and inspire young girls who have them.
In about one year, Ellis has attracted more than 146,000 followers on Tik-Tok (@MaliaEllis07), where she posts some raw and honest videos about living with a disability; but primarily hits on popular topics on the app like make-up, beauty and fashion.
She says it's all about wanting to be a role model to others who are going through similar life experiences and reminding other disabled teens and young adults that they're not alone.
"Being a pre-teen when all this happened to me, I was hit really hard. I was embarrassed because I didn't see a lot of people who looked like me or were going through the challenges I was going through," Ellis said. "For a long time I was pretty depressed and didn't have any inspiration to get better. With Malia's Movement, I want to inspire others who think they're alone in this world."
Ellis will earn a General Studies Associate Degree from WCC in May and has completed the Michigan Transfer Agreement to meet the general education requirements at participating Michigan four-year colleges and universities.
Before transferring to pursue a bachelor's degree, however, she plans to take a short break to put all her efforts into Malia's Movement for a while. If there's a possibility to turn educating and inspiring others into a career, it's one she's interested in pursuing.
"It's been quite a journey, but I really do love myself and am able to accept my changes," Ellis said. "I'm still not 100% in love with the way I look, but I can at least accept who I am. Hopefully Malia's Movement can help others reach that point, too." l
Along with Tik Tok, you can follow Malia's Movement on Instagram (@maliasmovement) and at maliasmovement.com.
Tags: Disabilities, January 2022, On The Record, Student Profile