While the world starts turning its attention to television broadcasts of the 2022 Winter Olympic Games in Beijing this week, members of the WCC Health & Fitness Center haven't needed to wait to watch an Olympian perform.
Donald Scott II, who finished seventh while representing the United States in the triple jump at the 2021 Summer Olympic Games in Tokyo, has been a member and regular visitor to the center since 2019.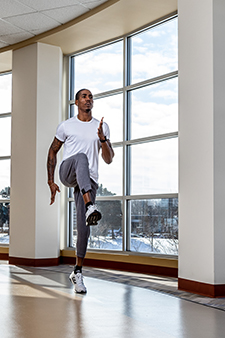 While his sport-specific training is done at Eastern Michigan University – where he was a football and track athlete – Scott said the WCC Fitness Center is the ideal place for him to conduct his self-paced cardio, weight training, stretching and recovery regimens.
"It has all the stuff I need to keep my body in tip-top shape," Scott says.
While Winter Olympians compete for medals, Scott is in the early stages of his indoor track season. Next up is an appearance at the New Balance Indoor Grand Prix in New York City on Sunday, Feb. 6.
A three-time USA Indoor Track and Field champion (2017, 2019, 2020) and two-time USA Outdoor Track and Field champion (2019, 2020), Scott has his goals set on a return to the Olympic stage in 2024, when Paris hosts the Summer Games. He enters the indoor season as the No. 2-ranked triple jumper in the country and No. 6 in the world.
We caught up with Scott after a recent workout for this Q&A:
Q. With the Olympics coming up, can you give us an idea of what kind of dedication it takes to compete on an international level? How many hours per day or per week do you work on your craft?
A: "I spend at least three or four hours every day – so maybe 20 hours per week. It does take a lot of dedication to get up every morning and do the same thing over and over again, but it's kind of just like having a job. This is my job. If I don't do the work, I wouldn't be the elite athlete I am. You have to get into a mindset where this is what I have to do if I want to meet my goals. There's a lot of dedication, heart and commitment."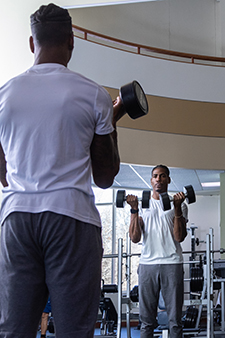 Q. Physical abilities aside, if you had to pick one personality trait that differentiates a world-class athlete from the rest of the world, what would it be?
A. "Mental strength. At this level, it's very mental and you go through a lot of mental breaks because there are a lot of ups and downs. But athletes are trained to tell themselves, 'let's get back on my feet and keep going.' You have to stay mentally prepared because at this stage, it's just as much mental as it is physical. Not many people in my sport train in this kind of cold weather we've been having, most live in hotter climates. So when it gets a little chilly in Europe or somewhere else, and I see my competition posting on Instagram that it's too cold to work out, that's a big mental win for me. I know I beat them on that day because I got in a good workout."
Q. Speaking of working out in the cold: Obviously your sport is not included, but the Winter Olympics Games are getting started. As an Olympian, is the pageantry of the opening ceremonies something that is emotional for you in any way? Will you watch the Games?
A. "I grew up in Florida, so I don't really know a lot about winter sports. But if it's on and it's interesting, sure I'll watch. Track & Field athletes actually missed the opening and closing ceremonies in Tokyo because things were so shut down due to COVID. I was basically just there to do my job and leave. Eat, sleep, practice and compete. We didn't even get to sightsee or watch any other events. So part of my goal for qualifying for 2024 is to have a true Olympic experience."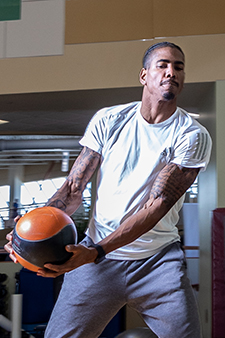 Q. What if you could have an Olympic experience every two years? There've been other American track athletes who transitioned their skills to winter sports. Hurdler-turned-bobsledder Lolo Jones comes to mind. Is there a winter sport that you would like to try? Or one you think suits your skills as a triple-jumper?
A. "That's a good question. Like I said earlier, I'm not familiar with a lot of winter sports, so I'm not quite sure if triple-jumping naturally relates to anything. I know we're strong in our legs and that's what they're looking for in bobsledders."
Q. Every sport is different, obviously, but can you use your experience to generalize what the Olympians we'll be watching on TV for the next couple weeks are going through?
A. "They've already faced a lot of pressure just to get there and make the team. For me, once I was there, I wouldn't say there was a lot of stress; but I was definitely nervous, for sure, being there and wanting to do good. You envision yourself with a medal around your neck and you want to fulfill that vision. In my sport, it's really all about what you do on that one day of competition. I think I ended up trying too hard instead of relaxing and being in the moment. Now that I know what it's like to be there, next time I'll be more calm and I'll know what to look forward to."
Q. What's the best part about competing in the Olympics?
A. "The best part is being able to call myself an Olympian. Not everybody can say that. I take a lot of pride in that because there's so much hard work that went into it. Being in that Olympic Village with the other top athletes from around the world, it felt special."
Q. What's something the general public does not know – or might surprise them – about Olympians or the Olympics?
A. "For me, it's my sport. I tell people I do the triple jump and they respond with, 'What is the triple jump?' I always have to explain it, show a video or something. Triple jump isn't one of those main track events, like the 100-meters or the mile. It's funny to me that they don't know, but cool to be able to show them. Then they see the speed and coordination – how different and difficult it is. If you can do it right, you can be one of the best in the world!"
Editor's note: If you are among those who don't know about the triple jump, check out some videos and photos of Scott competing in the event on his Instagram (@donaldscott_ll).