Applications are due March 1 for the 2022 Future Founders Internship Program, a paid summer internship program for BIPOC, women, nonbinary and/or PELL-eligible students from Michigan colleges and universities to get hands-on experience in tech, startups and entrepreneurship.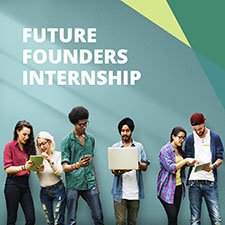 RELATED: WCC Virtual Internship Fair on Feb. 18
Interns will work at a Michigan-based startup and earn at least $15 per hour over the summer, while also learning skills, receiving mentorship and building community with other underrepresented and entrepreneurially-minded students across the state. There's also an opportunity to network and build relationships across the Michigan startup ecosystem.
All majors are encouraged to apply, with a focus on STEM majors. Startups located in the Ann Arbor, Detroit and Grand Rapids areas will be hiring interns in a variety of roles including analytics, engineering, software development, operations, marketing, sales and more. There are 19 different startup tech companies participating in the programs (see list). All eligibility criteria and the application details are available online.
Students can learn more and get tips to improve their application by participating in an info session at 6 p.m. on Thursday, Feb. 24.
WCC is a collaborator in the internship program, joining the Ann Arbor Area Community Foundation, Detroit Promise, Eastern Michigan University, University of Michigan-Dearborn and Thrive N Shine. The program is sponsored by Bank of Ann Arbor.
The internship program is operated by the Michigan Founders Fund, a network of entrepreneurs and investors who have pledged 1% of equity, carry or profit to support impactful local organizations throughout the state who are doing the work to better our communities and enrich quality of life.
The organization states that "Michigan's tech startup and venture capital ecosystems continue to grow at a rapid pace but the talent within this community is often disproportionate to the diversity found across the state."
While 40% of the state's population identifies as a racial or ethnic minority and half are women, only 15% of Michigan venture-backed startups were led by a person of color and 12% by women.
Tags: Diversity, Internship