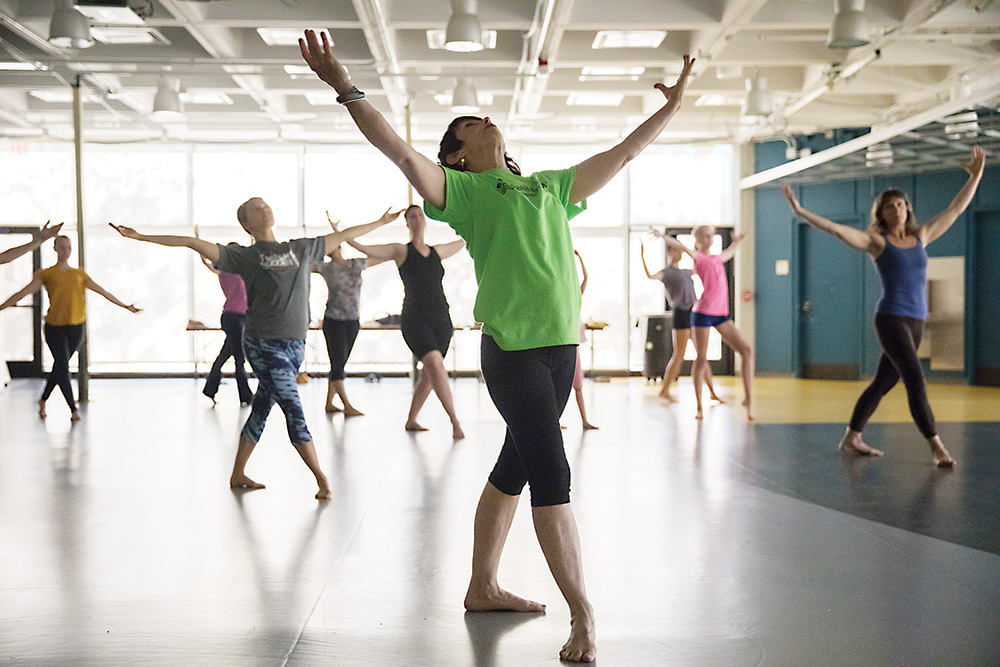 It's logical that a dance instructor would be drawn to the beauty, athleticism and precision of the figure skating competition at the Winter Olympic Games. But for Noonie Anderson, who has been teaching dance at Washtenaw Community College for 40 years, the captivation with the sport runs much deeper.
Anderson spent more than six years as a modern dance teacher at the Arctic Edge Ice Arena in Canton when it was home to the internationally recognized Artic Figure Skating Club led by world renowned Russian ice dancing coach Marina Zoueva.
"I feel like I'm one of the luckiest people ever to have WCC as one part of my career and these Olympians as the other part of my career," Anderson said. "I've been a very lucky human getting to do what I love to do for the vast majority of my life."
Every Friday, and sometimes after her weekday classes at WCC, Anderson would work with elite skaters who travelled from around the world to train with Zoueva (and her partner, Igor Shpilband, before the duo went separate ways). In previous Olympics, Anderson watched former students Meryl Davis and Charlie White of the United States win a gold medal in 2014, Maia and Alex Shibutani of the United States win bronze in 2018, and Canadians Tessa Virtue and Scott Moir win gold in 2018.
This year, former students Victoria Sinitsina and Nikita Katsalapov of the Russian Olympic Committee won silver medals in ice dancing.
But no former student has a stronger personal connection to Anderson than Evan Bates, an Ann Arbor native who qualified for his fourth Olympic Games in 2022 and competed in ice dancing with partner Madison Chock in Beijing.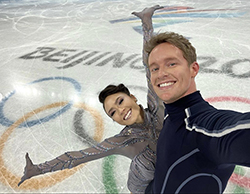 Bates grew up with Anderson's son, Jack, and they played on the same youth soccer and basketball teams. It was Bates who recommended Anderson become the dance instructor at Artic Figure Skating Club, where she worked with Bates and Chock (shown at right, photo courtesy of Bates' Instagram account).
That's why Anderson says "my heart just hurt" after Bates and Chock finished fourth – one spot out of medal contention – in the free skate event after the duo placed eighth in 2014 and ninth in 2018.
"I thought the performance that Maddi and Evan gave was one of their best, as close to perfection as could be," Anderson said. "It was just exquisite and they didn't win a medal. That's the hard part for a dance instructor. They gave a performance far better artistically than their competition, but they don't' grade artistry as high as technical elements."
Joy did follow when Bates and Chock helped the United States earn its first-ever silver medal in the figure skating team event by placing first in the free dance portion.
Anderson is exceedingly comfortable in a dance studio. It has been her "office" since joining WCC as a part-time instructor straight out of graduate school in 1982, when the college's campus had just two permanent buildings and the performing arts were taught in portable trailers. She became a full-time faculty member in 1996 until she retired in 2019, but continues to teach part-time – including a pair of Beginning Ballet classes on the schedule for the Fall 2022 semester.
For the first year she worked with the Artic Figure Skating Club, the training was done in a studio. But eventually Zoueva paid her the ultimate compliment by inviting her onto the ice.
"Sometimes I'd be on the ice coaching and it would take my breath away," Anderson says. "I'd have to remind myself I had a job to do."
That job, of course, was to teach dance. And she feels fortunate that's been her job for 40 years.
"As a dancer, I have been so lucky. I love teaching at WCC and I loved teaching at the rink because they're completely different styles of teaching," she says. "I know it wasn't all luck. I worked really hard, but was also fortunate enough to be at the right place at the right time and have the right skill set. There's been so much emotional payback, for me it was just delightful."
Tags: Dance, Faculty Profile, Performing Arts